AHS: Red Tide Star Breaks Her Silence On That Season 10 Premiere Twist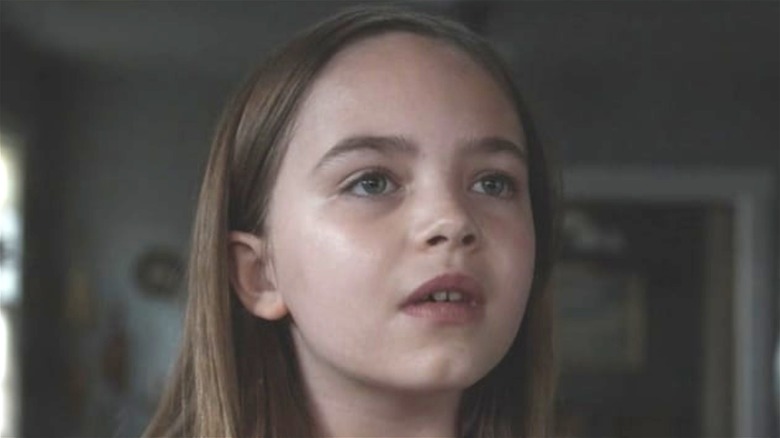 FX
Contains spoilers for "American Horror Story: Double Feature," Episodes 1 and 2: "Cape Fear" and "Pale"
"American Horror Story: Double Feature" premiered on August 25, introducing audiences to the latest incarnation of showrunner Ryan Murphy's long-running horror anthology series. This latest, tenth season is subtitled "Double Feature" because, as revealed in a trailer released in advance of its debut, the season is divided into two discreet halves, the first titled "Red Tide" and the second "Death Valley."
Thus far, the two-episode season premiere contained solely the "Red Tide" storyline, leaving the contents of "Death Valley" a mystery. While other supernatural creatures are likely to factor into the season moving forward, the primary source of otherworldly horror in the season thus far has come courtesy of powerful black pills. When taken, they provide enhanced inspiration to creatives, while those without any sort of creative spark become lifeless and pale. Furthermore, the cost of sustaining the heightened creativity while taking them is raw blood.
In the "Red Tide" season premiere, screenwriter Harry Gardner (Finn Wittrock) and his family move to Provincetown, Massachusetts. It's there that the mysterious Austin Sommers (Evan Peters), upon learning Harry is experiencing a bout of writers block, introduces him to the black pills. While they do indeed ease his writing process, he quickly becomes literally bloodthirsty as a result of the pills' substantial cost. Not only do they alter his life, but upon seeing Harry's success at writing, his daughter Alma (Ryan Kiera Armstrong) begins taking the pills to improve at violin.
In a new interview with The Wrap, Armstrong discussed for the first time what it was like for her character to sacrifice some of her humanity for raw talent, as well as what the black pills might bring to the season moving forward.
Red Tide is about artistic inspiration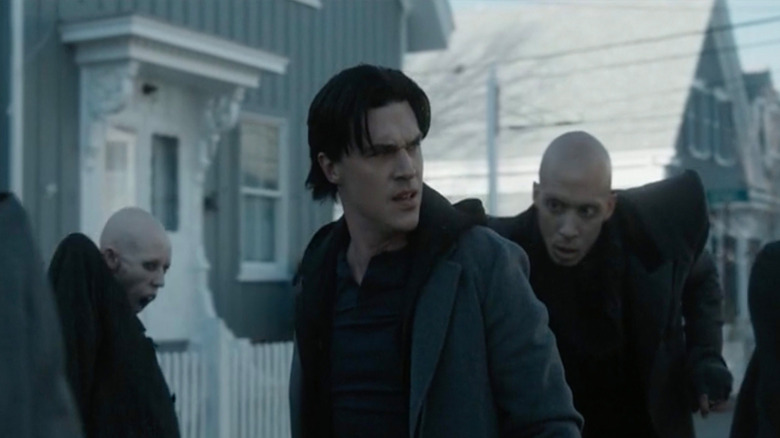 FX
The Wrap writer Jennifer Maas opened her interview with Armstrong by asking about the "Pale People," or the soulless creatures non-creatives become after taking the black pills.
"Pale People, like real people, are much scarier than any other mythical creature could ever be," Armstrong said. "The Pale People are us, what's left of us when our dreams are taken away and there's nothing else to live for but to search and hunt to fill that emptiness inside of them. They become animals with an insatiable hunger to feed."
Alma herself ends up with an insatiable hunger — but whereas the Pale People are zombielike, Alma develops a thirst for blood as her price for improving faster at violin. Thus far, this has culminated in her mother Doris (Lily Rabe) catching her consuming a raw rabbit. However, Armstrong confirmed that to Alma, the exchange was worth it.
"For Alma, there's no compromise for greatness," she said. "Alma is not afraid to share with her parents her desire to be the best. As far as she is concerned, nothing will stand in her way in achieving that. I think the writers explored perceived worth, value and importance in a really interesting way."
Armstrong proposed, without spoiling the next episode, that if she were Doris, she would want to leave Provincetown immediately. Meanwhile, some fans have theorized that Doris will be the lynchpin to defeating the town's Pale People by contracting Lyme disease, rendering her blood inedible to the town's vampiric pill poppers.
Viewers will learn just what's in store for Alma when Episode 3 of "American Horror Story: Double Feature," titled "Thirst," premieres on September 1.