The Surprising Movie That Gary Oldman Calls His Best Film Role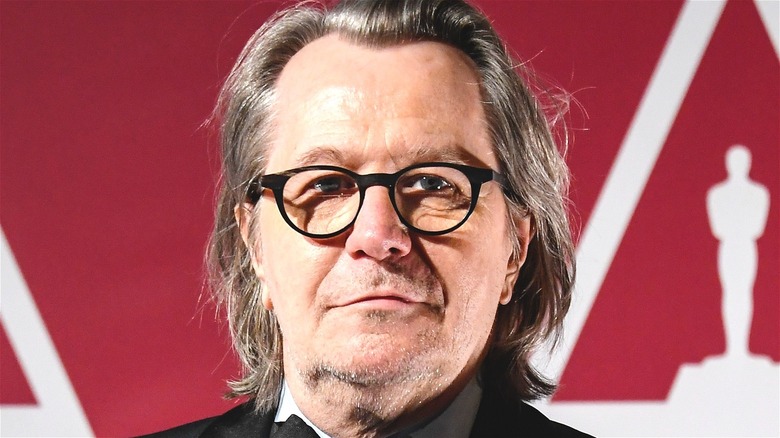 Alberto Pezzali-Pool/Getty Images
Gary Oldman has made a career out of his ability to transform his recognizable appearance into various unexpected and distinct characters. Time and time again, the actor has proven that his natural accent, hair patterns, and even humanity are no obstacle when he sets his sight on another otherworldly part in a film.
Some of Oldman's roles are so distinct that fans without the help of a cast list would be hard-pressed to guess that he was involved at all. Take his character from "True Romance," Drexl, a drug dealer who wears beaded dreadlocks, and contrast that with his makeup heavy appearance in "Bram Stoker's Dracula" for a perfect example of how the actor disappears in distinct roles. Even when makeup isn't a significant factor, Oldman can portray characters who appear widely different, such as his clean-cut Commissioner Gordon in the "Dark Knight" trilogy and the scruffy-then-debonaire Sirius Black from the "Harry Potter" series.
With such a diverse body of work, it might interest fans to find out that what Oldman considers to be his best film role was one that didn't necessarily require much of a physical transformation, although Oldman put in plenty of effort to portray the character correctly. Here is the surprising movie that Gary Oldman calls his best film role.
Gary Oldman said that playing Lee Harvey Oswald in JFK was his best film role
While on the press circuit for his critically acclaimed appearance in the 2011 film "Tinker Tailor Soldier Spy," a fan asked Gary Oldman at the AFI European Union Film Showcase what his personal favorite role from his career was. Oldman hesitated at first but had an answer in mind replying, "I would have to say Oswald," before adding as an aside, "He didn't do it." As the crowd laughed, Oldman elaborated as to why he enjoyed playing Lee Harvey Oswald in Oliver Stone's 1991 film "JFK," explaining, "That was an exceptional experience because there was very little of Oswald on the page." Instead of adapting the role to what was in the script, the famed director instead asked Oldman to come up with his own interpretation of who Oswald really was, and then portray that in the film.
"Oliver Stone, he gave me some money, and some airline tickets and said, 'You know, just go off and find out who this guy was,'" Oldman said. "And that's a personal favorite." While Oldman's portrayal of Oswald may not be his most famous, it seems that the actor found something to enjoy in crafting the character and in bringing the historic figure to life in Stone's controversial epic.