What Happened When Candyman's Rodney L. Jones Tried To Summon Him In Real Life? - Exclusive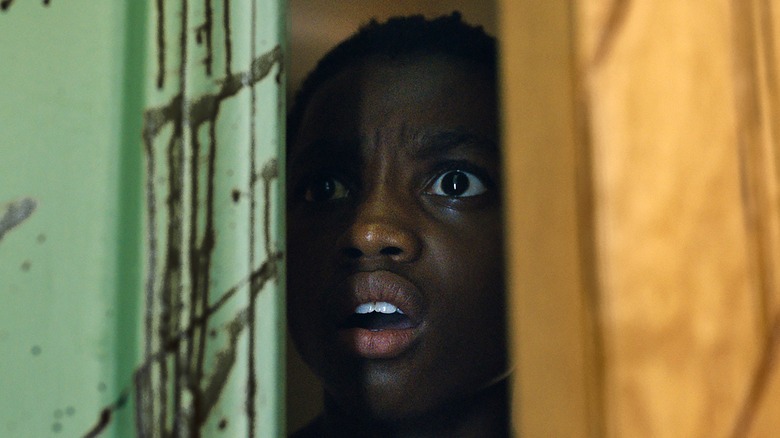 Universal Pictures
Since the original "Candyman" film came out in 1992, you have to believe fans have tempted fate and said the horror villain's name five times out loud while looking in the mirror. In the film, of course, it meant you were a goner. Now, thanks to the imaginative minds of "Get Out" Oscar-winning screenwriter Jordan Peele and director Nia DaCosta, "Candyman" has returned to the big screen in the form of what the filmmakers call a "spiritual sequel." And while the events of the new "Candyman" have been updated to modern day to reflect racial injustice, the legend of how the murderous soul is conjured remains the same.
The film stars Yahya Adbul-Mateen II as Anthony McCoy, a talented artist searching for inspiration for his latest exhibit at the gallery where his girlfriend, Brianna Cartwright (Teyonah Parris), is an art director. Taking a stroll in the now-gentrified Cabrini Green neighborhood in Chicago, Anthony encounters Billy Burke (Colman Domingo), who decades before as a child (Rodney L. Jones III) witnessed the brutal death of Sherman Fields (Michael Hargrove). A one-armed man with a hook arm who used to hand out candy to children in the housing projects in Cabrini Green, Sherman was accused of planting razor blades in candy he gave out to children and was killed by police. With Sherman's death, the centuries-old Candyman legend is reborn.
Something strange happened when Rodney L. Jones III said Candyman's name in the mirror five times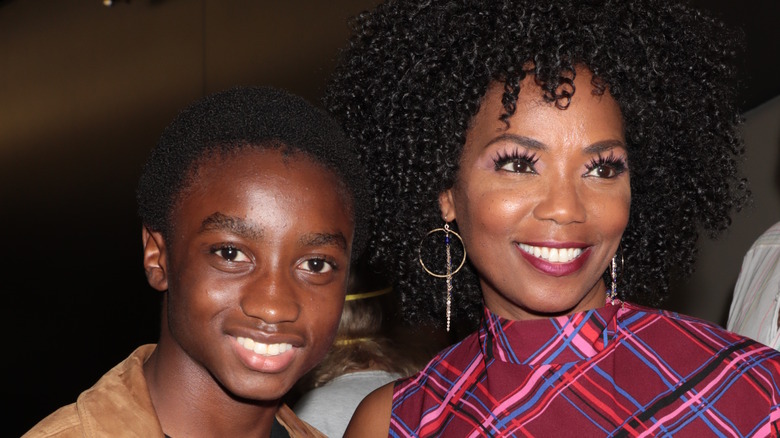 NBC Universal
Unlike Nia DaCosta, Yahya Abdul-Mateen, and Teyonah Parris, who've all said that they never mustered up the courage to test the Candyman legend, Rodney L. Jones III was undaunted. In an exclusive interview with Looper, Jones said he took the plunge and nervously played the Candyman name game. "So here it is — I have said it, but it definitely took me a while to just conjure up the guts to say in the mirror five times and even in the dark," Jones said. 
"I went through it. I said it two times then I was like, 'No!' I just walked out of the room, turned the light on, and closed the door. But then, I think, maybe a few days later, I was like, 'Okay, Rodney, you can do this, if you're in this movie, you should be able to say it five times,'" he added. "So, I went into the bathroom, and I turned the light off and I said it in the mirror, and I was like, 'Did anything happen?' And I thought I heard something like a shower curtain moving, but no, that was obviously my mind playing tricks on me."
After that, Jones admitted, "Every time I go into the bathroom, I'm still a little skeptical. It was still fun to say it."
Rodney L. Jones III was freaked out when he first saw Michael Hargrove in his Candyman costume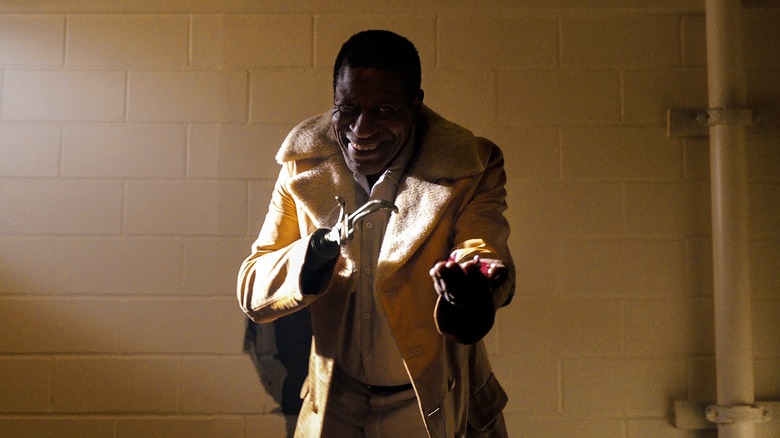 Universal Pictures
Rodney L. Jones III appears in the early scenes of "Candyman," in which Billy is startled by Sherman's sudden appearance in an apartment building laundry room. When he first saw Hargrove in his full Candyman costume in real life, Jones said that he experienced the same type of chills. "So, he just appeared there, and I was like, 'Whoa!' I was not expecting that. But it was pretty fun to be on set and to be a part of this film," Jones enthused. "It was amazing and awesome, and it was very thrilling too at times. I'm definitely so glad that I was able to work on this and to meet Nia DaCosta and it was an all-out amazing experience."
Naturally, once Jones got over the initial shock of seeing Hargrove as Candyman for the first time, he did what any other person would do in such cool and surreal circumstances: he asked Hargrove if he could take a selfie with him. "Of course, I had to get it, it's like we got that one-on-one scene where we're both staring into each other's eyes and I was on set with him for a while, so I definitely got a picture with him," Jones said, laughing.
"Candyman" is playing in theaters nationwide.