Rodney L. Jones III Reflects On His Thrilling Role In The Horrifying New World Of Candyman - Exclusive Interview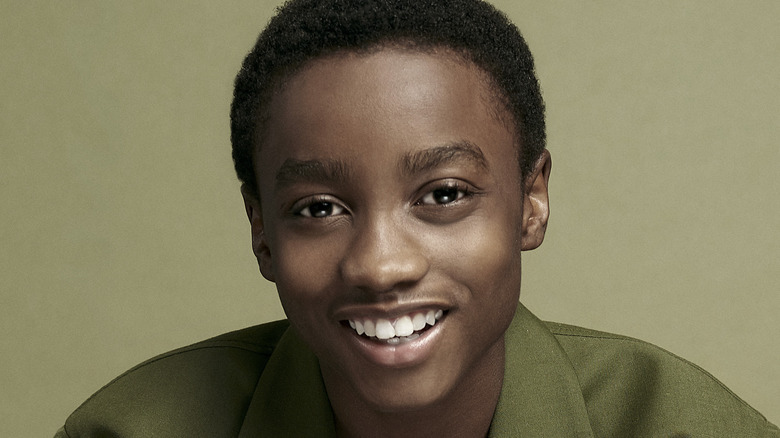 Sergio Garcia
Nearly 30 years after the original film frightened moviegoers, "Candyman" is back. Considered a "spiritual sequel" to the 1992 horror classic starring Virginia Madsen and Tony Todd in the title role, the new "Candyman" has been updated to mirror today's charged discussions around racial justice.
New in theaters Friday, August 27, "Candyman" takes place in the housing projects of Chicago's Cabrini Green neighborhood, where the original film was set. It's there we meet young Billy Burke (Rodney L. Jones III), who in the early 1970s witnesses an altercation with police that ends in the brutal death of Sherman Fields (Michael Hargrove) — a one-armed man accused of planting razor blades in candy he gave out to children.
Fast-forward to the present day, and Cabrini Green has become gentrified. Living in a loft in a high-rise in the neighborhood is an art gallery director, Brianna Cartwright (Teyonah Parris), and her artist boyfriend, Anthony McCoy (Yahya Abdul-Mateen II). Struggling to find inspiration for his latest exhibit in Brianna's gallery, Anthony befriends the adult Billy Burke (Colman Domingo), who recounts Sherman's tragic story for the artist, and the lore of how Candyman's vengeful spirit can be summoned to murder those who say his name five times in a mirror. Becoming obsessed with Candyman's story, Anthony recalls Sherman's death through his paintings and soon finds himself consumed in the exhibit. Unbeknownst to the artist, though, he's setting the stage to fulfill his own tragic destiny, which was carved out for him as an infant decades before.
In an exclusive interview with Looper, Jones, whose acting credits include the series "Lovecraft Country" and the fourth season of "Fargo," discusses his encounter with Abdul-Mateen on the set, working with director Nia DaCosta, and her inventive use of shadow puppetry in the film. Jones also reveals whether he's ever said "Candyman" five times while looking in a mirror.
Rodney L. Jones III watched the original Candyman with his family before auditioning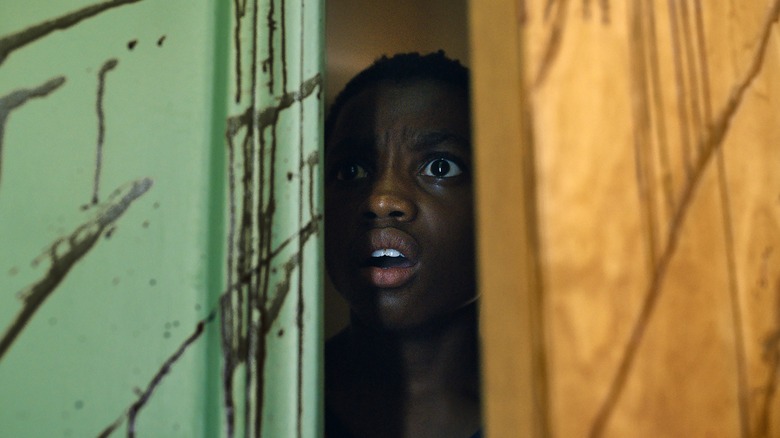 Universal Pictures
I'm just wondering how exactly you got on Jordan Peele and Nia DaCosta's radar. Did it have something to do with Jordan producing "Lovecraft Country" and you having an appearance in that or starring on "Fargo" with Chris Rock, or was it just a matter of going through the audition process?
Yeah, it was just the audition. I'm still shocked by it, too, but I just auditioned, and it all went well from there and now I'm here.
Well, I would imagine that you went into the audition process with a knowledge of the original "Candyman." Did you take advantage of the opportunity to see the original film before you auditioned?
Yes, I heard about it then I watched the film with my family and obviously my mom and her brother had already seen it when they were kids, so they were excited to show it to us. And it's even crazier because I grew up in Chicago, so it was really exciting. Also, it's another project that was filmed in Chicago and one that's actually even about Chicago. I was excited about that.
The amazing thing is that you were watching the film when you were younger. I was an adult the first time I saw that original film and that scared me, so I can't imagine how much it would've frightened you being younger — or maybe the scary stuff doesn't bother you. Was it tough talking your mom into seeing the film?
No, but definitely the lore was a bit creepy. I mean, just seeing gore and horror movies has never really made me flinch and stuff, but the lore that goes with "Candyman," the story of Candyman, has made me a little anxious at times, a little chilly, so it was kind of was scary.
After you got the role, did Jordan and Nia ask you to maybe watch it again, maybe from a different perspective? I say that because, again, this is described as a spiritual sequel, so things are obviously tied into that original film.
Well, they didn't ask me to watch it again, but I gave myself a little refresher on the story ... I made sure I knew what it was all about, and I did my research on it, and that's what I did after I got the role. I was super excited then.
Rodney L. Jones couldn't resist a selfie with Michael Hargrove as Candyman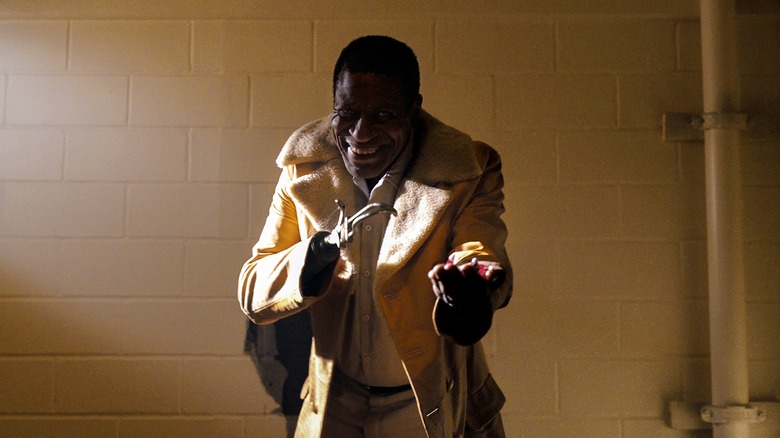 Universal Pictures
Your character, Billy Burke, is pivotal to the plot of "Candyman" in that you're in that first scene, and witness a horrific incident that leads to the birth, essentially, of a new Candyman. Did you and Colman Domingo by any chance meet before the film to get on the same page because he plays the older version of your character?
No, sadly I did not get to meet him, but it would have been amazing. And so no, we didn't get to discuss anything about ... But Colman Domingo, he's an amazing actor and so I did my research on him as well, and I watched some of the things he had played. And I was also super excited to be playing the younger version of this guy, so it's amazing.
Do you recall the first time Nia yelled "action" and you saw Michael Hargrove in his full Candyman costume with that hook hand? Were you startled seeing him for the first time as much as you were startled in the scene in the film?
Yeah, so he just appeared there and I was like, "Whoa!" I was not expecting that. But it was pretty fun to be on set and to be a part of this film. It was amazing and awesome, and it was very thrilling, too, at times. I'm definitely so glad that I was able to work on this and meet Nia DaCosta — it was an all-out amazing experience.
Now admit it, did you get a selfie with Michael dressed up as Candyman?
Did I? Yes, I actually did. Obviously, I did. [Laughs] Of course, I had to get it, it's like we got that one-on-one scene where we're both staring into each other's eyes and I was on set with him for a while, so I definitely got a picture with him.
In the opening of the movie, Billy is doing a bit of shadow puppetry on the wall, and I think that's such an enormously powerful storytelling device in the film. I presume at this point you have seen the completed film or even obviously from the trailer, you got some of it in there, too. Did that get you interested in that sort of artistry?
Yeah, the shadow puppets really amazed me how they dealt with that, and I do think it was a great way to tell the story. Seeing my character Billy using them in the beginning, and then we actually see that continue throughout the whole movie. And I even talked about this with Nia, so when I was doing the shadow puppets in that scene we wanted to make the police officer look bigger than the man that he was chasing to show that perceived power dynamic between the police and Black males, and Black people in general.
Rodney L. Jones mustered up the courage to say 'Candyman' in the mirror five times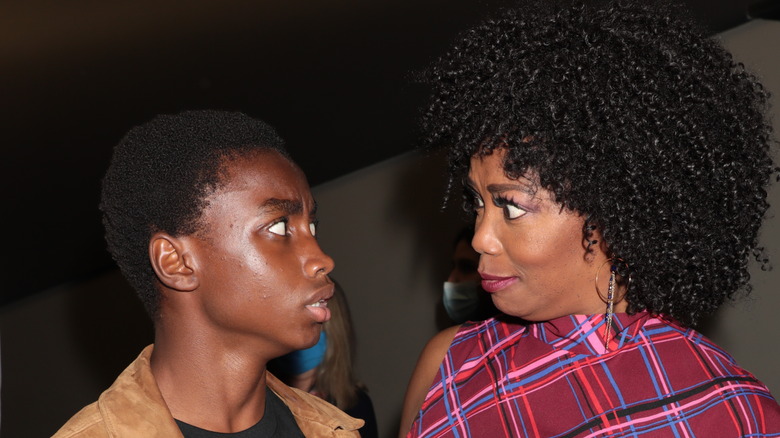 NBC Universal
Now I'm sure everybody asks — and Yahya, Teyonah, Nia, and Coleman addressed it in the film's press conferences — did you have the guts to say "Candyman" five times in the mirror?
So here it is, I have said it but it definitely took me a while to just conjure up the guts to say in the mirror five times and even in the dark. I went through it. I said it two times, then I was like, "No!" I just walked out of the room, turned the light on, and closed the door.
But then, I think, maybe a few days later, I was like, "Okay, Rodney, you can do this, if you're in this movie, you should be able to say it five times." So I went into the bathroom, and I turned the light off and I said it in the mirror, and I was like, "Did anything happen?" And I thought I heard something like a shower curtain moving, but no, that was obviously my mind playing tricks on me. But every time I go into the bathroom, I'm still a little skeptical. It was still fun to say it.
You have a lot more guts than Yahya, Teyonah, Nia, or Coleman, because they all admitted that they've never done it and they probably never will! Speaking of Yahya and Teyonah, did you have the opportunity to meet with them at any point during the production?
Actually, I did. I think it was one of my last few days, I met Yahya on set because we were in the same building. He was on a different stage, but after I had wrapped, we knew that he was over there in the different stage. So, after I wrapped, we went over there and we were watching him, and then he was on a break, so I sat down and talked to him about a few things in the movie, and just had a general conversation. And then I got a picture with him and that was fun. And I actually did meet Teyonah at the wrap party — obviously she was dancing!
Rodney L. Jones III took every opportunity to learn on the Candyman set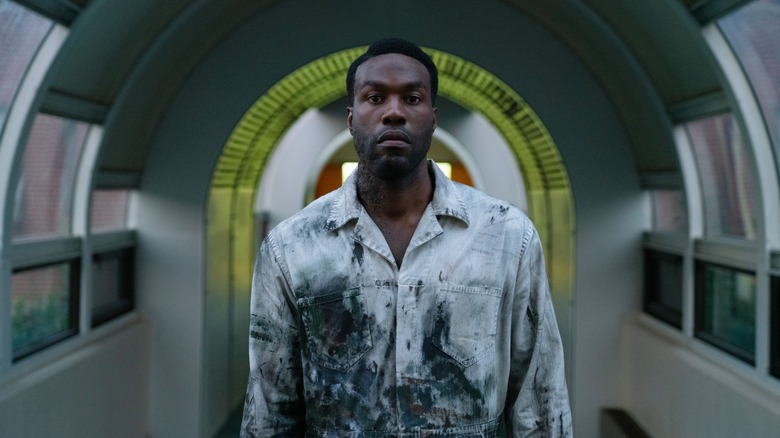 Universal Pictures
I'm sure it's cool to absorb what they've learned in the craft. After watching these people work who have been in the business for so long, does it somehow have some sort of effect on you?
Yes, definitely, just seeing how fully they can immerse themselves into that character. And the scene that I saw Yahya do, it was amazing to see how well he could portray this character, Anthony, and even some of the things he did seem really funny to me. I watched some of the things that this character did and how Yahya picked them up, and how he himself perceived how this character should be and how he fully embodied him. It just amazes me and definitely inspires me and encourages me to keep going in my acting career.
Any thoughts of going into filmmaking after being around talented people like Nia and Jordan?
I've always loved the whole filmmaking process, whether it was being behind the camera, writing the scripts in the writers' room or even just dimming the lights on set. I've always loved being there and experiencing all of it and seeing everyone's, either their major part or their little part in the role of making the film or TV show. So, it just really amazes me.
I would love to actually be part of that filmmaking process in the future. And some of the fun times I had on set, like when I was in "Fargo," I got to ride on the dolly track, and one of the cameramen even let me play around with it and see how it works. Whereas the ones with the turrets and it's like you kind of spin them. So, being on set really amazes me ... it's a new experience and I always learn something new, and it's great.
During the press conference, Nia told a really creepy story of how a swarm of bees suddenly appeared on set one day. Did anything unusual happen to you while you were filming your scenes?
Not while I was filming my scene, but one day I showed up and it was a base camp. So, it was lunch time, and I was with my uncle and we were getting some food, and there was honey and barbecue around. We saw a swarm of bees right around the food and I was like, "Look over there at the bees!"
Rodney L. Jones was amazed by Chris Rock while working on Fargo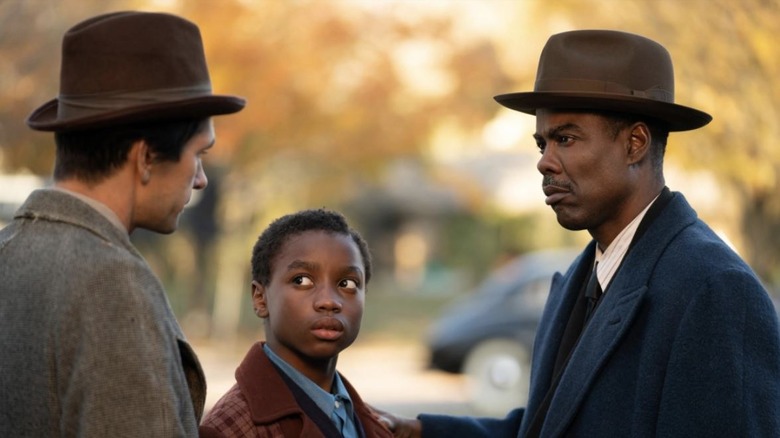 FX Television
You mentioned "Fargo" before. Playing Chris Rock's son — what an opportunity, and it had to have been a real fun time. Are there any fun stories about Chris that you can share?
I remember there was this one time, I think it was my last day or my second to last day filming and so I was on set, and it was the scene in the house where we run down the stairs. And so we were just sitting on the stairs and he noticed something on my shoulder because I was wearing a no-sleeve shirt and he seemed pretty intrigued by it and I had this scar. And so, I was telling him a story about how a little bit before we came back to film, it was during the summer and I was walking my dog and so I was wearing these snow boots because I didn't feel like putting on my shoes, but they had these hooks on them and I was running and they hooked together, and I fell and I scraped my shoulder. 
I thought about it a little bit after and I realized why he had asked me, because it's just a little weird how you could get a scar on your shoulder from falling? So, it definitely was funny to think about that. That was one of our conversations and being on set with him was amazing. And just seeing how well he could also embody his characters and just being on set with all these great actors has been a wonderful experience for me.
"Candyman" opens in theaters Friday, August 27.