What Is The Teardrop Song In AHS: Double Feature Episode 2?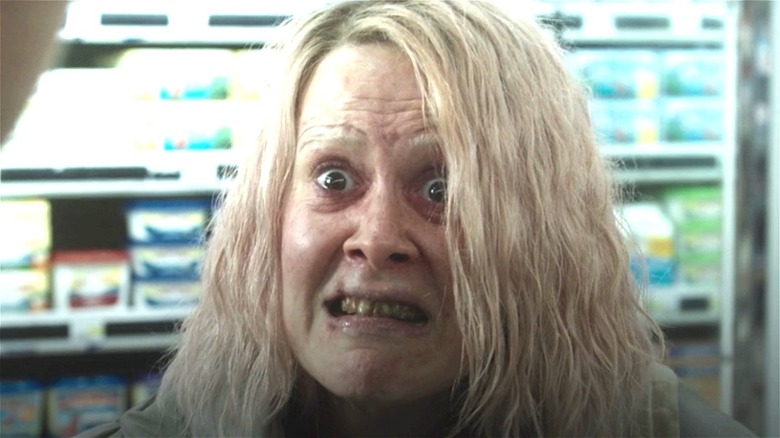 FX
"Double Feature" marks the tenth season of the long-running anthology horror series "American Horror Story." Ahead of its premiere, fans naturally anticipated and theorized about what the newest outing in showrunner Ryan Murphy's growing horror universe might bring. For example, one poll on the "American Horror Story" subreddit found that, outside of the show's main cast, fans were most excited to see how "Home Alone" star Macaulay Culkin, whose casting was announced in advance of the season's debut, would factor into the new story.
Another detail that intrigued a certain subset of fanbase in the lead-up to the premiere was a tease of a creature resembling a space alien and a sea monster. One "AHS" fan theory speculated that the creature was the result of the combination of alien and mercreature DNA from an experiment by a scientist known as "The Chemist" teased in trailers for "Double Feature."
On August 25, "Double Feature" premiered its first two episodes, putting an end to some speculation and sparking entirely new discussions about the ongoing narrative. For example, viewers on Reddit have already begun debating the identity of a monstrous humanoid that appears in Episode 2. That said, more than just new monsters have drawn the attention of fans, but the soundtrack too. Those wondering the identity of the song with the lyrics "teardrop on the fire" used in the second episode of "Double Feature" need simply read on.
AHS: Double Feature Episode 2 features Teardrop by Massive Attack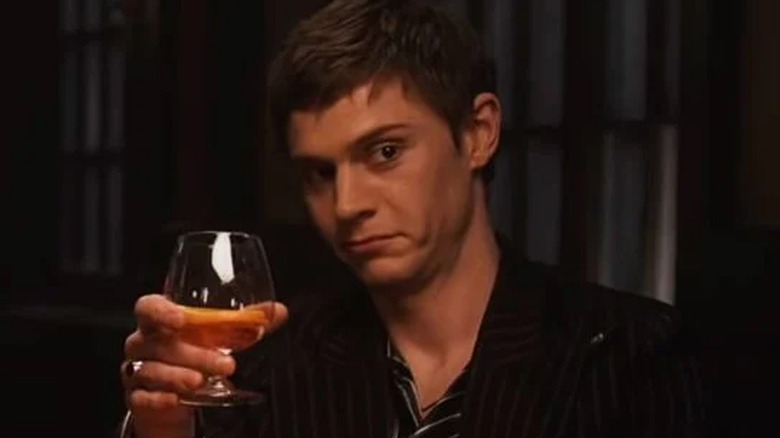 FX
The "American Horror Story: Double Feature" season premiere introduces Harry Gardner (Finn Wittrock), a screenwriter who moves with his family to Provincetown, Massachusetts. There he meets fellow writer Austin Sommers (Evan Peters) who gifts him some black pills. These enhance artistic inspiration in creatives, but also require their users to drink raw blood. Gardner is initially upset, but upon realizing the extent to which they ease his writing process, he heads to Sommers' house to reup his pill supply. On the drive to obtaining his next dose, Gardner listens to the aforementioned song.
That track is "Teardrop" by the British trip-hop band Massive Attack. While Massive Attack is a noteworthy group in its own right — and, according to one theory, may even include anonymous street artist Banksy in its ranks — "Teardrop" holds additional significance for its use as the opening theme of medical drama "House." This connection could be the impetus for the song's inclusion, given that "House" protagonist Dr. Gregory House (Hugh Laurie) is a notorious pill addict, and the song appears in "American Horror Story" as its new protagonist is on his way to procure pills himself.
Regardless of the "House" connection, some fans were simply thrilled to hear Massive Attack in this latest "American Horror Story" episode. Users @SVUxCSI, @momerathsxoxo, and @cambcummins1 all shared their joy at the song's inclusion on Twitter.
Episode 3 of "American Horror Story: Double Feature," titled "Thirst," airs on September 1.