The Wild Fan Theory About AHS: Double Feature's New Poster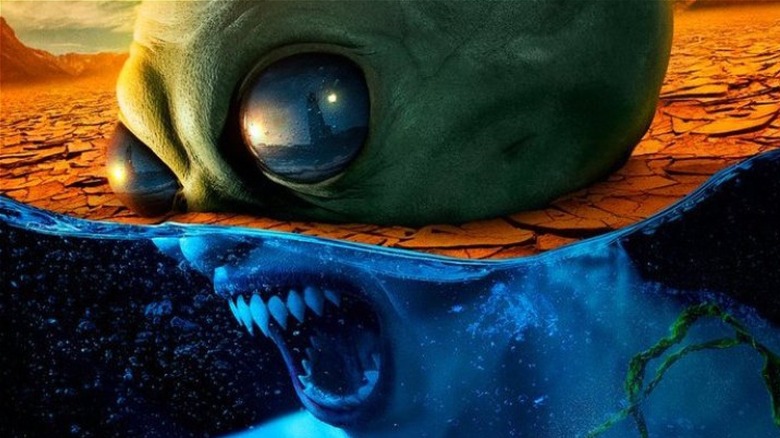 FX
Spooky season starts early this year. After taking a year-long hiatus due to the COVID-19 pandemic, Ryan Murphy's iconic horror anthology "American Horror Story" is about to return for Season 10, which is titled "American Horror Story: Double Feature." While plot details have been largely kept under wraps, "Double Feature" promises to be a season like no other. In March, Murphy shared the first trailer on Twitter, which previewed "two horrifying stories, one season. One by the sea, and one by the sand."
A July 27 teaser officially revealed the two stories' official titles: "Part 1: Red Tide" and "Part 2: Death Valley." It seems like the former will center on bizarre, vampiric mer-creatures, while the latter will feature aliens in the desert. So far, it seems like the two storylines will be separate, although threads of one could certainly show up in another. But what if that's not actually the case?! One Reddit user made a compelling argument based on a new poster.
Both monsters could be genetically engineered
The latest "AHS: Double Feature" key art poster shows one of the mer-creatures sensually licking an alien's neck. But in a strange twist, this alien has the same razor-sharp teeth as the mer-creature. 
"The fact that they both have the same teeth makes me think both these creatures were engineered by or involved somehow with 'the chemist' and the black pills," Redditor u/Addieprettygirl wrote. "Pose" star Angelica Ross is set to play a character known only as "The Chemist," and the latest teaser shows black pills spilling all over a counter. Perhaps Ross' character will create hybrid alien/mer-creature monsters who bring the season's two plotlines together.
u/trevaconda echoed those sentiments. "I'm thinking something along the lines of the aliens landing, a scientist studying them thinks they're the ultimate life form [...] so [they start] trying to crossbreed us with them and the results are these f***ed up fish things," they noted.
You can find out for yourself when "American Horror Story: Double Feature" premieres on FX on Wednesday, August 25.