Star Trek: Prodigy Has Found Its Main Villains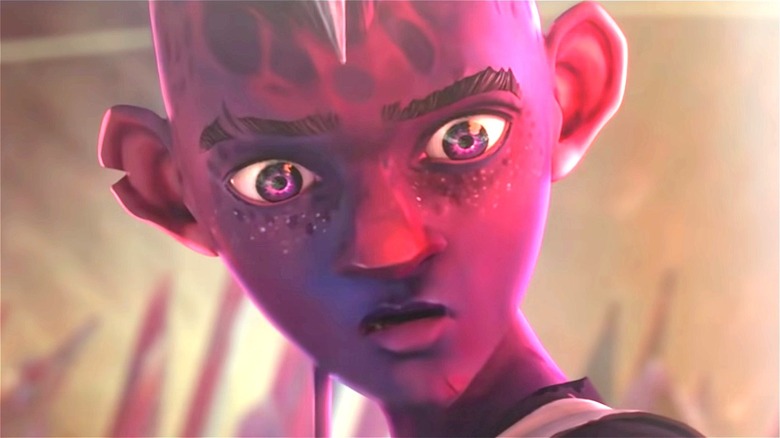 Paramount+
As we continue enjoying the second season of "Star Trek: Lower Decks" there's another animated series in the franchise that's inching closer and closer to release — "Star Trek: Prodigy." The upcoming cartoon series marks the first time Trek is releasing a series specifically targeted at a younger audience (although who could blame you if you thought the space jellyfish from "Encounter at Farpoint" were for the kiddies), and it's doing so by bringing along one of the franchise's most important characters: Captain Kathryn Janeway (Kate Mulgrew).
We know quite a lot about both the plot and the cast of "Star Trek: Prodigy." The story follows a group of six young aliens who discover an abandoned (and highly advanced) Federation vessel called the Prodigy. With the help of a holographic interface designed to look, act, and sound like Janeway, the kids use their newfound ship as a means to escape their circumstances. It's sort of a cross between the "Star Trek: Voyager" episode "Message in a Bottle" and the classic British sci-fi series "Blake's 7" — and if that means something to you, regardless of age, "Star Trek: Prodigy" is probably a show worth checking out.
We also know who our alien heroes are: Gwyn (voiced by Ella Purnell), Dal (Brett Gray), Zero (Angus Imrie), Rok-Tahk (Rylee Alazraqui), Murf (Dee Bradley Baker), and Jankom Pog (Jason Mantzoukas). What we didn't know up until now was who the show's villains were — but that changes today.
Denethor and the Man in Black walk into a bar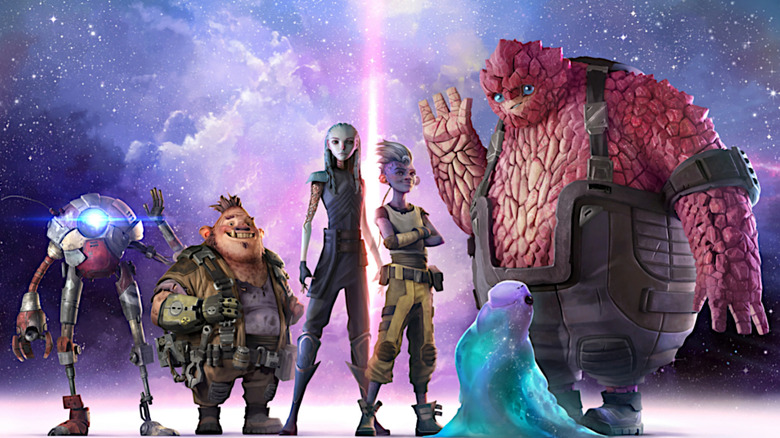 Paramount+
Into each life, a little rain must fall. Unfortunately for the young crew of the Prodigy, they are in for a lot of debris rain — specifically in the form of The Diviner.
According to Variety, the Diviner is the series' main villain, a being who holds dominion over a mining asteroid called Tars Lamora. It turns out, he's in search of exactly what our young heroes have — the Prodigy. And what that means is that the Diviner will stop at nothing to get what he wants, even if it means hurting his child and heir Gwyn.
Thankfully for fans of both science fiction and fantasy, the voice of the Diviner is being portrayed by none other than John Noble. Noble is a veteran actor who many fans will recognize from his portrayals of Denethor in the "Lord of the Rings" movies as well as his incredibly complex performance as Walter Bishop on the mind-bending multiversal series "Fringe."
But every big bad needs a lackey to do the dirtiest of the dirty work. The other villain is a robotic spider named Drednok, a lethal enforcer of the Diviner's will. Drednok will be portrayed by another science fiction veteran, Jimmi Simpson. You'll likely recognize Simpson from "Westworld" where he played William. And if you're a "Star Trek" fan you likely also remember Simpson from his role in the deeply unsettling "Black Mirror" episode "USS Callister" — an episode that is a send-up of the malignant, narcissistic, and misogynistic people who exist within a "Star Trek" coded fandom.
"Star Trek: Prodigy" begins streaming on Paramount+ this fall.