The Show Like Sons Of Anarchy That Crime Drama Fans Need To Watch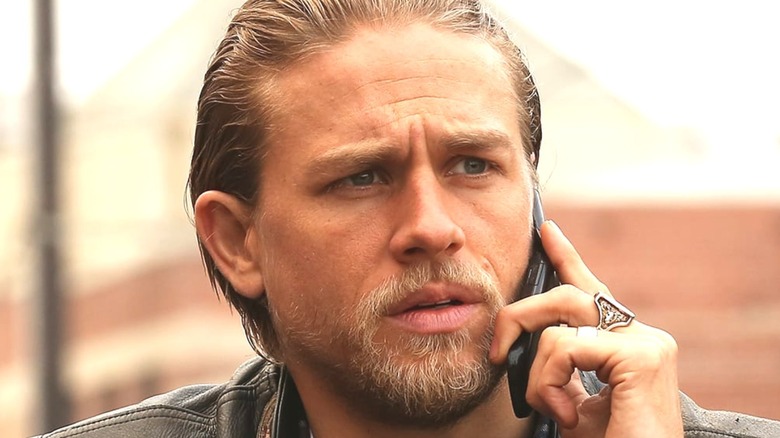 FX
"Sons of Anarchy," FX's uber-popular drama series about the complex brotherhood and violent exploits of the Sons of Anarchy Motorcycle Club, thrilled viewers for seven seasons. During its run from 2008 until 2014, the Kurt Sutter-created show explored the messy internal politics of the club as its vice president, Jackson "Jax" Teller (Charlie Hunnam), the son of the club's late founder John Teller, began to question the purpose and direction of SAMCRO, thus putting himself at odds with its president, his stepfather Clay Morrow (Ron Perlman).
As the club faced off against numerous outside forces, from other clubs and dangerous criminals to relentless law enforcement officials, the internal struggle between SAMCRO members threatened to tear it apart from within. Jax's quest for meaning and life in the club left him searching for how to be a good man while uncovering buried secrets, and he eventually began to plot a way out for himself and his family with his wife, Tara (Maggie Siff). This interpersonal drama mixed with high-stakes storytelling and action is what kept fans coming back for seven years, allowing "Sons of Anarchy" to become FX's highest-rated series and eventually spawn a spin-off, titled "Mayans M.C.," which follows a chapter of a rival motorcycle gang near the Mexican border.
If you've already watched (and rewatched) the saga of SAMCRO and are looking for a new crime drama to rev your engine, "Mayans M.C." is always a good place to start. But if you want to explore a new setting and story that exists outside the show's extended universe, check out the period crime drama "Peaky Blinders," which is streaming on Netflix.
Sons of Anarchy fans will love Peaky Blinders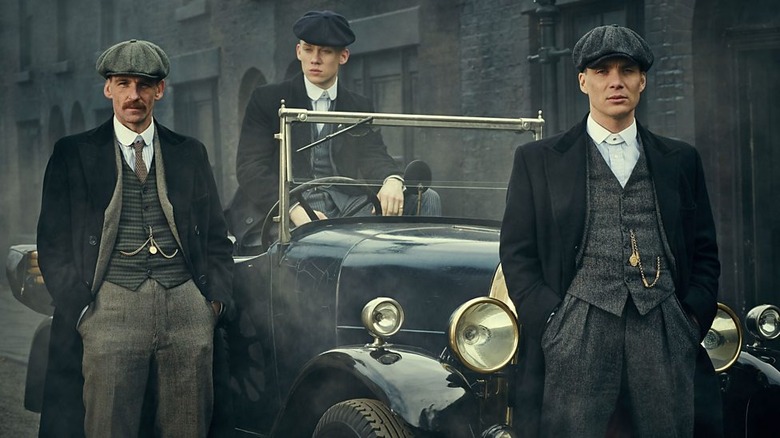 BBC One
Fans of "Sons of Anarchy" will find a lot to like in the popular crime drama "Peaky Blinders" because the BBC One series, which streams on Netflix in the U.S., is essentially "SOA" without the motorcycles (and with period clothing).
Set in the aftermath of World War I, the show follows the exploits of the Peaky Blinders, a dangerous but small gang from Birmingham, England, that is led by Thomas Shelby (Cillian Murphy), a cunning man with big dreams, and his brothers, Arthur (Paul Anderson) and John (Joe Cole). As time goes on (each season sees a small time jump), the Shelby family begins to move into legitimate businesses much like SAMCRO does under Jax's leadership. The family becomes richer and richer as Tommy's influence grows. But more power and visibility means the Shelbys and the Peaky Blinders find themselves frequently butting heads with other gangs and powerful people in England, which naturally leads to plenty of violence and double-crossing. 
Complex deals and bloody fights aren't the only thing "Sons of Anarchy" and "Peaky Blinders" have it common. They also share themes of brotherhood and family. As Shelby family matriarch Aunt Polly, the late Helen McCrory fills a similar role to Katey Sagal's Gemma in "Sons of Anarchy," meaning she pulls the strings while steering clear of the day-to-day operations of the family's illegal enterprises. But perhaps the biggest connection between the two series is the fact that actor Tommy Flanagan appears in both. He portrays Filip "Chibs" Telford in "Sons of Anarchy" before taking on the role of Tommy, Arthur, and John's father in "Peaky Blinders."
The first five seasons of "Peaky Blinders" are currently streaming on Netflix. A sixth and final season will debut at an undetermined date.