Here's How You Can Watch Every Season Of Sons Of Anarchy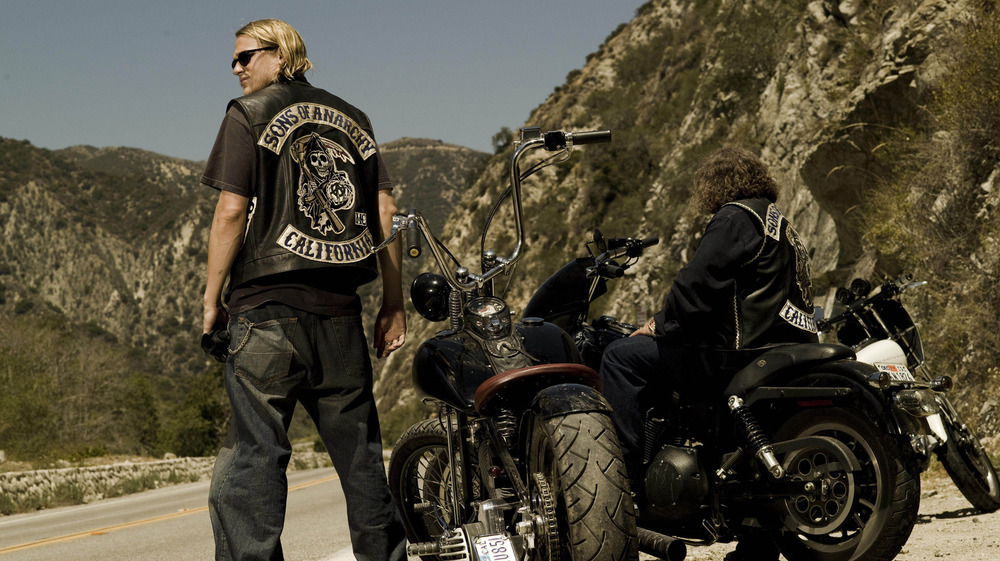 FX
FX has been home to a number of critically acclaimed shows since bursting onto the scripted programming scene with Shawn Ryan's crime drama, The Shield, in the early 2000s. With the rise of peak TV, you'd be forgiven if you've missed some of them. But one of the network's programs you should absolutely add to your watch list, as soon as possible, is the testosterone-soaked motorcycle drama Sons of Anarchy.
The series, which ran for seven seasons, was a mega-hit when it debuted in the fall of 2008. Created by Kurt Sutter, who had worked as a writer, producer, and director on The Shield, the series is set in the fictional small town of Charming, California, and follows the violent exploits of the Sons of Anarchy Motorcycle Club, often known by the shortened name SAMCRO. The show, which features several parallels to William Shakespeare's Hamlet, is led by British actor Charlie Hunnam, who stars as club vice president Jax Teller. The series' adrenaline-fueled storylines explore outlaw culture, vigilantism, and brotherhood through complicated family dynamics and the club's internal politics.
Throughout the show's lengthy run, the bonds between the club's members, which include Jax's step-father and club president Clay Morrow (Ron Perlman), are tested, as Jax questions the purpose of SAMCRO — which his late father, John Teller, founded before Jax was even born — and the legacy that he wants to leave for his own sons.
Now that Sons of Anarchy has ended, though, how can you watch the full series?
To watch Sons of Anarchy you will need a Hulu subscription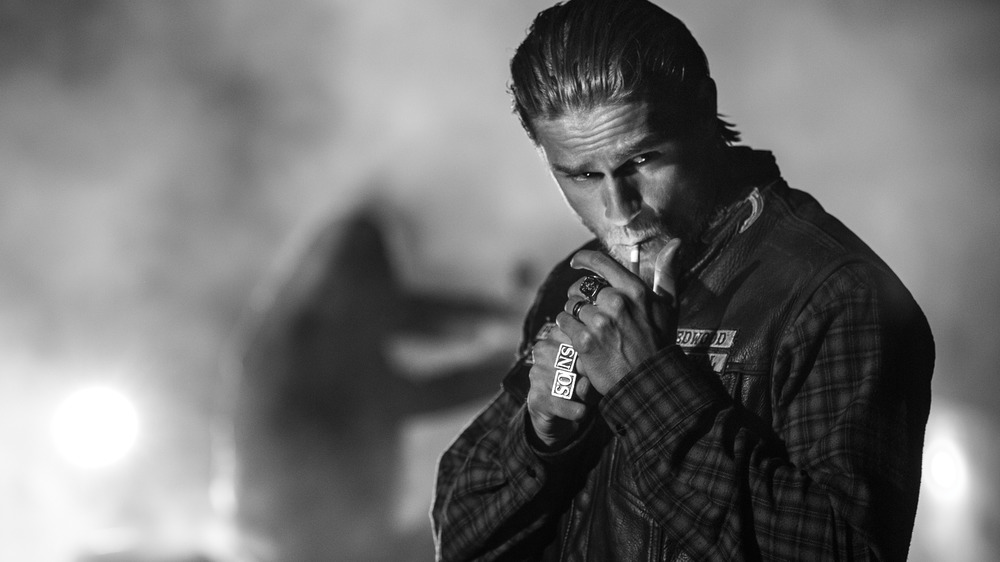 FX
As of early 2021, after a rather lengthy run on Netflix, all seven seasons of Sons of Anarchy made the jump to Hulu, a little while ago. You can find the show and nearly all of FX's programming under the network's branded collection known as FX on Hulu (some shows still have existing licenses elsewhere, like the Cold War spy drama The Americans, which is on Amazon Prime Video).
If you've yet to experience the drama of Sons of Anarchy, you're in for a treat, because the series really has it all. Heart-pumping action sequences in the form of chases and shootouts between rival clubs are balanced out by quiet, emotional character moments, like those between Jax and his high school sweetheart, Dr. Tara Knowles (Maggie Siff), who has recently returned to Charming after years away. So if you've been holding off on watching the show because you thought it wasn't for you, there is a good chance there's something in the series that will capture your attention.
For the most part, every season follows its own storyline and features a different antagonist, with the second season receiving critical acclaim for a storyline involving Jax's controlling mother, Gemma (Katey Sagal), and a group of white supremacists who've rolled into town. And although the later seasons of the show don't quite measure up to the first four, the entire series is still worth watching.
Once you've binged all seven seasons of Sons of Anarchy, check out its popular spinoff, Mayans M.C., which is also streaming on Hulu. Set a few years after the events of the original series, the show follows a chapter of a Mexican-American club known as the Mayans, and you might just see a few familiar faces stop by.