Why The Candyman Reboot Has Critics Freaking Out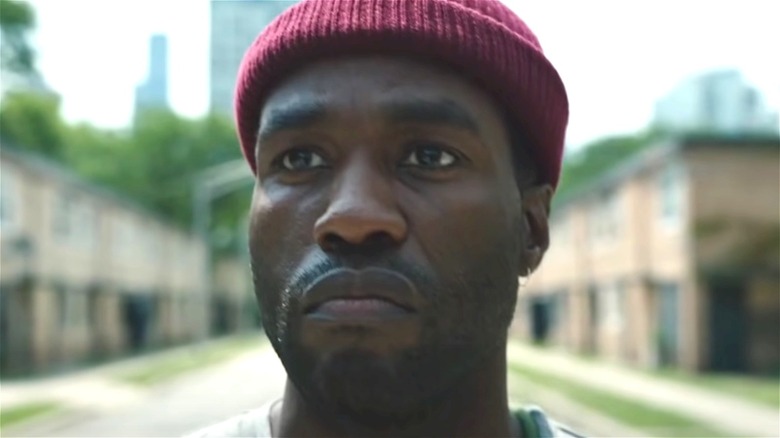 Universal Pictures
The first reviews for Nia DaCosta's "Candyman," which was produced and co-written by Jordan Peele and Win Rosenfeld, have arrived. At the time of writing, the film boasts an impressive 96% Rotten Tomatoes score and if the critical consensus is to be trusted, horror film buffs will have a hard time resisting the deadly allure of this smart sequel. 
2021's "Candyman" builds on the story of the 1992 original. Struggling painter Anthony (Yahya Abdul-Mateen II) and gallerist girlfriend Brianna (Teyonah Parris) have just moved into a condo built on the site of the now demolished Cabrini Green housing project in Chicago where the urban legend of the Candyman — a supernatural figure who appears if you say his name five times in a mirror — originated. Inspired by the mythological figure, Anthony begins to dig deeper into the history of the stories and finds that they are all too real.
According to critics, DaCosta's film serves as both a chilling continuation of the themes and narrative introduced in the original while deftly incorporating its own fresh take. As Owen Gleiberman wrote in his review for Variety, "what [DaCosta] has done is to make a horror movie that has its share of enthralling shocks, but one that's rooted in a richer meditation on the social terror of the Candyman fable."
Here's what critics are saying about "Candyman."
According to critics, Candyman is a fresh blend of social commentary and expertly crafted thrills
Between the dizzying horror set pieces and the bracing commentary on American racial politics, critics have found plenty to unpack in Nia DaCosta's "Candyman."
Writing for io9, Charles Pulliam-Moore said that the film "uniquely situates itself within the horror canon because it understands that stories spotlighting the violence and brutality inflicted upon Black people ... have become increasingly en vogue in Hollywood." He went on to add, "This sequel dares a new generation of audiences to speak its titular tortured soul's name, but it does so understanding how the act of saying the names of the countless Black men, women, and children who've lost their lives to real racist violence isn't something that we should do lightly or for entertainment purposes."
Odie Henderson of RogerEbert.com wrote of the movie's political themes, "'Candyman'" acknowledges that the real world can be even more dangerous and horrifying than the supernatural." Henderson also praised DaCosta's handling of the visceral horror elements, which he said were staged with "a mix of pitch-black humor, misdirection, and clever framing ..."
That was an opinion shared by Siddhant Adlakha of IGN, who said, "the film's violence is deliciously mysterious ..." As a sequel, Adlakha praised the film for working within the lore of the original while still pushing "the character and his mythology in a fascinating new direction."
Some critics, on the other hand, thought the movie fell short of its goals. Leah Greenblatt of Entertainment Weekly concluded that while there were things to praise, "there's nothing particularly new or shocking ... And as much care as Peele and Co. take to underscore the role of Blackness and justice and the basic struggle just be seen and acknowledged as a human being ... those ideas never quite integrate into the standard slash-and-burn march of the plot."
"Candyman" hits theaters on August 27.