The Real Reason Why Spider-Man: No Way Home Will Be Exclusive To Theaters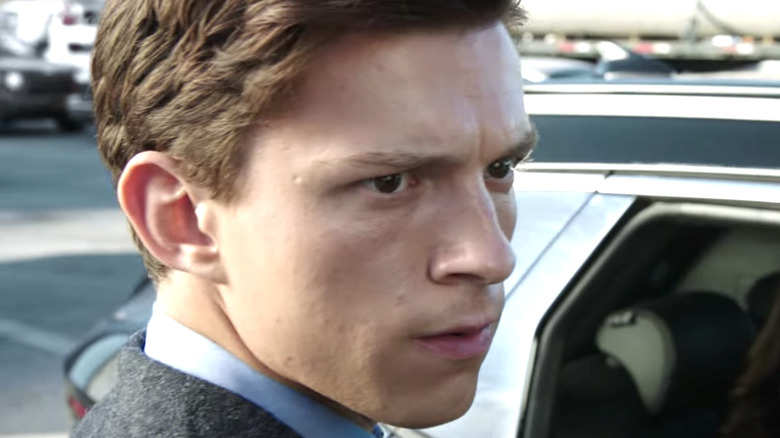 Marvel Studios/Sony Pictures
After the trailer for the upcoming film "Spider-Man: No Way Home" was leaked, Sony Pictures finally just went ahead and released the first trailer to the public, and fans are ecstatic. The first footage hints at what fans have long been theorizing — that the new movie will bring about the multiverse in the MCU, all thanks to Peter Parker (Tom Holland) and Stephen Strange (Benedict Cumberbatch), though Sylvie (Sophia Di Martino) from "Loki" likely plays a part. Some of the most eye-catching aspects of the trailer include the burgeoning romance between Peter and MJ (Zendaya), Green Goblin pumpkin bombs, and of course, the appearance of Alfred Molina as Doc Ock, the character he played in the critically-acclaimed 2004 movie "Spider-Man 2," which stars Tobey Maguire as the costumed superhero, another person rumored to appear in the upcoming film. 
"Spider-Man: No Way Home" is scheduled to come out in theaters on December 17, 2021, and fans are honestly lucky that the movie was scheduled to come out after other Marvel projects like "Black Widow" and "Eternals," when theaters have fully opened. After the pandemic started, various movie studios began introducing a hybrid release model, with movies coming out in theaters and on a streaming platform at the same time. While Disney — who owns Marvel Studios — was initially against this structure, they quickly changed their tune, and on July 9, 2021, the long-delayed "Black Widow" came out on Disney+ and in theaters. Despite also being based in the MCU, "Spider-Man: No Way Home" will definitely not be doing the same, and here's why. 
Sony is dead set against the hybrid release structure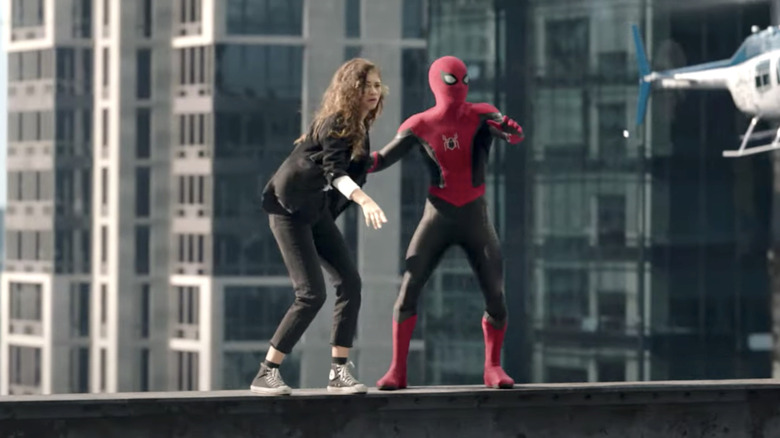 Marvel Studios/Sony Pictures
Unfortunately for fans of the hybrid digital and theater movie release structure, "Spider-Man: No Way Home," and probably future movies in the series, are not likely to use this model. Although the upcoming superhero movie is created in partnership with Marvel Studios, Sony Pictures owns the characters and will therefore decide distribution. Recently, Sony executives made it very clear that they do not support releasing movies on streaming networks and in theaters simultaneously. Speaking at CinemaCon in Las Vegas, Sony's Josh Greenstein called the release model "devastating to our collective businesses," while Sony's chairman and CEO Tom Rothman put it a little more bluntly, proclaiming that the success of the recent movie "Free Guy" from 20th Century Studios happened because "number one, it's terrific, and number two, you can't watch it at home. Go f***ing figure!" (via IndieWire). It's clear that Sony executives do not approve of the hybrid release model and adamantly want to stick to solely theatrical releases. 
Of course there's also another factor that prevents Sony Pictures from releasing their movies through digital streaming, as the studio doesn't have their own streaming network. But Disney, who now owns Fox and all of its properties, and Warner Bros. both have streaming platforms — Disney+ and HBO Max — that they can use for hybrid release of their movies, which they have done to great success. The entertainment industry has long declared the success of a film based on its box office returns, while the success of digital releases is newer and harder to measure. Although it's clear that "Spider-Man: No Way Home" will definitely not be coming out on a streaming platform, only time will tell what will happen with Sony movies in the future.