Jamie Searches For Claire In New Outlander Season 3 Teaser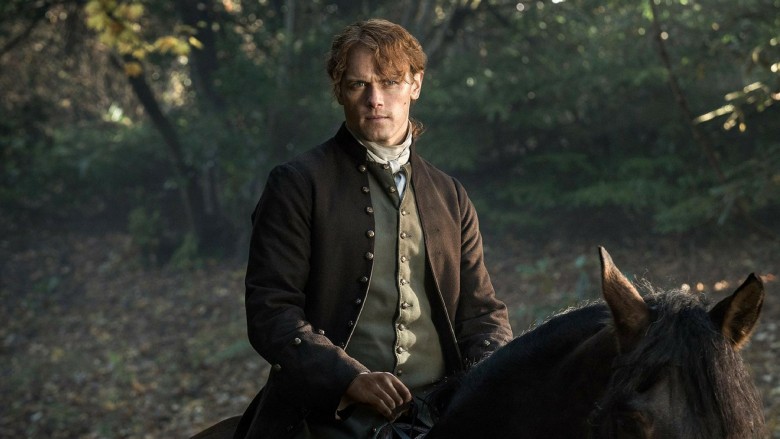 It may be short, but we finally have our first footage from the long-awaited third season of Outlander.
The footage, which aired during the pilot episode of The White Princess, shows Jamie (Sam Heughan) and Claire (Caitriona Balfe) living in different eras, rushing to get back to each other.
The trailer (below) starts with a clip of the two saying goodbye as Claire prepares to travel forward in time to reunite with her husband Frank (Tobias Menzies) in 1948. "I have lied, killed, and broken trust," Jamie says in the voiceover. "But when I stand before God, I'll have one thing to say to weigh against all the rest. Lord, you gave me a rare woman. God, I loved her well."
The trailer intersperses the repeat of his monologue from last season with clips of scenes from the new season, including Brianna (Sophie Skelton) graduating, Jamie waking up after the Battle of Culloden, Claire and Frank celebrating Brianna's birthday, and Jamie shooting someone. It ends with the moment that will push forward the rest of the action of the season, as Jamie vows to reunite with Claire, screaming her name and saying, "I'll find you, I promise."
Season 3 is based on author Diana Gabaldon's Voyager novel, the third book in her Outlander series. The third season, which is still filming, won't premiere until September, more than a year after the season 2 finale. The delay comes due to the book's scope, with the crew filming in the U.K. and South Africa in order to cover the novel's epic journey.
While we continue our long, long wait for Outlander season 3, view some pictures from the season and see how the cast should really look based on the books.