Details About The 'Biggest' New Character In Star Wars: The Last Jedi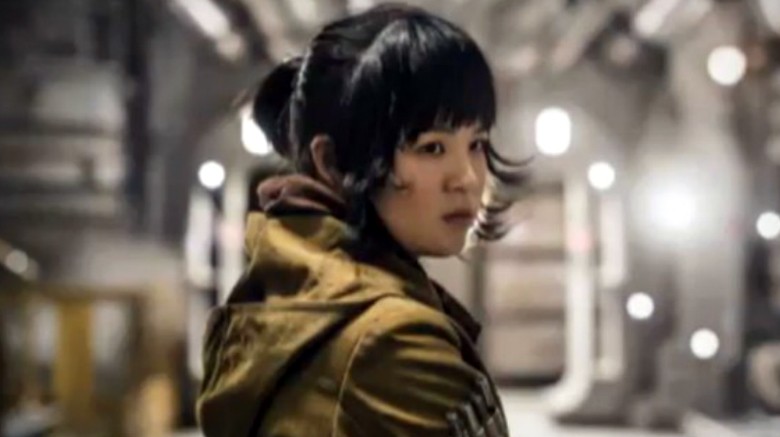 There will be another strong female in the Star Wars galaxy.
During this weekend's Star Wars Celebration in Orlando, The Last Jedi director Rian Johnson revealed a few details about the new character "Rose," played by Kelly Marie Tran.
"[She has the biggest new part in the movie and ironically is played by the smallest actor," Johnson said, while introducing Tran to the crowd during a panel about The Last Jedi. "She's not a soldier. She's not looking to be a hero, and she gets pulled a very big way into an adventure in this movie with Finn (John Boyega)."
Tran offered up just a few tidbits about her character."She's part of the Resistance, and she works in maintenance," she said. "I can't wait for you to meet her."
Although we know Rose will interact with Finn, the impression Tran made on Mark Hamill and Daisy Ridley seems to indicate that we could see her onscreen with Luke Skywalker and Rey, too.
Tran, who was previously best known for a series of digital comedy shorts, said she kept her part in The Last Jedi a secret even from her family. "They didn't know for four months," Tran said. "I told them I was doing an indie movie in Canada. At one point, I actually got some maple syrup so I could bring it back to them so they actually thought I was in Canada."
Rose won't be the only new addition to the cast: Benicio del Toro and Laura Dern are also aboard. Del Toro reportedly plays a shady character with ties to the casino planet" Canto Bight, and rumor has it that Dern portrays Admiral Holdo, a divisive political rival to General Leia Organa.
The first official teaser trailer premiered during the panel, and if you haven't seen it already, you'll definitely want to get on that now. The Last Jedi arrives in theaters Dec. 15. While we wait, check out why the movie will be better than you think.