Charlize Theron Kicks Butt In New Atomic Blonde Teaser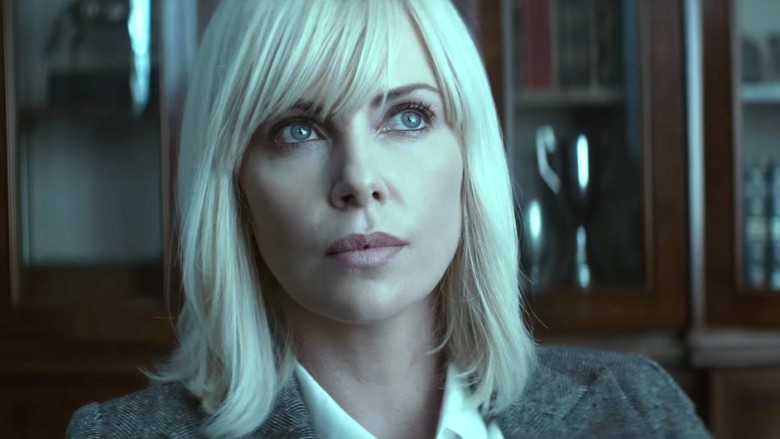 She's bold, blonde (duh), and ready to break down the bad guys.
Universal released a new teaser trailer for Atomic Blonde, the upcoming spy action-thriller flick starring Charlize Theron.
Though only a short 14 seconds long, the video is stuffed with gunfire, adrenaline-fueled car chases, explosions, and one synchronized and slightly ominous sequence involving black umbrellas. What could it mean? Accompanying the teaser is an equally curt caption: "Trust no one."
What stands out most, however, is the film's lead taking on everyone who stands in her way. Theron stars as top-level MI6 spy Lorraine Broughton, and she's shown whooping major enemy behind in the teaser. From stiletto-heeled kicks to the chest to high-intensity struggles in the back seat of a moving vehicle, Theron seems to prove her skills as a bonafide undercover agent–an on-screen version of one, at least.Based on the 2012 graphic novel The Coldest City by Antony Johnston, Atomic Blonde follows Broughton and Berlin law enforcement official David Percival (James McAvoy) as they track and take down a band of black ops agents.
Here's the full plot synopsis: "The crown jewel of Her Majesty's Secret Intelligence Service, Agent Lorraine Broughton is equal parts spycraft, sensuality and savagery, willing to deploy any of her skills to stay alive on her impossible mission. Sent alone into Berlin to deliver a priceless dossier out of the destabilized city, she partners with embedded station chief David Percival to navigate her way through the deadliest game of spies."
Joining Theron and McAvoy in Atomic Blonde are John Goodman as a CIA agent, Eddie Marsan as Spyglass, Sofia Boutella as Sandrine, Til Schweiger as James Gascoigne, Toby Jones as Gray, and Bill Skarsgård as Merkel. John Wick co-director David Leitch (who will also take the reins on Deadpool 2) helmed the flick.
Atomic Blonde hits theaters July 28. In the meantime, check out the other films you won't want to miss this summer.