Sonequa Martin-Green Says Her Star Trek: Discovery Casting Didn't Change Sasha's Fate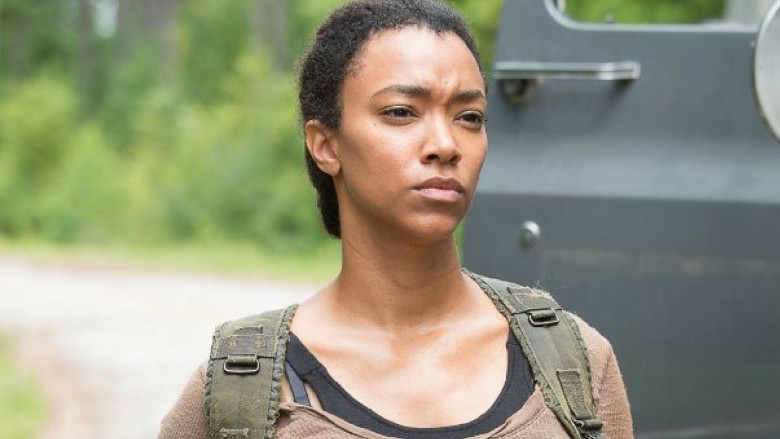 Contains spoilers for The Walking Dead season 7 finaleDon't go blaming Star Trek: Discovery for Sasha's death, Walking Dead fans. According to Sonequa Martin-Green, Sasha's demise was already planned when the actress was cast in the CBS All Access series, contrary to many fan theories that the character's death was written in so that Martin-Green could move on.
"I'm just so grateful to God for it," Martin-Green told Entertainment Weekly of her new role on Discovery, adding that the offer came when she was at the very end of shooting The Walking Dead's seventh season. "It couldn't have worked out more perfectly."
Martin-Green said that she was worried about what she would do next as she heard about Sasha's death. "And when Star Trek came I thought, 'Oh my goodness! This is...unspeakable! Like, what?,'" she said. "It's going from such a Goliath that reaches so many people in such a profound way, to a legacy. So basically, [I'm] going from legacy to legacy. Because Star Trek has definitely been printed in the hearts of so many people and has been since the '60s, obviously. To go from such a favorite show, to arguably the most favorite show of all time, is... I still think I'm catching my breath."
Martin-Green will play First Officer Michael Burnham on the show, a prequel to the original Star Trek series which is set to follow the crew of the U.S.S. Discovery as they deal with "an incident and an event in Star Trek history that's been talked about but never explored." Other cast members include Harry Potter's Jason Isaacs, who plays Captain Lorca; Hellboy's Doug Jones, who plays science officer Saru; Rent's Anthony Rapp, who plays science officer Stamets; TRON: Legacy's James Frain, who will play Spock's father Sarek; and The Office's Rainn Wilson, who will recur as original series character Harry Mudd. Chris Obi, Mary Chieffo, and Shazad Latif will take on three Klingon roles, while Terry Serpico, Maulik Pancholy, Sam Vartholomeos, and Michelle Yeoh will also appear.
Created by Hannibal's Bryan Fuller (who was a writer on Star Trek: Deep Space Nine and Star Trek: Voyager) and Alex Kurtzman (a writer and producer for the 2009 Star Trek reboot and 2013's Star Trek Into Darkness), the series was originally set to be the first ever to premiere on the CBS All Access platform. However, it has been plagued by issues, including Fuller leaving the show so that he could focus on his Starz series American Gods, and the show has been delayed a number of times. The show is now expected to debut at some point in the late summer or early fall.
Martin-Green has previously said that Discovery will be "bigger, rawer, and grittier" than past Star Trek outings, adding that showing the series through the eyes of her character, the second-in-command, as opposed to the captain should help to set it apart from its predecessors. The series is highly anticipated, and Martin-Green's Walking Dead co-star Andrew Lincoln has even said that he'd like to stop by for a cameo. While we wait to see if Rick and Sasha will reunite in space, read up on what we want to see in Discovery.