Sonequa Martin-Green Teases Gritty Star Trek: Discovery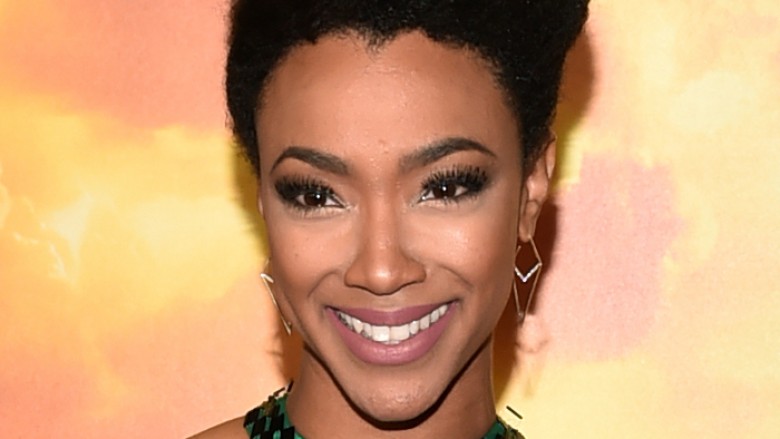 Getty Images
Contains spoilers for The Walking Dead season 7 finaleFollowing Sasha's untimely death on the season 7 finale of The Walking Dead, Sonequa Martin-Green is now officially moving on.
Although it was probably one of the worst kept secrets in the history of television that the actress would have a starring role on the CBS series Star Trek: Discovery, the network was able to officially announce her casting on Monday, and included one small details that raised eyebrows for many fans: the character will be named First Officer Michael Burnham.
While Martin-Green couldn't give any hints on how her character ended up with a typically male name, she did give a little bit of information on the upcoming series in a recent interview with TVLine, saying that fans should expect a darker version of Star Trek than they have seen in the past. "This iteration of Star Trek is going to have a different take than the others in the Star Trek canon," she said. "It's going to be bigger, rawer and grittier... and the story's going to build on itself. It's going to be a tremendous journey."
The actress said that part of the difference will come through the fact that the story will be told (for the first time in the Star Trek universe) from the perspective of someone other than the Captain, who will be played by Harry Potter co-star Jason Isaacs. "Since Star Trek has always been through the eyes of the captain, to be coming from [his second-in-command's] mindset is going to be refreshing and challenging in ways that are very thrilling," she said.
The 13-episode prequel to the original Star Trek TV series is set to follow the crew of the U.S.S. Discovery, with the first season revolving around "an incident and an event in Star Trek history that's been talked about but never been explored." Other cast members include Hellboy's Doug Jones, who plays science officer Saru; Rent's Anthony Rapp, who plays science officer Stamets; TRON: Legacy's James Frain, who will play Spock's father Sarek; and The Office's Rainn Wilson, who will recur as original series character Harry Mudd. Chris Obi, Mary Chieffo, and Shazad Latif will take on three Klingon roles, while Terry Serpico, Maulik Pancholy, Sam Vartholomeos, and Michelle Yeoh will also appear.
Created by Hannibal's Bryan Fuller (who was a writer on Star Trek: Deep Space Nine and Star Trek: Voyager) and Alex Kurtzman (a writer and producer for the 2009 Star Trek reboot and 2013's Star Trek Into Darkness), the series was originally set to be the first ever to premiere on the CBS All Access platform. However, it has been plagued by issues, including Fuller leaving the show so that he could focus on his Starz series American Gods, and the show has been delayed a number of times. The show is now expected to debut at some point in the late summer or early fall.
Martin-Green said that she understands the pressure of bringing such a classic story back to the small screen, saying that she hopes she can "bear the weight, if you will, of this legacy and this story." This is something she has at least some amount of experience with, as the Walking Dead comics also had a great amount of cultural significance before she took on the role of bringing them to life on TV.
However, Star Trek: Discovery is still an ambitious undertaking, and it remains to be seen how the series will actually shake out. While we wait for the show to premiere, find out what we want to see on the show.