The Walking Dead Probably Won't Catch Up To The Comics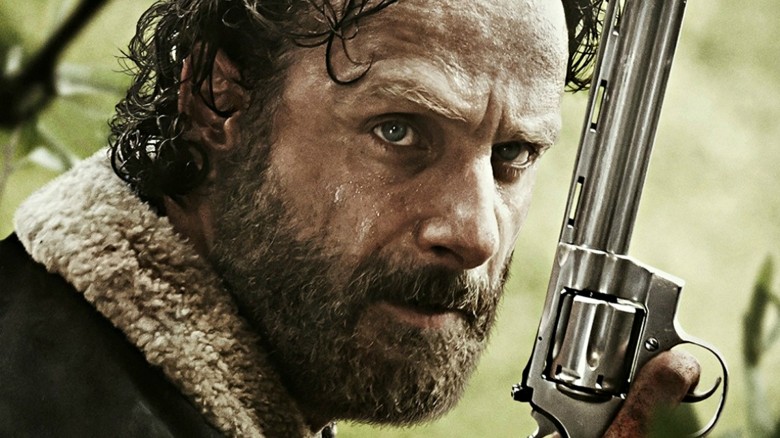 AMC
Contains spoilers for The Walking Dead 
Turns out that The Walking Dead TV show moves far too slowly to ever meet up with the comic book series its based on.
As the finale of season 7 brought about the beginning of the "All-Out War' storyline, it begs the question of whether or not the storyline of the AMC series could eventually get ahead of Robert Kirkman's comics. It's something that Game of Thrones fans have seen, as that show moved faster than author George R.R. Martin could churn out installments of A Song of Ice and Fire.
But Kirkman told The Hollywood Reporter that he and the other writers for The Walking Dead TV series would really need to pick up the pace to get to that point. "I don't know if anyone sat down to do the math, but if the show is gaining on the comic book, it's at a very slow pace," he said. "We're expanding storylines, so every now and then we zip through the comic book, and then we slow down for a while and add a bunch of stuff that's not in the comics. There's not any danger of that happening in any way."
To put things in perspective, AMC's Walking Dead hit the air in October 2010, right around Issue #78 of the comic. The second season expanded the Hershel's farm storyline from six issues into 13 episodes, while the prison arc was 36 issues but just 24 TV episodes. Negan came along in issue #100 during the summer of 2012, but the TV show didn't introduce him until the end of Season 6 in 2016. Assuming that issue #172 arrives this October, the comic book's lead would have decreased from 77 issues to 57. Still, at the current pace, that means it would take about a decade for the AMC series to come close.
Executive producer David Alpert teased: "When we get to season 20, then I think we'll be caught up. And at that point, we'll have to have [Kirkman] really pick up the pace [with the comics]."
Kirkman's comics are based on a never-ending zombie infestation, so there's little chance that the source material will dry up. But it remains to be seen how long the TV series will remain on the air. The president of AMC has said that the show could keep it up for 50 seasons with a revolving cast.
For now, we know the show will at least be back for an eighth season, with Negan around at least a little while longer.