TV Shows You Should Never Watch Alone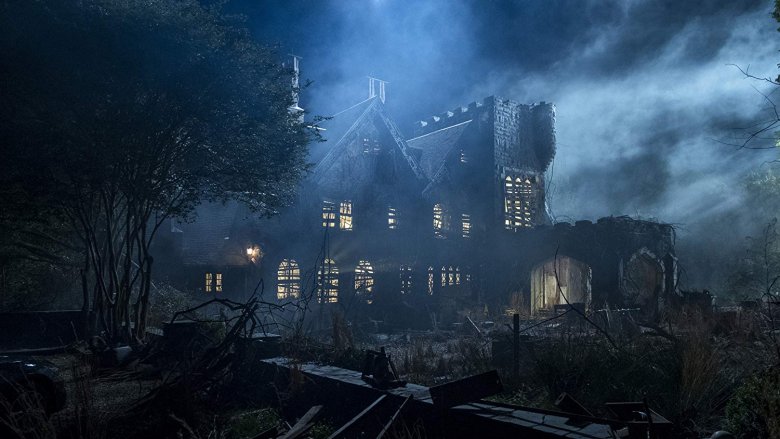 Scary movies are a group activity. There's nothing quite like heading to the theater with a big gang of friends to see the latest horror flick, or hanging out at home where everyone can scream to their heart's content and enjoy the communal bonding that happens over a good fright night. But TV is another story. It's not always easy to gather a group together so you're not alone during a scary night of TV, but there are some shows for which you should definitely make the effort.
From zombies to devil worship to ghosts and cannibals, here is a list of the most frightening shows that you should never watch alone. And horror isn't the only genre you'll find: There are some shows you shouldn't watch alone just because they're so gosh darned sad, and experiencing them without a comforting companion might leave you feeling pretty down. Bottom line? You should definitely see if someone can come over and hang before you start watching any of these series.
American Horror Story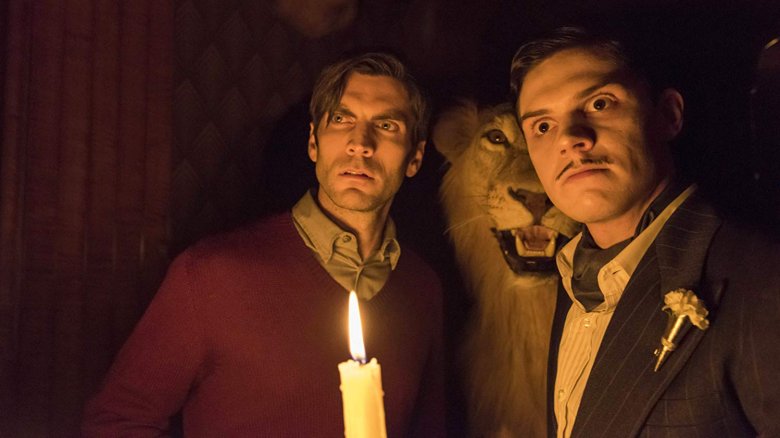 It might seem odd that Ryan Murphy, the creator of happy a capella high schooler dramedy Glee, could also be responsible for FX's American Horror Story, one of the most frightening shows on television. But Murphy also made Nip/Tuck, which has a glimmer of horror in it, given its bloody surgeries.
American Horror Story's anthology framework allows for a different setting every season. Some are scarier than others, but all are pretty freaking creepy. It all depends on what really makes you jump. Whether it's witches, scary clowns, or haunted houses, there's probably an American Horror Story season that is specifically set to your worst nightmares. And the repertory casting, which uses actors like Sarah Paulson, Denis O'Hare, Kathy Bates, Chloe Sevigny, Wes Bentley, and Jessica Lange in different roles every season, allows them to stretch their creepiest acting muscles.
The X-Files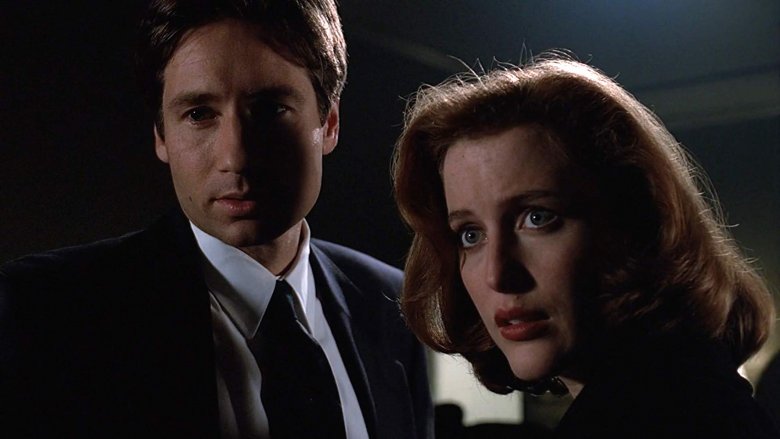 The X-Files still definitely has that X factor when it comes to being scary, particularly in the early seasons. David Duchovny and Gillian Anderson star as FBI agents Fox Mulder and Dana Scully, who are tasked with investigating the bureau's unexplainable cases. Their investigations lead them to a long series-spanning arc involving alien abductions and colonization, but the real frights come from the show's "monster of the week" episodes.
Take, for example, the early season one episodes "Squeeze" and "Tooms," which tell the tale of a man who can stretch his body to squeeze through small spaces. He makes a nest of his own bile to hibernate and resurface every few decades to murder his victims. Then there's "Home," an episode that has been called one of the most frightening of the series, and was forbidden from being replayed on Fox when the series turned to reruns. The less you know the better, but trust us when we say it's truly jarring.
The Walking Dead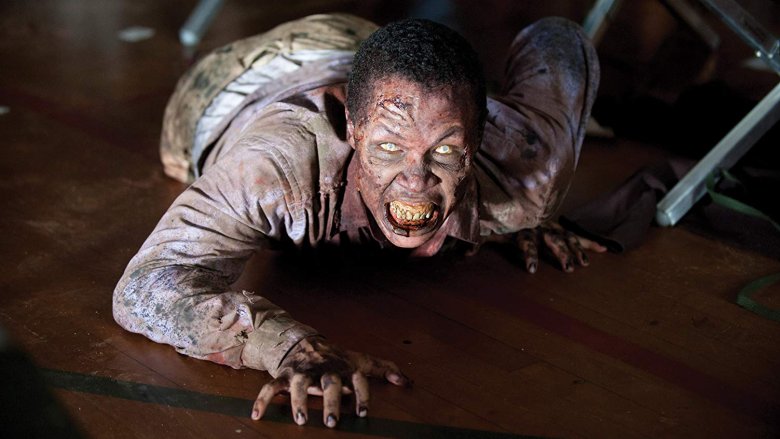 This choice may be more gross than scary, but more alarming than the frightening groans of the decaying "walkers" are the actions of humans in this AMC drama. Based on the graphic novel series by Robert Kirkman, Tony Moore, and Charlie Adlard, The Walking Dead follows the survivors of a zombie apocalypse that leaves the Earth teeming with the undead.
Some of the most frightening aspects of the series come from the walkers themselves. The jump scares are plentiful here, so be ready to lose your popcorn if you jolt easily. But besides the melting faces and human flesh consumption at the hands of the walking dead, the series also explores the seriously terrifying ways that man can turn into monster. The walkers may be acting on instinct alone when they go in to take a bite, but evil incarnate resides in some of the humans on this show — and makes you question what it means to be alive.
Stranger Things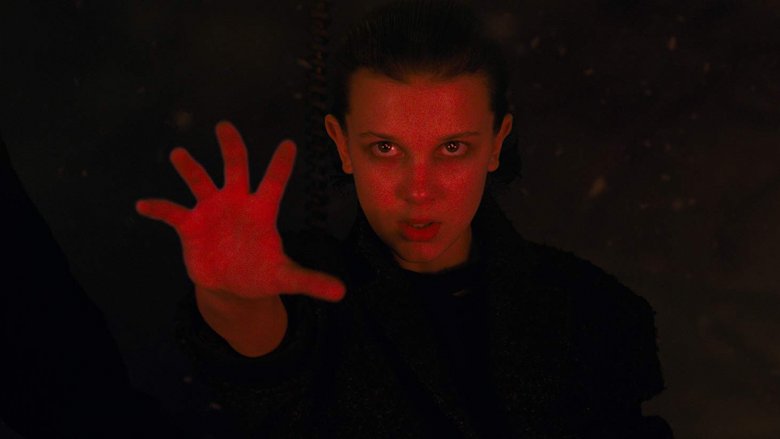 What were some of the things that scared the heck out of you as a kid? They're probably captured perfectly by the Netflix series Stranger Things. In the first season, Winona Ryder stars as a mom whose son goes missing, only to discover that he's been sucked into an alternate dimension known as the Upside Down, and is being held captive by a creature called a Demogorgon. Her son's friends try to help her find him with the aid of a young girl named Eleven who holds mysterious powers. Two seasons of the show are available on Netflix now, with a third coming out in 2019.
The Duffer brothers, creators of the series, incorporate a ton of '80s references into the show for fun. But those callbacks are just a way to balance out the really bone-chilling elements of the story. In addition to demons from an alternate dimension, there are evil scientists doing experiments on children, mutant animals, and creepy kids with telekinesis. Plus, you'll probably never think of Christmas lights the same way again.
The Haunting of Hill House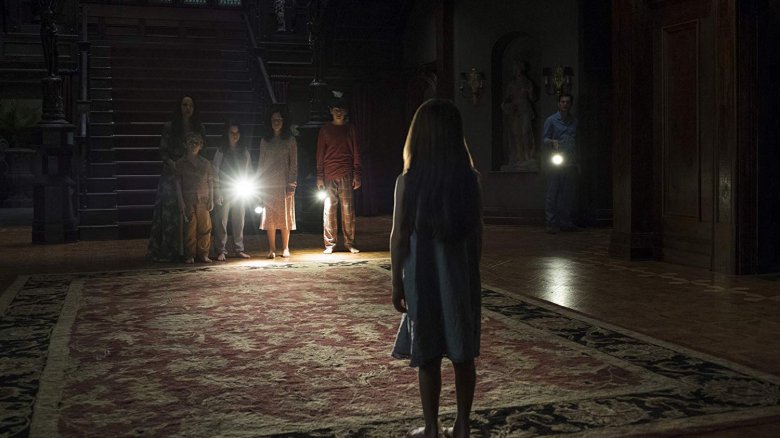 Netflix's The Haunting of Hill House is an adaptation of the 1959 novel of the same name by horror fiction master Shirley Jackson. It takes place in multiple time periods and follows a set of siblings whose lives are forever affected by some seriously frightening events at a mansion known as Hill House. The show stars Michiel Huisman, Elizabeth Reaser, Oliver Jackson-Cohen, Kate Siegel, and Victoria Pedretti as the adult versions of the siblings. Carla Gugino and Henry Thomas play Olivia and Hugh Crain, the parents of the family.
TV Line recently voted the episode "The Bent-Neck Lady" as the Best Single Episode of Television (Drama) for the entirety of 2018, which gives you an idea of how powerful the show has been at implanting some frightening images into people's brains. The episode explores sleep paralysis, which is pretty terrifying if you're brave enough to read about it. And it sounds like Hill House might be going the anthology route. Creator Mike Flanagan told Entertainment Weekly, "I don't want to speculate too much about season two... What I will say, though, is that as far as I've ever been concerned with this, the story of the Crain family is told. It's done."
The Terror
AMC's The Terror has been described as a horror thriller disguised as a period drama. The series has only had one season so far, with the intention of continuing anthology style a la American Horror Story. The inaugural season was based on Dan Simmons' 2007 bestselling novel of the same name and stars Mad Men's Jared Harris as Captain Francis Crozier whose 19th century Arctic exploration turns deadly.
When the Arctic freezes and two giant seafaring ships are trapped in ice, a mysterious menace begins killing off the sailors one by one. But it's not clear if the menace is supernatural, human, or if the sailors are simply going mad. What's more frightening than not knowing if the horrible things happening around you are real?
The Terror has been renewed for a second season, which will reportedly be set on the west coast of the U.S. during World War II and focus on a Japanese-American community.
Castle Rock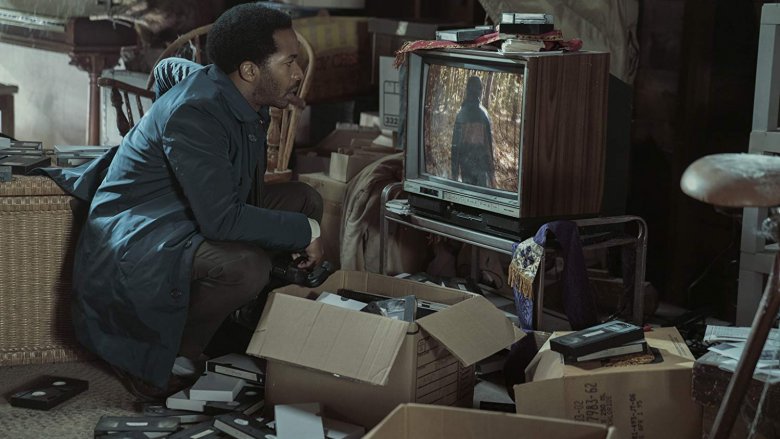 What could be more frightening than a television series based on the works of horror master Stephen King? Hulu's Castle Rock draws on many of King's locations, tales and characters combined into one creepy series starring André Holland as a criminal attorney, Melanie Lynskey as a real estate agent who can read minds, and Bill Skarsgård as a Shawshank (yes, that Shawshank) inmate who claims to be from an alternate dimension.
With references to King works like It, Dolores Claiborne, Needful Things, Salem's Lot, Dreamcatcher, The Green Mile, Misery, The Shining, Nightmares & Dreamscapes, and more, Castle Rock seeks to capture a certain signature horror that King is known for. It's not always jump-in-your-seat scary, but the showrunners have lovingly adapted the mood and feel of King's work. Particular acclaim has been given to the episode "The Queen," which focuses on a character played by the fabulous Sissy Spacek. It might be a bit more sad than scary, but hey, watching sad things alone isn't a great idea, either.
The Leftovers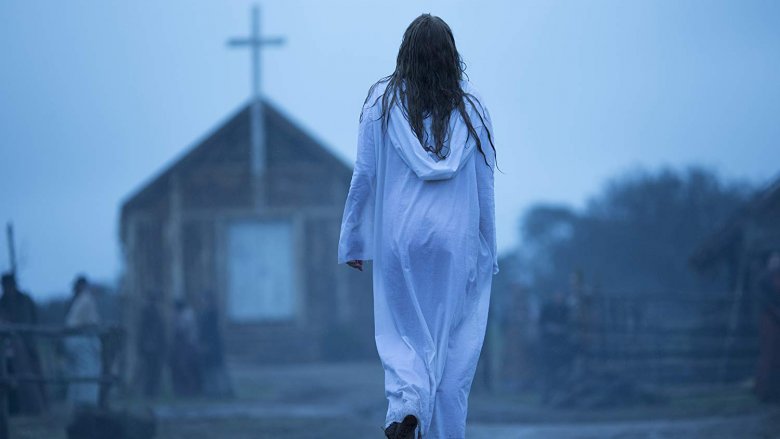 There's nothing worse than sitting through a truly heart-wrenching episode of television and then turning around and realizing you're alone.
HBO's The Leftovers is based on the book of the same name by Tom Perrotta. Adapted for TV by Lost's Damon Lindeloff, it tells the story of the aftermath of a global crisis. Two percent of the Earth's population suddenly disappeared without a trace in a kind of rapture, though no one has been able to figure out why.
While Lindeloff's background and the sci-fi nature of the premise make for some interesting mysteries, the series is really an examination of grief and loss. The first season, in particular, is truly heartbreaking, while the latter two seasons embrace some of the show's more outlandish potential. That's not to say The Leftovers doesn't have its scary moments, but it's really the downer aspect of this show that should have you seeking out a watching partner.
Sharp Objects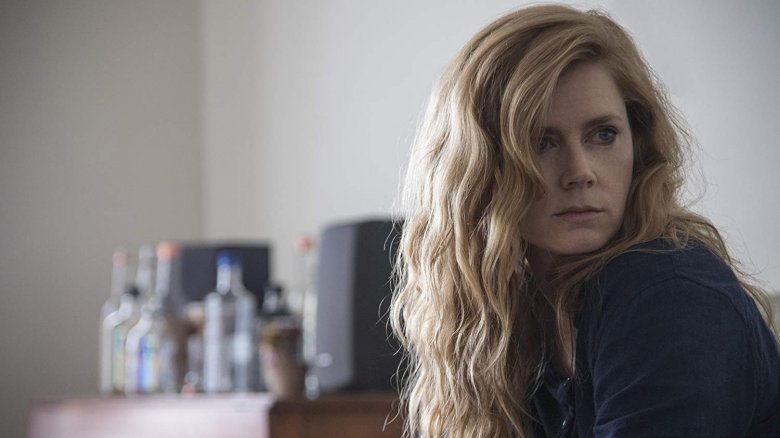 HBO's Sharp Objects stars Amy Adams as crime reporter Camille Parker. After struggling for years with alcoholism and self-harm, and spending some time in an institution, Camille returns to her hometown to try and crack the case of two murdered young girls. Patricia Clarkson plays Camille's cold and distant mother.
Sharp Objects acts as a study in depression. Camille's flashbacks are blurry, disjointed, and untrustworthy. Her self-harm is heartbreaking, and her line of work only contributes to her inability to dig out of a hole that keeps her trapped in her own troubled mind. What makes Sharp Objects all the more tragic is how very real it can be. Unlike shows that deal with supernatural elements that don't exist (we think), Camille's story is one experienced by many real-life people. Her isolation and fractured family life make for a difficult watch for anyone with even a glimmer of similarity. Camille might be alone, but make sure you're not when you give this drama a go.
Black Mirror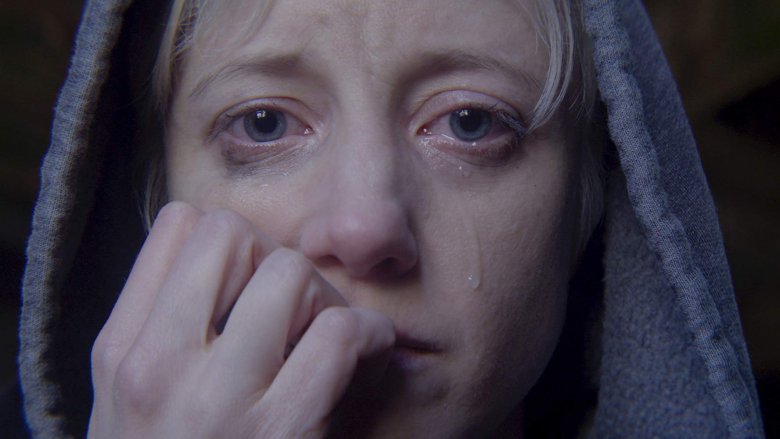 One thing that can make us feel less alone is the technology in our lives. But what's more frightening than the possibilities of technology? Aside from robots going fully sentient and taking over the world and enslaving humanity, you probably haven't thought much about how the technology you depend on has the potential to create your very own personal hellscape. Enter Black Mirror, a British import acquired by Netflix, which aims to torture us with tech.
Created by Charlie Booker, Black Mirror tells its tales in single-episode formats, kind of like The Twilight Zone or The Outer Limits. Much like those shows, some are more disturbing or frightening than others. Some are downright uplifting, such as "San Junipero," starring Gugu Mbatha-Raw and Mackenzie Davis as a young couple who find happiness in a virtual afterlife. But there are plenty of episodes that are downright disturbing. Take, for example, "White Bear" and "White Christmas," which both present a criminal justice system in which perpetrators are imprisoned and tortured inside virtual reality worlds. 
Hannibal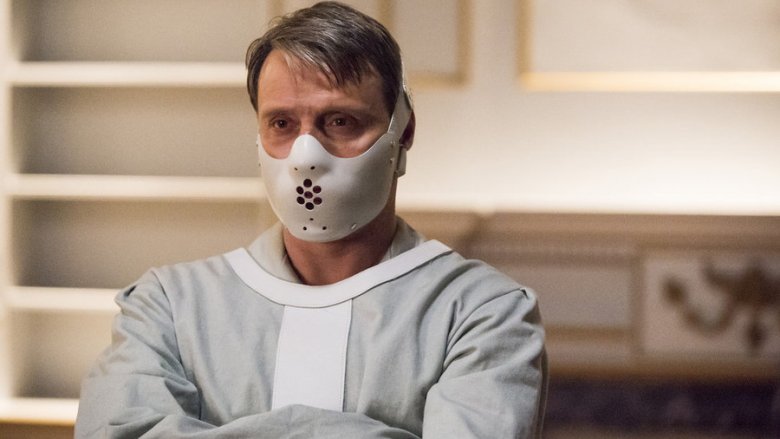 Hannibal Lecter, the villain created by novelist Thomas Harris and made famous by Anthony Hopkins in The Silence of the Lambs, has been played by multiple actors. There was Brian Cox in the 1986 film Manhunter, and Gaspard Ulliel in Hannibal Rising. But in the TV adaptation of Harris' novels, Mads Mikkelsen might be the most terrifying Hannibal yet. Hugh Dancy co-starred alongside Mikkelsen as a criminal investigator who digs deep inside the minds of the serial killers he's hunting in order to better understand their process. 
Hannibal ran for three seasons and, looking back, it's pretty astonishing that the bloody drama actually aired on NBC and not on a cable network or streaming service. The show was so violent that some affiliates actually pulled it. An op-ed by The Salt Lake Tribune led to the decision in that area, with TV critic Scott Pierce writing, "Have you checked out the NBC series Hannibal? Here are a few things you might have missed: The naked body of a woman impaled on antlers. Bodies carved up so that their backs are splayed like grotesque angel wings. Characters dining on human body parts. People buried alive, covered in compost and fed sugar water so they grow fungus all over their bodies. Victims with their eyes gouged out. Victims being shot as blood splatters in slow motion. A victim whose throat is slashed and blood gushes from her wound." Yup, sounds like Hannibal.
Chilling Adventures of Sabrina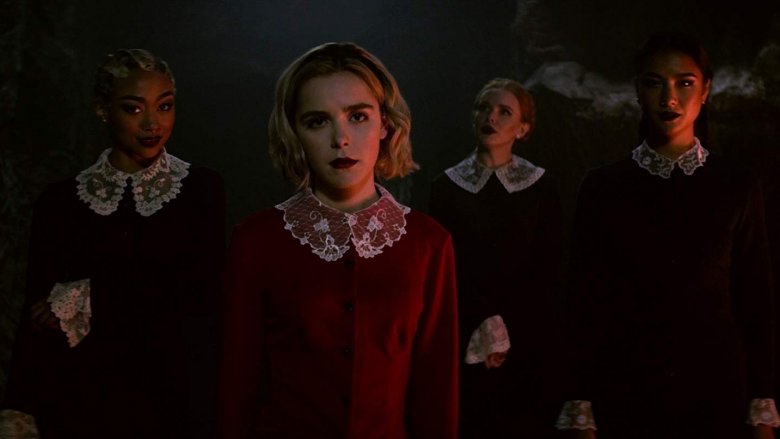 Who would have thought that a drama starring a character familiar to many viewers from a '90s comedy starring Melissa Joan Hart and an animatronic black cat could be so frightening? Actually, this new Netflix series, as well as that sitcom, are based on popular Archie Comics character Sabrina Spellman, created by writer George Gladir and artist Dan DeCarlo. But it definitely does embrace the "chilling" aspects of its title.
Indeed, Hermione Granger she is not. Starring Mad Men's Kiernan Shipka, Chilling Adventures of Sabrina focuses on the 16-year-old title character, who must reconcile her status as a half-witch, half-human. In addition to trying to decide between pledging allegiance to the Dark Lord Satan and hanging out with her very human boyfriend, Sabrina also battles literal demons that threaten the way of life she's always known. What's really scary for one person might be totally fine for someone else, but Sabrina definitely has a creep factor that will make you wish you weren't alone, particularly when it comes to the whole Satan thing.