iZombie Executive Producer Teases Brainy Season 3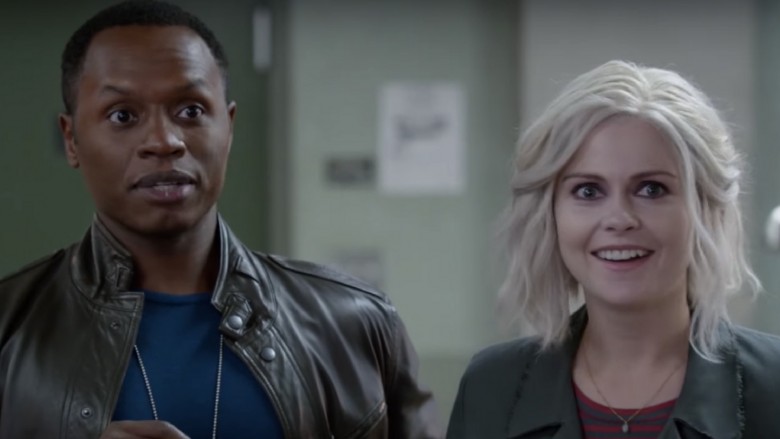 Team Z is finally back, and now, everyone is in the loop on Liv's deadly secret.
With iZombie finally emerging from a one-year hiatus, Entertainment Weekly spoke to executive producer Rob Thomas about what to expect in the zombie comedy's third season, and the Veronica Mars creator said it will be all about brains, brains, and more brains.
According to Thomas, our heroine will get into quite a few adventures with the brains she consumes this season, including eating a Johnny Knoxville-type brain, a dominatrix brain, and preschool teacher brain. With Clive now in-the-know about Liv being a zombie, she shouldn't be as hard-pressed to hide her personality swaps (although Thomas does note that Clive still struggles to keep Liv acting normal during interrogations). However, her ever-evolving persona could potentially get in the way of the season's overarching storyline: the war between the humans and zombies teased at the end of season 2.
"There is going to be a humans-versus-zombies storyline that makes its way throughout the season, and Liv is going to be right in the middle of it," said Thomas, adding that Liv's biggest conundrum throughout the season will be whether or not she can trust Vivian Stoll, the mysterious leader of the Fillmore-Graves organization who is currently training an army of zombies to fight back.
While Thomas notes that Vivian is not a "mustache-twirling bad guy," he does say that she is very committed to doing what she thinks is best for her zombie followers, whether that's the right thing or not. This will cause conflict within Team Z, as Major is on board with her plan, Clive is more against it, and Liv falls somewhere in the middle. "That dynamic kind of plays out throughout the season," said Thomas. "Sometimes [Liv] believes in Fillmore-Graves' mission, and sometimes she's less inclined to believe in it, and it's a struggle and it's a mystery right up to the end of the season."
A focal point of the season will be the Peyton-Ravi-Blaine love triangle, which the show will have more time to explore now that Aly Michalka has been made into a series regular. Thomas promised that it will "play out" and that answers will be coming "soon" in the complicated love affair. As for Liv and Major's fraught relationship, Thomas said there will be some "treats" for people who want to see them get together, although both of them will have a few other love interests this season. (Thomas teased that one of Major's loves will be good for him, while the other will be "not so healthy.") "They both have love lives this season, and they certainly have their moments together as well, but this is not a big year for them dating," he said.
iZombie airs on Tuesdays on The CW. If you're a fan of the show, find out why Thomas' other show Veronica Mars really got canceled.