Johnny Depp To Play McAfee Software Founder In King Of The Jungle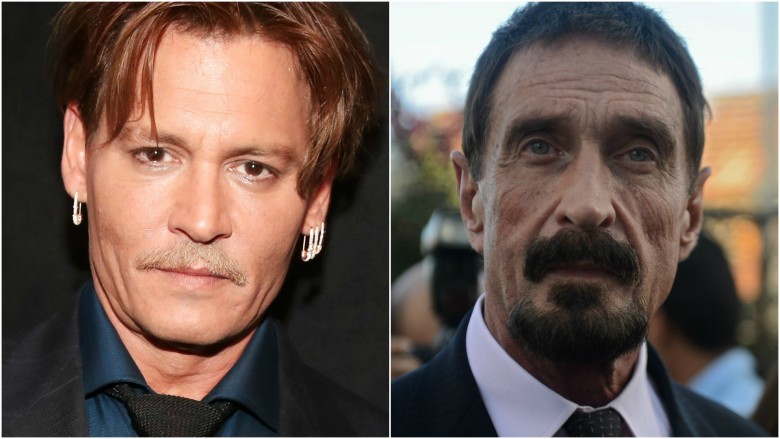 Getty Images
When the call sheet is looking for an actor to play an eccentric, paranoid billionaire with questionable facial hair, who better to cast than Johnny Depp?
Deadline reports that Depp is attached to play software developer John McAfee in the upcoming King of the Jungle. The film will be directed by Glenn Ficarra and John Requa (I Love You, Philip Morris) based on a script by Scott Alexander and Larry Karaszewski (Ed Wood, American Crime Story).
If you only know McAfee from his antivirus software, you're missing out on one heck of a weird story. Once the head of one of the most lucrative software companies on the planet, McAfee eventually moved to a secretive jungle compound in Belize where he hid from foreign authorities pursuing him in the investigation of the murder of an American expatriate.
In 2012, the former software magnate took a Wired reporter on a strange, borderline surreal trip around his Central America compound, and King of the Jungle will reportedly revolve around the now-infamous interview.
We'll be seeing a lot of Depp in the near future. Aside from returning to play Captain Jack Sparrow in Pirates of the Caribbean: Dead Men Tell No Tales, he'll also play the dark wizard Gellert Grindelwald in future installments of the Fantastic Beasts and Where to Find Them franchise. According to The Hollywood Reporter, Depp will also star in Universal's Invisible Man reboot, which will be part of the studio's expanded monster movie universe.
While we wait for more details about King of the Jungle, take a look at this list of actors whose characters always seem to die, which definitely includes Depp.