Dwayne Johnson's Jumanji Has An Official Title And A New Premise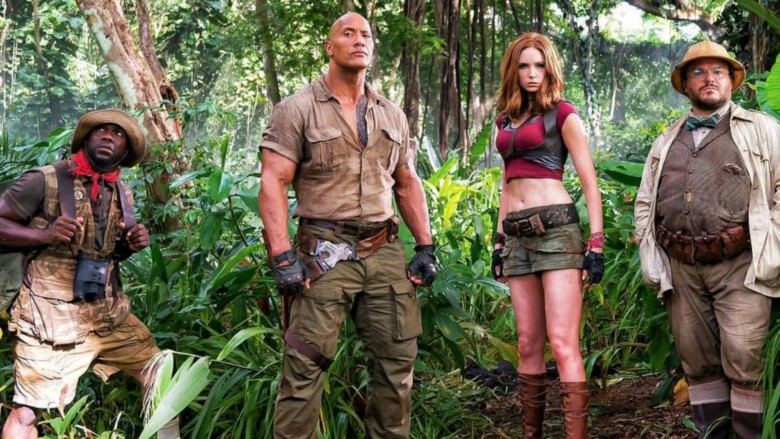 @therock/Instagram
Jumanji is getting a 21st century update, a whole new approach to the premise, and a brand new name.
We've known about the reboot for a while, but according to The Hollywood Reporter, star Dwayne Johnson revealed the clever new conceit and the official title, Jumanji: Welcome to the Jungle, during Sony's CinemaCon panel this week. You've got to believe producers have stashed away at least part of the budget for rights to the Guns N' Roses song. Otherwise, what's the point?
Johnson brought along footage from the flick, which begins with four high school kids in detention. When a teacher orders them to clean out the school's basement, they stumble across an old video game console and the Jumanji game. However, the teens quickly learn that when you choose a character to play as, you actually get transported into a jungle as that persona.
A "nerdy" boy ends up as the muscle-bound character that Johnson plays, while a popular girl is horrified to find out that she's got the body of Jack Black (which means Black actually plays a teenage girl). Other kids will presumably become characters played by co-stars Kevin Hart and Karen Gillan, and Johnson said there's actually a reason for her skimpy outfit.
Earlier during the panel, Johnson talked about meeting Robin Williams, star of the original 1995 movie, backstage at CinemaCon years ago. He previously promised that director Jake Kasdan (Bad Teacher, Walk Hard: The Dewey Cox Story) will pay homage to Williams and his Alan Parrish character. "You have my word, we'll honor the legend of Alan Parrish and properly introduce a whole new generation to the fun and crazy Jumanji universe that so many of us loved and grew up on," he said.
We'll let you know when the first teasers arrive ahead of the movie's Dec. 22 release. Meanwhile, find out which member of the Avengers didn't make the cut for the original Jumanji.