New Death Note Photo Shows L And Light Facing Off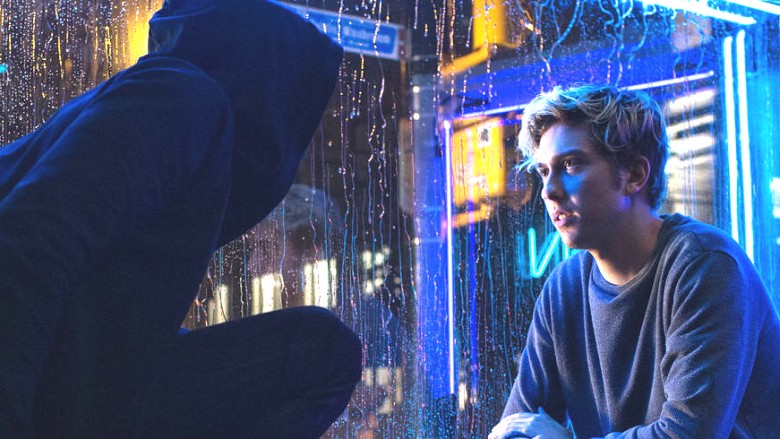 Another new look at the highly-anticipated live-action Death Note film was unveiled today, following the official trailer release.
Based on the well-loved anime series and manga written by Tsugumi Ohba and Takeshi Obata, the Netflix movie Death Note stars Nat Wolff (Paper Towns, The Fault in Our Stars) as Light Turner (originally Light Yagami) and Get Out actor Keith Stanfield as L, the mysterious but slightly child-like private detective who works against Light as he becomes increasingly sadistic in his endeavors.
Adam Wingard, the director of the upcoming adaptation, shared a new still from the film that shows Light and L going head-to-head. Stanfield appears faithful to L's body language, crouching in his trademark hunched position on his feet, rather than sitting in the chair opposite Light. Wolff, as the main character, is shown back-lit by neon blue fluorescent rods, looking quite concerned at L, whose face is turned away from the camera and covered with his signature hoodie.Wingard didn't include a caption with the photo, but a few people chimed in to express their apparent excitement over the Netflix spin on the series. Twitter user Collin Vick told Wingard, "I applaud you for actually adapting the original story into a movie that reflects your own sensibilities. Looks good so far." This comes in the midst of reports that allege Netflix and the Death Note team have whitewashed the story by casting non-Japanese actors in main roles, anglicizing a number of characters' names, and situating the plot in Seattle, Washington rather than Japan.
Though no official statements have been given in direct response to the recent whitewashing allegations, the film's producers Roy Lee and Dan Lin spoke with Collider about race and Death Note last summer: "The talent and diversity represented in our cast, writing, and producing teams reflect our belief in staying true to the story's concept of moral relevance—a universal theme that knows no racial boundaries."
Here's the official plot synopsis: "Based on the famous Japanese manga written by Tsugumi Ohba and Takeshi Obata, Death Note follows a high school student who comes across a supernatural notebook, realizing it holds within it a great power; if the owner inscribes someone's name into it while picturing their face, he or she will die. Intoxicated with his new godlike abilities, the young man begins to kill those he deems unworthy of life."
The all-new Death Note will hit Netflix on August 25. Anime fans can also look forward to seeing the full first season of One-Punch Man joining the streaming service's lineup in the near future.