One-Punch Man Joins Netflix Lineup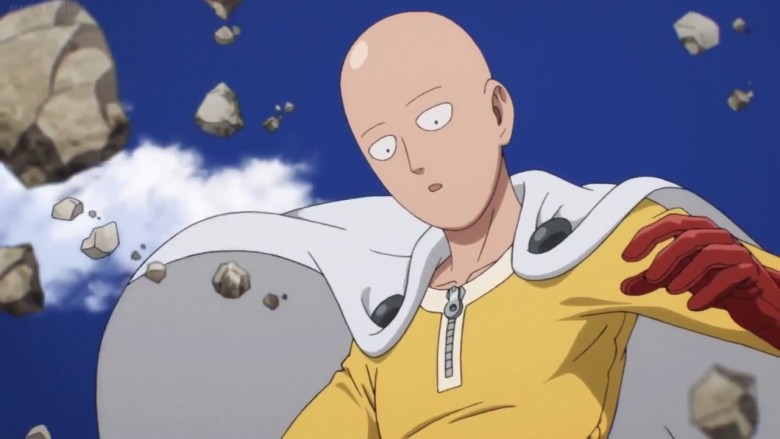 The (literally) punchy anime One-Punch Man finally lands on Netflix, leaving many of its viewers buzzing and those who haven't yet seen it with no excuse not to dive in.
Based on the manga series written by mysterious Japanese artist One, One-Punch Man nabbed a small-screen adaptation in Japan on March 10, 2015, and the show began regularly airing to audiences in October.
Today, fans in the U.S. got a special treat when the series was added to Netflix. One-Punch Man is currently available to American viewers in two separate versions: the original Japanese-voiced anime with English subtitles, or the newly-dubbed English edition, which features both English voice acting and the option for English subtitles.
The Madhouse-helmed anime focuses on Saitama, an extremely powerful young man with the ability to destroy opponents with just a single swing of his fist. This, of course, is where the protagonist gets his name. Here's the official series synopsis:
"The seemingly ordinary and unimpressive Saitama has a rather unique hobby: being a hero. In order to pursue his childhood dream, he trained relentlessly for three years—and lost all of his hair in the process. Now, Saitama is incredibly powerful, so much so that no enemy is able to defeat him in battle. In fact, all it takes to defeat evildoers with just one punch has led to an unexpected problem—he is no longer able to enjoy the thrill of battling and has become quite bored.
This all changes with the arrival of Genos, a 19-year-old cyborg, who wishes to be Saitama's disciple after seeing what he is capable of. Genos proposes that the two join the Hero Association in order to become certified heroes that will be recognized for their positive contributions to society, and Saitama, shocked that no one knows who he is, quickly agrees. And thus begins the story of One-Punch Man, an action-comedy that follows an eccentric individual who longs to fight strong enemies that can hopefully give him the excitement he once felt and just maybe, he'll become popular in the process."
The addition of One-Punch Man to the Netflix roster couldn't come at a better time. With season two of the beloved anime series reportedly looming on the horizon, those looking to catch up before the premiere will do well to visit the streaming service and indulge in a binge-watching session of the first 12 episodes.
It seems 2017 is the year of anime, as another well-admired series, JoJo's Bizarre Adventure, recently got the live-action treatment. Perhaps One-Punch Man is next!