See The New Guardians Of The Galaxy Vol. 2 Character Posters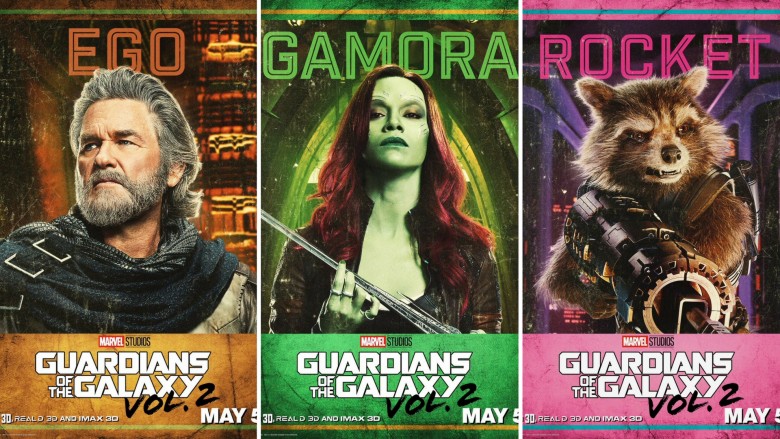 The Guardians of the Galaxy are ready for action in the new character posters from Vol. 2. The epic posters were released on the stars' Twitter accounts Thursday morning, just a few months ahead of the film's May 5 release. Director James Gunn also released a few pics on his page for some of the movie's Twitter-less cast members.
Guardians of the Galaxy Vol. 2 will reunite Chris Pratt's Star-Lord with Gamora (Zoe Saldana), Drax (Dave Bautista), Rocket (Bradley Cooper), and Groot (Vin Diesel), with Nebula (Karen Gillan), Yondu (Michael Rooker), Mantis (Pom Klementieff), and Ego the Living Planet (Kurt Russell), who is revealed to be Star-Lord's father, also tagging along for the adventure. According to the official synopsis, the movie will show the Guardians fighting to keep their newfound family together as they unravel the mystery of Peter's family. Along the way, they will also have to face off against Ayehsa (Elizabeth Debicki), a golden high priestess who threatens to break-up the Guardians in her quest to cleanse the universe of weakness.
The new character posters don't reveal much in the way of details for the movie, which Pratt recently promised will be better than Citizen Kane. Hopefully, we will continue to get more details, pics, and posters as we get closer to the movie's release. In the meantime, see everything you may have missed in the new trailer and check out the new posters above and below.






Check out this 1st Exclusive Look at #GotGVol2 Character posters for Ayesha, Rocket, & Ego! pic.twitter.com/AXMaYCqKY9


— James Gunn (@JamesGunn) March 23, 2017



💚 🐛 #GotGVol2 #pomantis pic.twitter.com/P0ri8Wcako


— Pom Klementieff (@PomKlementieff) March 23, 2017



So proud to be a part of this franchise... so proud to play one of the most interesting characters the screen has ever...


Posted by Vin Diesel on Thursday, March 23, 2017