Carrie Fisher Thought Leia's Rogue One Cameo Was Actual Footage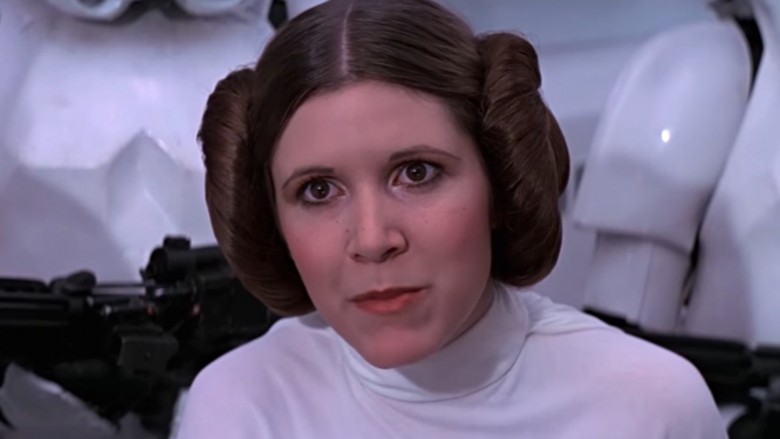 If you thought that Carrie Fisher actually filmed the brief, CGI-manipulated appearance of Princess Leia at the end of Rogue One, you're not alone. Fisher thought it was her, too.
Director Gareth Edwards told Fandango that Lucasfilm president Kathleen Kennedy went to Fisher's house to show her the footage before the movie was released. When Fisher saw it, she initially believed it was real footage that she had shot on the set of 1977's Star Wars. It was actually a brand new performance by actress Ingvild Deila with Fisher's likeness superimposed.
"We had about two weeks left, and Kathy went around her house and everyone was waiting to hear," Edwards said. "[Kathy] said she showed it to her and [Carrie] thought it was footage. She didn't realize it was CGI. She thought we had some footage. She didn't remember the take and thought we had manipulated a take from the original film. But they told her it was all computer generated and she was really impressed. We were all just so pleased she approved it."
Although it's a funny story, it's reassuring to hear that Fisher approved of the controversial scene. The 60-year-old actress died after suffering a heart attack just weeks after Rogue One was released.
Fisher's tragic passing will create some unforeseen complications in the production of the next two Star Wars movies. After appearing in The Force Awakens, she was reportedly set to take on a bigger role in the installments to come. Fisher had already wrapped filming for The Last Jedi, but Leia's storyline was to continue in Star Wars 9.
Take a deeper look at how Fisher's death will affect the future of Star Wars and a few actresses who could play a younger version of Leia if Lucasfilm decides to recast.