Why Bram From Love, Simon Looks So Familiar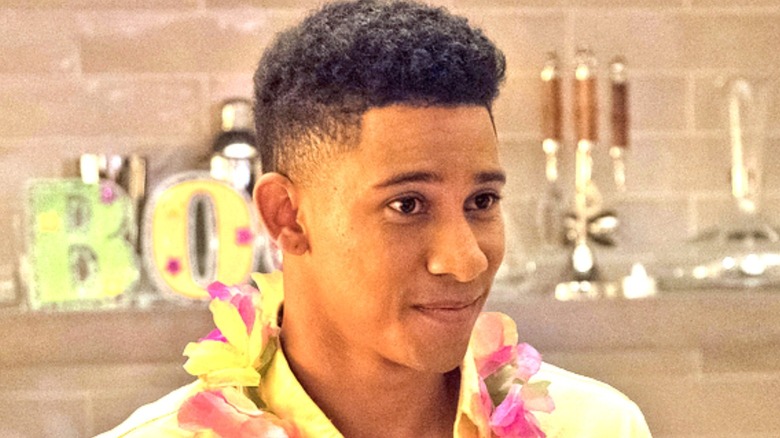 20th Century Studios
When "Love, Simon" was released in 2018, it was instantly a big deal. The film was the first gay teen romantic comedy released by a major Hollywood studio (per Entertainment Weekly), with many favorably comparing it to John Hughes' beloved entries into the subgenre. Based on Becky Albertalli's novel "Simon vs. the Homo Sapiens Agenda," it centers on Simon Spier (Nick Robinson), a closeted gay teenager who starts emailing "Blue," an anonymous fellow closeted teen at his school. Over the course of the film, Simon deals with the ups and downs of high school, while gaining the confidence and support to live openly and proudly.
And Simon gets the guy, too — Blue ends up being his friend Bram (Keiynan Lonsdale), and the two officially become boyfriends by the film's end. Lonsdale is a dreamy teen rom-com love interest for the history books, but you may be wondering where you've seen him before. As it turns out, this is one of the Australia native's major Hollywood roles thus far.
Lonsdale hit the big screen as Uriah in Insurgent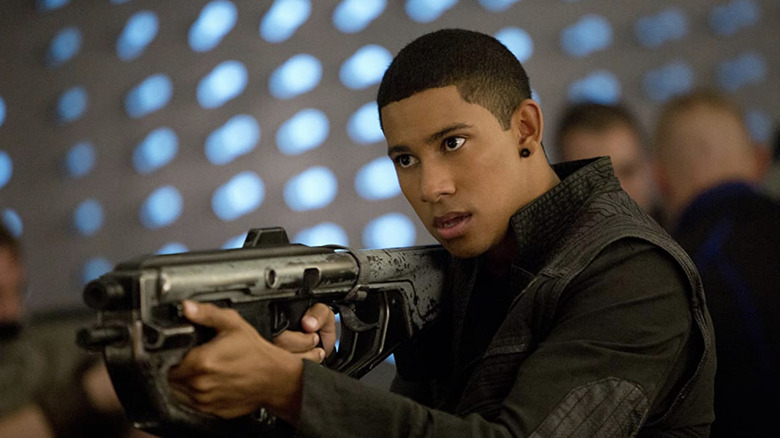 Lionsgate Films
Lonsdale's breakout Hollywood role was playing rebel Uriah Pedrad in the 2015 young adult sci-fi film "The Divergent Series: Insurgent," based in an equally popular series of novels. In the second film in the "Divergent" series, Uriah helps main characters Tri (Shailene Woodley) and Four (Theo James) fight to take down their faction-based society, which unfairly divides people into five factions, according to individual character traits like bravery, selflessness, and intelligence. Lonsdale went on to reprise his role as Uriah in the third "Divergent" film, 2016's "Allegiant."
According to the actor, he learned a lot from his co-star Woodley, which helped him in leading roles down the line. "A lot of my scenes were with Shailene [...] She's an amazing actress and an amazing young woman," he told Glamour in 2015. "It was awesome to learn from what she did on-screen and also how she carries herself off-screen."
He recently played Wally West in multiple CW shows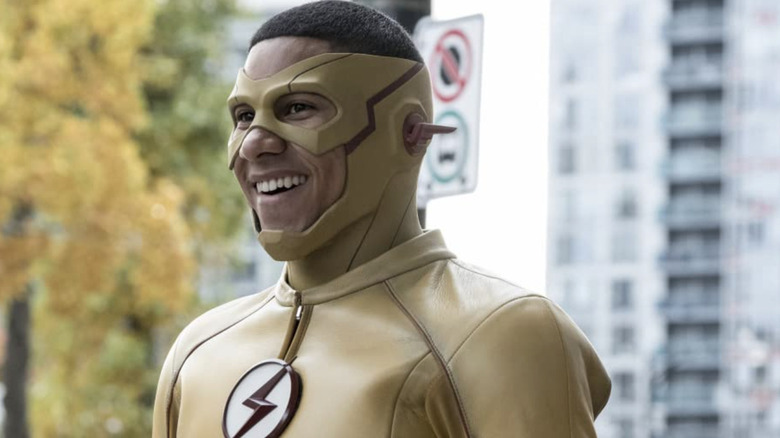 The CW
Superhero fans may be most familiar with Lonsdale for his role as Wally West/Kid Flash, a character he played on various CW shows from 2015 to 2020. He first played the character in "The Flash," before also appearing in "DC's Legends of Tomorrow" and a special crossover episode of "Supergirl." Wally is the younger brother of "The Flash" main character Iris West, raised apart from her but later became part of Team Flash. He gained super-speed powers after being struck by a bolt of lightning.
"I love Kid Flash, I love the family I've made, & I'm absolutely in love with the invaluable lessons I've learnt along the way," he wrote on Instagram in 2018. "Thank you for believing in me & rooting for Wally to thrive, you honestly helped me see that I did indeed deserve to play him, and that s**t right there made me a stronger actor."