The Bizarre Reason Pawn Stars's Old Man Enlisted In The Navy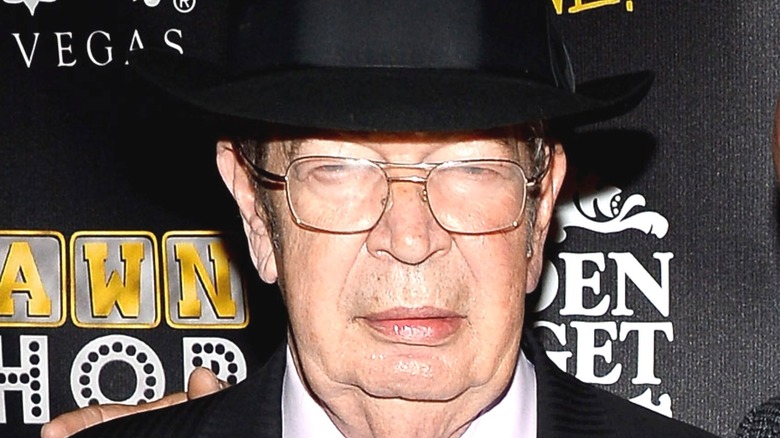 Ethan Miller/Getty Images
When the History Channel began airing "Pawn Stars" in 2009, the show was Rick Harrison's dream come true. After years spent trying to get networks interested in a reality show based on the family business, his work was finally paying off. The real-life characters running a pawn shop in Las Vegas were about to become household names. Rick was the hustler and history buff. Corey was his hard-working and often skeptical son. Chumlee joined the gang as an honorary family member who didn't mind being the butt of jokes. And of course, none of it would have been possible without "The Old Man," Richard Benjamin Harrison, Jr.
While the cast of "Pawn Stars" might be worth a considerable amount of cash now, there would have been no show without the eldest Harrison. He opened the Gold & Silver Pawn Shop in 1988, and though he died in 2018, the Old Man left a legacy that reached beyond his own family and into more than a million viewers' homes. Before all that, he had a colorful life pursuing several different career paths, including a stint in the U.S. Navy. While he may have been a true patriot, the real reason he joined the military may come as a surprise to "Pawn Stars" fans.
Harrison had to make a choice
Richard Benjamin Harrison Jr. started life in Lexington, North Carolina, where he had a happy childhood and eventually attended Lexington High School. However, he dropped out of school during his junior year. At that point, he started growing up quickly. His family was poor and (as his son Rick told it in his book "License to Pawn") he drove a school bus to help out. The pay was just five or six dollars a week, but it was something. And Harrison was a "hustler," always willing to do what it took to make a buck.
Unfortunately, when he was 17 years old, that hustler mentality led him in the wrong direction. He stole a car and wound up before a judge with two choices: jail or the military. His decision would determine the direction of the rest of his life.
Harrison made the right choice when he opted to avoid prison at all costs and enlist in the U.S. Navy. According to Navy Times, he trained in San Diego, then served on two destroyers. Four years later, he was done with his service, and that might have been the end of it. But life had other plans for this future pawn star.
He was a military man for decades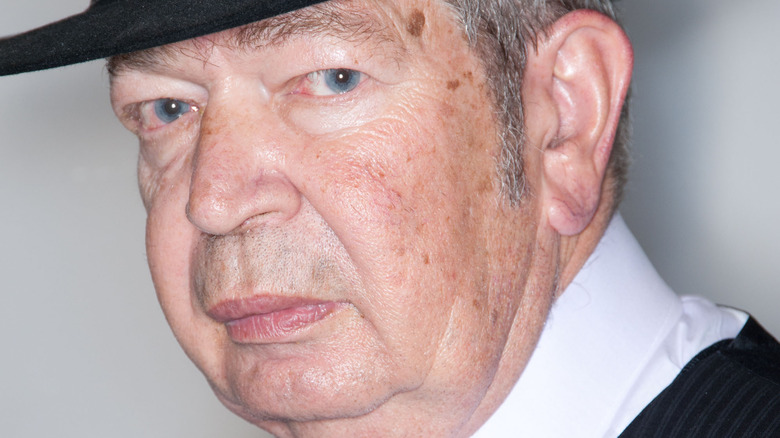 Steve Snowden/Getty Images
Two years into his service, Harrison married his wife, Joanne Rhue. When they had their first baby, Sherry, she had medical issues that required specialized care. Suddenly, the couple was hit with unexpected medical bills they couldn't afford. This time, the decision was easy. Harrison went back to the Navy (via Navy Times).
Harrison served from 1958 and 1979, earning several medals (the Good Conduct Medal; the Armed Forces Expeditionary Medal; the Vietnam Service Medal; and the National Defense Service Medal) and working his way up through the ranks to first-class petty officer. His reason for finally retiring: He didn't like being away from home so much, especially as his family grew. "Out of 20 years, I was deployed about 10," Harrison told Navy Times. "That's a lot of time. ... The only reason I got out was that I had three teenage boys, and the wife couldn't handle them."
After leaving the Navy, the Old Man worked in real estate with his wife before moving to Las Vegas to go into in the pawn business. When he moved on, he took important life lessons he'd from the military with him. "Don't dwell on the past," he said. "You've got a life ahead of you. Live it to the fullest."