Richard Harrison, 'The Old Man' From Pawn Stars, Dies At 77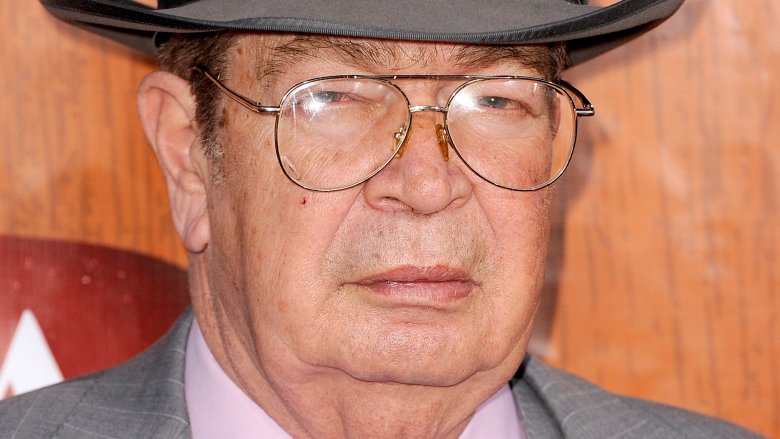 Getty Images
Richard Harrison, more popularly known as "The Old Man" on the History Channel reality television series Pawn Stars, has died. He was 77 years old. 
Harrison's son, Richard "Rick" Harrison, confirmed the news on Monday morning. 
"'The Old Man' Harrison passed away this morning surrounded by those he loved," Rick said an a statement (via TMZ). "He will be tremendously missed by our family, the team at Gold & Silver Pawn, and his many fans the world over. He was my hero and I was fortunate to get a very cool 'Old Man' as my dad."
A cause of death was not immediately given.
The Gold & Silver Pawn Shop also issued a statement confirming Harrison's death (via Facebook): "He was surrounded by loving family this past weekend and went peacefully. The team at Gold & Silver Pawn and the Pawn Stars family is grieving his loss. He will be remembered as the best father, grandfather, and great-grandfather you could have by his family and by fans as the sometimes grumpy (always loving, however), often wisecracking, and voice of absolute reason on the History television show Pawn Stars. Services are pending and the family appreciates your prayers and kind words."
A 20-year U.S. Navy veteran originally from Lexington, North Carolina, Harrison moved to Las Vegas, Nevada in the 1980s, where he opened the World Famous Gold & Silver Pawn Shop with Rick. Harrison, Rick, Rick's son Corey "Big Hoss" Harrison, and Corey's longtime friend Austin "Chumlee" Russell have all had a hand in operating the shop since it opened in 1989.
The Harrisons' business and their unique personalities later caught the attention of History Channel producers, who turned their day-to-day operations and everyday lives into the Pawn Stars television show that first aired in July 2009. Since then, Pawn Stars has transformed into a total juggernaut for the network; two years after it premiered, it became the highest-rated series on History Channel. Harrison has remained a fan favorite since his first appearance on the show. 
Our thoughts are with Harrison's loved ones during this time of mourning.