A New Disney Gallery Clip Reveals Behind-The-Scenes Footage Of Mark Hamill In The Mandalorian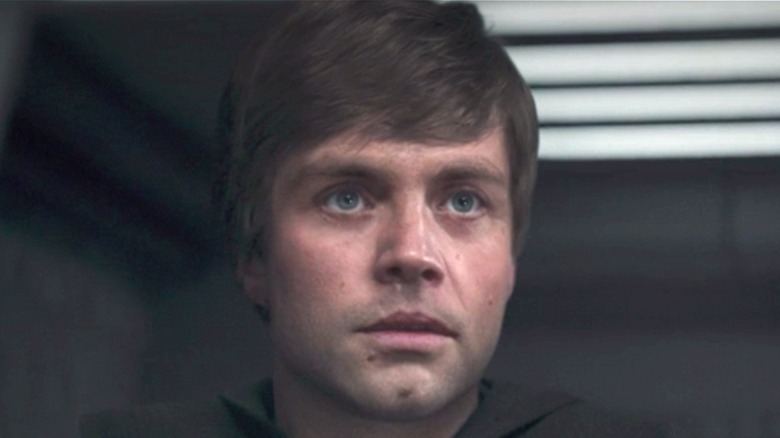 Lucasfilm/Disney+
The creative team behind "The Mandalorian" is getting ready to blow the doors open on exactly how it pulled off the biggest secret in the show's history: the cameo appearance of Mark Hamill as Luke Skywalker in the show's Season 2 finale.
A short preview of the upcoming behind-the-scenes special "Disney Gallery: Star Wars: The Mandalorian – Making of the Season 2 Finale" released August 19 shows Hamill in character as Skywalker on the set of Moff Gideon's (Giancarlo Esposito) light cruiser. The clip is built around an interview with "The Mandalorian" (and "The Clone Wars" and "Rebels" and "The Bad Batch" and the upcoming "Ahsoka" show and more) executive producer Dave Filoni, explaining just what it meant to the people on the show to have the actor involved. 
It begins with a glimpse of Hamill removing his hood in a shot, as Filoni shares one of the things that makes the job of bringing to life new stories in the Star Wars universe so great: watching people connect what they're working on now with the way the films and the stories made them feel the first time they watched them. He said that the experience has allowed him to "[see] a child inside" the creatives he's working with on the show — specifically, series creator Jon Favreau and director Peyton Reed, who helmed the episode.
How Mark Hamill stunned the crew of The Mandalorian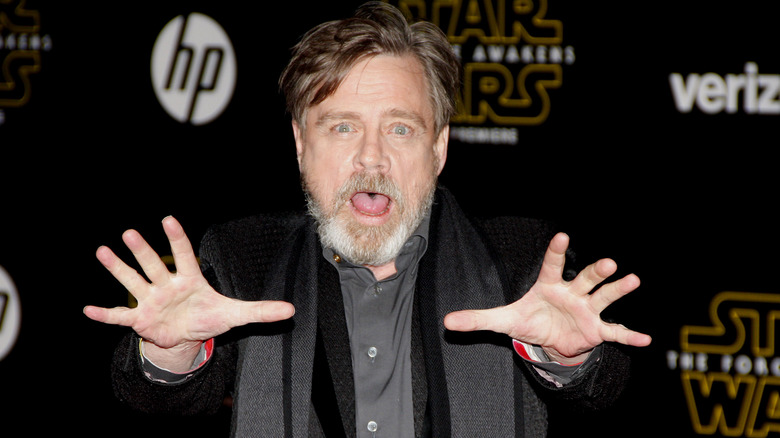 Tinseltown/Shutterstock
When Hamill was on set, Filoni said just about everybody got that feeling.
"You see your crew just staring at Mark and you realize they're remembering what it meant to them," Filoni says in the video as the camera pans from a monitor on set to Hamill, walking through a door with his hood up and still holding the green lightsaber Luke just used in the episode to decimate the whole of Moff Gideon's (Giancarlo Esposito) Dark Trooper unit. "And you realize you've been a part of constructing something that's giving that experience to people. This good feeling, which fundamentally Star Wars should deliver a good feeling, an uplifting feeling, in you, in your family, your kids, whatever."
Hamill, for his part, has spoken about his surprise and delight at being asked back to the role after the character's death in "Star Wars: The Last Jedi." 
"Disney Gallery: Star Wars: The Mandalorian – Making of the Season 2 Finale" will premiere on Disney+ August 25.