How Mark Hamill Really Felt About Returning To The Role Of Luke Skywalker In The Mandalorian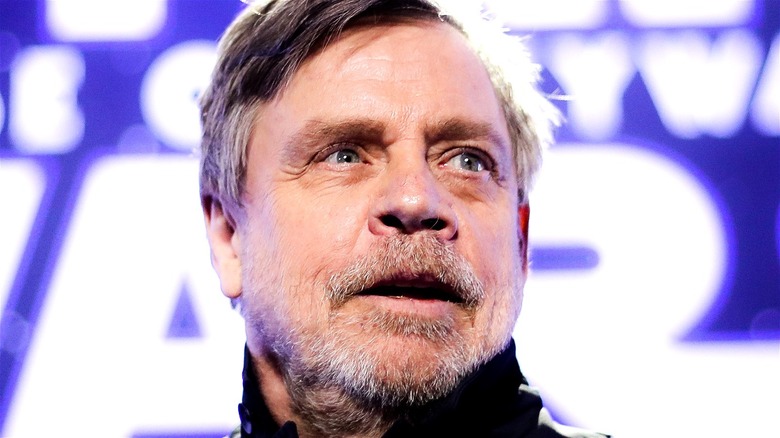 Rich Fury/Getty Images
Upon watching the first season of "The Mandalorian" on Disney+, it appeared as though the show would primarily follow a standalone adventure involving Din Djarin (Pedro Pascal) and Grogu, better known as Baby Yoda. However, Season 2 of the "Star Wars" show had him contact everyone in the galaxy and their mother.
On top of meeting another Mandalorian-clad warrior with Boba Fett (Temuera Morrison), he also ended up running into "Clone Wars" mainstays Bo-Katan Kryze (Katee Sackhoff) and Ahsoka Tano (Rosario Dawson). Just when it seemed like he's met everyone he could meet, the Season 2 finale brought back Luke Skywalker (Mark Hamill) in all of his green lightsaber glory. It was a massive reveal, especially in an era where genuine surprise cameos are few and far between. And no one was more surprised by the inclusion than Hamill himself. 
It seemed as though the actor's time in the "Star Wars" universe was over after Luke died in "The Last Jedi" and appeared briefly as a Force Ghost in "The Rise of Skywalker." However, it seems as though the forces that be had other plans in mind. Now, Hamill's speaking out about how his character's return came to be.
Mark Hamill was 'stunned' at Luke's revival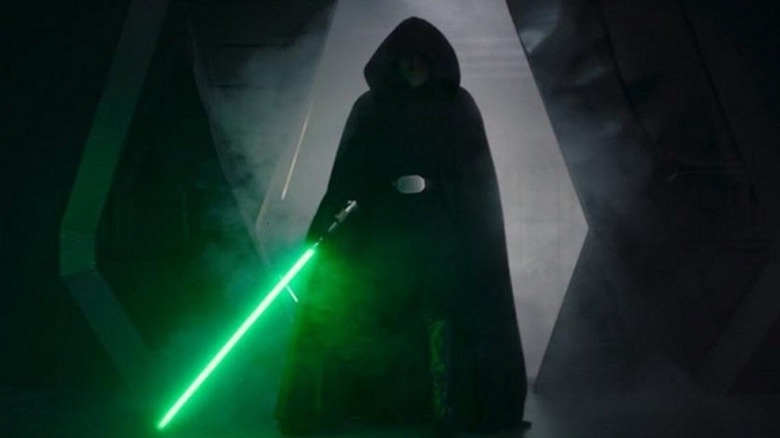 Lucasfilm/Disney+
Hamill wasn't the first actor to receive the digital de-age treatment in a "Star Wars" property. To bring back Grand Moff Tarkin and a younger version of Princess Leia for "Rogue One," Lucasfilm brought on different actors — Guy Henry and Ingvild Delia, respectively — to play them on set. The studio then applied the latest in movie magic to have the actors look like the characters. However, when it came to bringing Luke back, the creative team went straight to the source.
Mark Hamill's noticeably older than he was in the 1980s, so a similar process was necessary to make him look like post-"Return of the Jedi" Luke once more. Not only was it a surprise to see Luke back in the "Star Wars" mythos, but fans were equally taken aback to learn Hamill himself came back for the role. The actor recently appeared on "The Tonight Show Starring Jimmy Fallon" to discuss his reaction to coming back to the franchise: "Talk about unexpected. I had finished playing that part, and I never expected to do it again. I figured if they ever tell stories of Luke in that period, post the originals and pre-sequels, they would get an age-appropriate actor. So when [series creator] Jon Favreau and [producer] Dave Filoni told me about what they wanted to do, I was just stunned."
Hamill doesn't explicitly say how the cameo materialized, but he does offer the intriguing tease of a behind-the-scenes featurette coming to Disney+ on August 25. It will dive in-depth into the making of the Season 2 finale for "The Mandalorian," and it sounds like more details will come to light at that point explaining how Hamill's involvement came to be.