When Does The Next Diary Of A Wimpy Kid Movie Come Out?
20th Century Studios
The first in the "Diary of a Wimpy Kid" film series follows 11-year-old Greg Heffley (Zachary Gordon) as he tries to become the most popular kid in middle school, trying and failing at various schemes to gain status, including wrestling, Safety Patrol, and playing a tree in the class production of "The Wizard of Oz" (only after rejecting the Dorothy role).
Adapted from the Jeff Kinney book, 2010's "Wimpy Kid" movie charmed kids with its gross jokes and upfront attitude about the perils of seventh grade, and the film earned $76 million on a $15 million budget, reports Box Office Mojo. Naturally, three sequels were made, in 2011, 2012, and 2017, respectively: "Diary of a Wimpy Kid: Rodrick Rules," "Diary of a Wimpy Kid: Dog Days," and "Diary of a Wimpy Kid: The Long Haul." The latter featured a new cast in the roles of the characters, which naturally resulted in online backlash, says USA Today.
After acquiring studio 20th Century Fox, Disney has announced their own reboot of "Diary of a Wimpy Kid" for Disney+. Here's what we know about when the new version of the franchise will arrive on the service.
The new Diary of a Wimpy Kid animated film may arrive this winter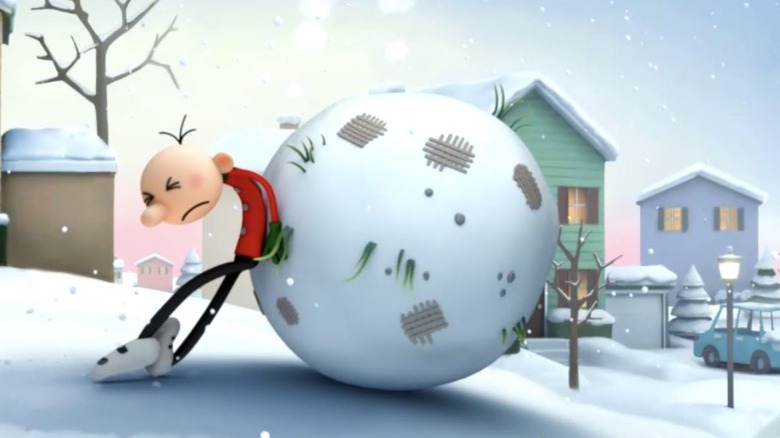 DIsney+
According to Polygon, Disney announced during Investor Day in 2020 that a 3D, animated reboot of "Diary of a Wimpy Kid" would be released exclusively on Disney+. Based on the photos released of the Greg designs, the film even looks like Kinney's spindly, oddball drawing style, albeit rendered in CGI.
The studio claims that the film will come out sometime in 2021, but we're still not certain what the release date will be. However, the promotional material features an animated Greg struggling with a huge, extremely dirty snowball in the middle of a wintry suburban landscape. As it's now summer 2021, it seems very likely then that the film will come out in late fall or winter and will be set during the snowy months as well. Maybe it'll even be a Christmas-themed "Diary of a Wimpy Kid" entry? 
We'll find out the answers sometime this year. But until Disney releases the new film, you can watch all four "Diary of a Wimpy Kid" films (and then the eventual animated reboot film) on Disney+.