Jenna Fischer Reveals The One Thing The Office Cast Wasn't Allowed To Ask Rainn Wilson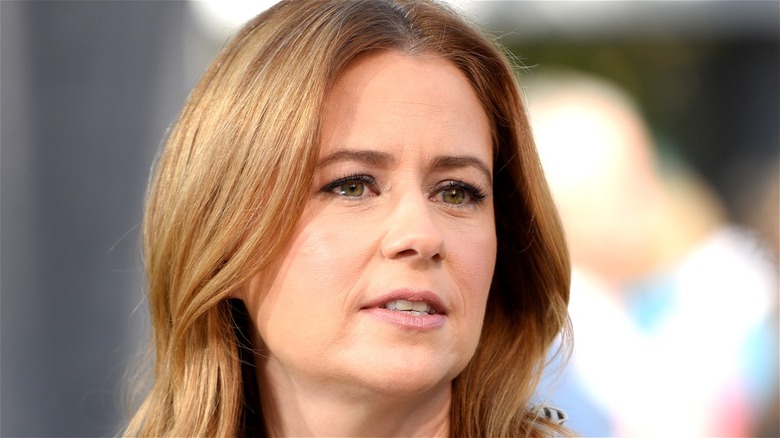 Noel Vasquez/Getty Images
During its nine-season, 188-episode run on NBC, "The Office" was one of the best-loved and most-watched comedies on television. And in the near decade since the show ended, it's only grown in popularity, with fans discovering or re-discovering the often cringe-worthy charms of "The Office" via syndication and streaming platforms. Even as series super-fans continue to get wrapped up in the work-a-day shenanigans of Dunder-Mifflin's Scranton branch, part of what viewers respond to most on "The Office" is the intricate interplay between the series' central cast members, most of whom have remained close since the series finale aired in 2013.
Jenna Fischer, who played Pam for nine seasons on "The Office," has been a key component in keeping the gang in contact over the years, along with her on-screen frenemy and real-world bestie Angela Kinsey. While much as been made of that pair's offscreen friendship, less has been said of Fischer's enduring relationship with Rainn Wilson, the man who played the lovably irascible Dwight Schrute during the entire run of "The Office."
Fischer herself recently discussed their close bond on "The Office Deep Dive" podcast on Spotify, which is hosted by "The Office" supporting player Brian Baumgartner (aka everybody's favorite chili-loving accountant Kevin Malone). And in doing so, Fischer recounted a hilarious story about how Wilson had once demanded the cast and crew of "The Office" refrain from asking him one specific question whenever a new work week began. 
Rainn Wilson was apparently tired of answering a very officey question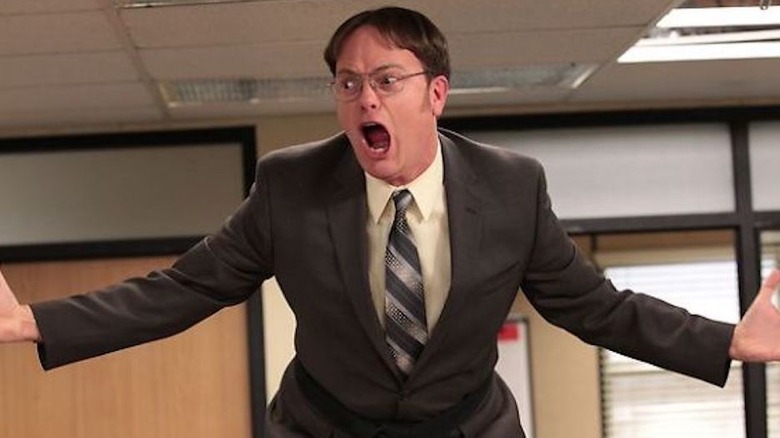 NBCUniversal
While the request was ultimately made by Rainn Wilson himself, it would've been very on brand for his counterpart Dwight Schrute. Seems that in the early days of "The Office," Wilson actually called the cast and crew of the hit show together and pleaded with them not to ask him how his weekend was upon returning to work on Monday, stating (in Fischer's words), "Hold on, everyone, I have an announcement. Everyone — on Mondays, you do not need to ask me how my weekend was anymore. Every single person asks me how my weekend was. Just assume it was fine!"
Now, if you've ever worked in an actual office environment, you know how exhausting it can be to answer that particular question over and over again every Monday morning, so we could hardly blame Wilson for wanting to opt out of the frustrating bit of small talk. Still, Fischer went on to say she and her former co-star had recently discussed the hilarious interaction, and that Wilson may have offered a very Dwight-ish "False" during their conversation, offering a slightly different account of things by telling her, "I said that on a Tuesday. I said 'Only ask me how my weekend was on Mondays, no more bleeding into Tuesdays.'"
Assuming Wilson's account is the accurate one, it's even easier to see where he's coming from, because the only thing more aggravating than repeatedly telling people how your weekend was on Monday is still doing it on Tuesday.