This New Clip From Candyman Will Definitely Give You Chills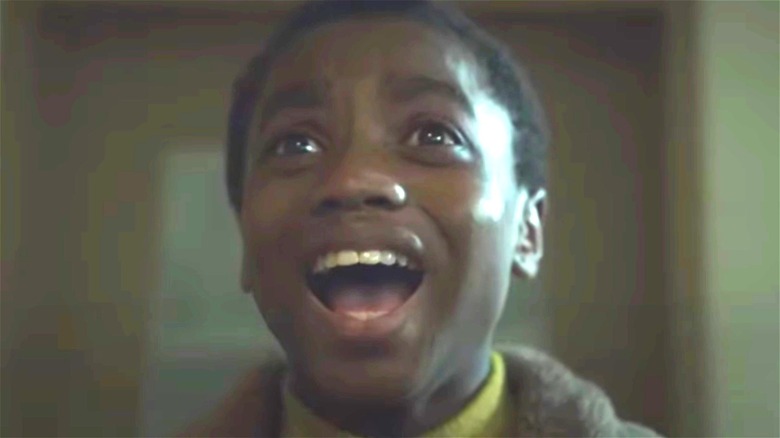 Universal Pictures
After a delay, the Nia DaCosta directed latest entry into the nightmare world of "Candyman" hits theaters August 27. It's been over two decades since the last film "Candyman: Day of the Dead" was released, and people are anxiously waiting to see how this new story will take on the Clive Barker short story "The Forbidden."
We've known for some time now that this new incarnation is more of a sequel to the original 1992 film than it is a remake. We've seen an appearance from the original lead Helen Lyle (Virginia Madsen) but don't have much context for what her story might be in this new "Candyman."
However, thanks to a new clip of the film that just dropped, we're seeing some serious references to the past, albeit from a new perspective. The clip features a retelling of one specific part of the Cabrini-Green legend, one that is equal parts terrifying and tragic.
The real villains in Cabrini-Green don't have hooks for hands
Who is the Candyman really? When Helen Lyle first hears of the legend of Candyman in the original film, she sets out to answer that question studiously and pragmatically. After all, there can't really be any such thing as a supernatural being with a hook hand who kills anyone that says his name five times in front of the mirror, right?
And, indeed, Lyle does discover that the legend of Candyman has been adapted and that there is someone in Cabrini-Green going by that name who isn't supernatural at all. In this new clip for "Candyman" we get the story of a Candyman as Anthony McCoy (Yahya Abdul-Mateen II) interviews Gil Cartwright (Cedric Mays).
"Helen Lyle was out here looking for Candyman. You ask me, she found him," Cartwright opens. But he has a very different recollection of the man with that name.
Sherman Fields (Michael Hargrove) is a man with a hook for a hand, who, it turns out, is entirely benevolent. However, there is someone in Cabrini-Green giving children candy with razorblades inside, and, since Fields gives people candy, it's assumed he's the guilty party.
A young Cartwright encounters Fields coming out of a hole in the wall, and, in a panic, screams for help. The rest of the clip is focused on Cartwright as we overhear the police beating Fields, likely to death. The clip ends with Cartwright revealing that the razorblade candy keeps turning up even after that, because Fields was innocent.
What makes the clip frightening and sets a tone for the type of fear we'll likely see in the film, is that the real villains are the people dressed as supposed protectors, not handicapped men with hook hands.
"Candyman" is in theaters August 27.