How Meganne Young Really Feels About Rachel's Ending In The Kissing Booth 3 - Exclusive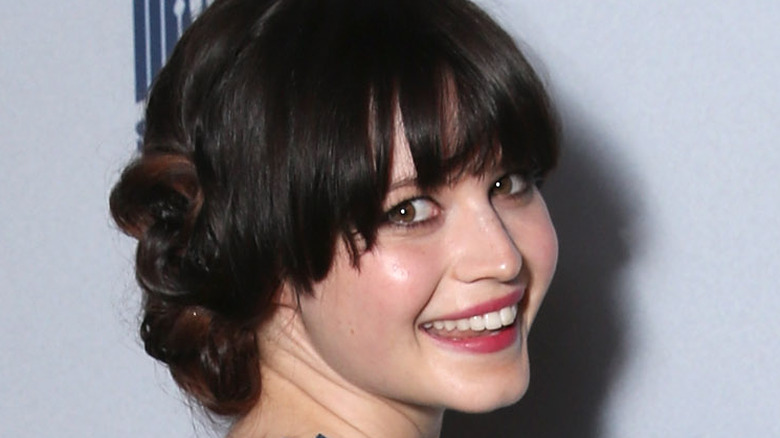 Todd Williamson/Getty Images
Fans are having a hard time saying goodbye to "The Kissing Booth" trilogy, with the final film now available on Netflix — but it's goodbye for the actors, too. The cast members have spent four years of their careers hanging out in the fictional halls of Los Angeles Country Day High School. Goodbyes are generally weird, especially for the cast who finished filming the third movie back when they filmed the sequel. But like most films, the final scene in the film isn't actually the last scene that the cast shot, making it a lonesome goodbye for some cast members who had solo scenes.
Meganne Young, who plays Rachel, spoke to Looper for an exclusive interview in which she dished on how she feels about her character's ending, what her last scene was, and how difficult it was to say goodbye. "I think it was what I was expecting," she said. "I think leaving the first film, and I started kind of coming in, before I knew what was going to happen, I was like, 'Oh, I kind of hope we get to see this.' I was really happy."
A two-in-one special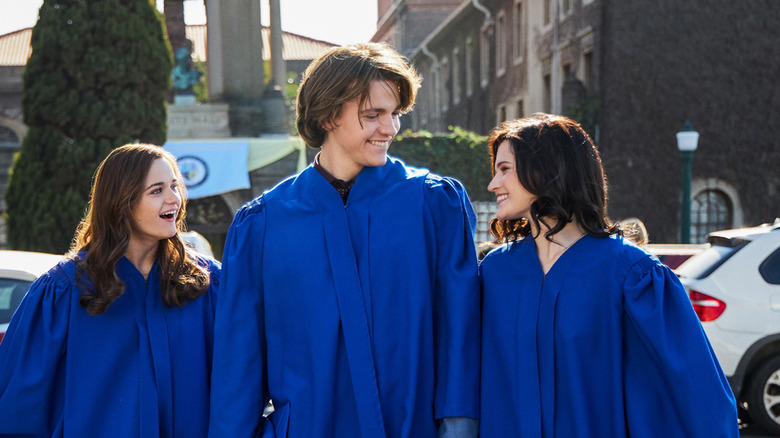 Netflix
Meganne Young had a lot of feelings about her last day on set and what she'll miss the most about the cast and the experience. "It was hard. I cried a lot. I remember being ... I think all of us were exhausted because we shot two movies at the same time. That's not easy. That's a lot of work, and we were kind of chopping and changing. It required a lot of energy. There are a lot of things happening. There's a lot of emotional stuff happening," she said.
"I do think we all kind of got to the end, and we were tired," she added. "We did want to go home because you'd been away from home for so long, but then we knew that doing that meant saying goodbye to each other. It honestly was such a highlight of my career. I had the best time shooting, especially the second and third films, once we'd all really settled in. Coming back and being reunited, it was really difficult and emotional, and bittersweet." 
Goodbyes without the goodbye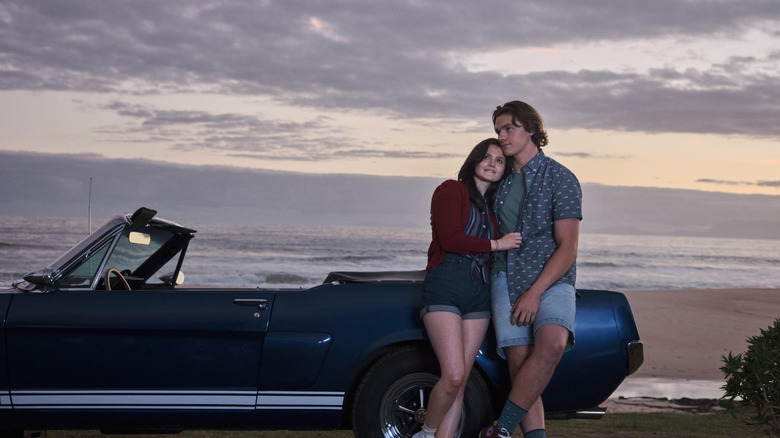 Netflix
If there's one thing everyone can agree on, it's that endings suck — especially when you don't get to say goodbye. In fact, Meganne Young's last scene from the "Kissing Booth" franchise wasn't even from the third film. She explained that her scene was on the last day of filming but separate from the rest of the cast. "That was quite hard, actually, because I watched some of the others wrap up together. They would finish a scene, and one or both people would be like, 'And that's a wrap.' They're done with a wrap. But with me, it was the scene where Rachel, I think it's in the second movie, when she's waiting outside of the movie theater. She's waiting for Lee, and he's not there. That was my last scene. It was kind of sad, and I was on my own. I was like, 'Aw, I wish I had, I wish it had been scheduled so I could be with someone to say goodbye.'" 
"I mean, I didn't have dialogue in that scene either. I think I would prefer, I think next time I should write it in my contract that I'm not allowed to finish with a scene on my own," she joked. "I have to have a friend. Someone has to be with me." 
Fans can watch "The Kissing Booth 3" on Netflix now.