New Photos From Fear The Walking Dead Tease A Haunting Look At Season 7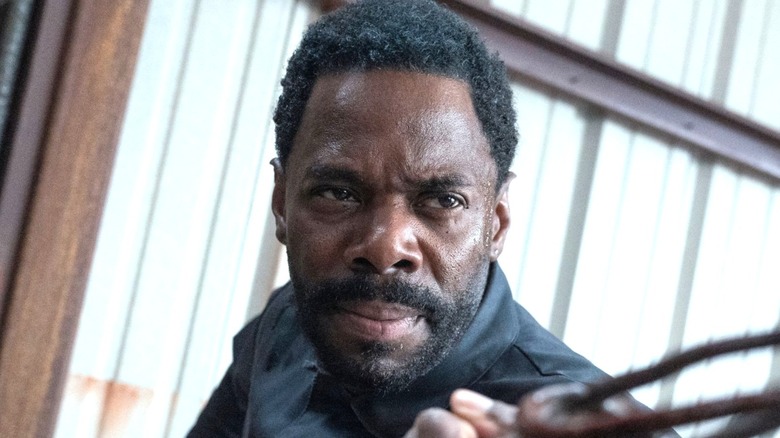 AMC
Contains spoilers for Season 6 of "Fear the Walking Dead"
After a fifth season that many fans saw as a low-point for the franchise, Season 6 of "Fear the Walking Dead" felt like a major return to form. There were formidable villains, genuinely heart-wrenching character deaths, and an ending that raised the stakes to a whole new level. Where could Season 7 possibly go after Season 6 ended with Texas getting nuked? Well, we will soon find out.
Season 7 of "Fear the Walking Dead" is set to premiere on AMC on October 17 and to get fans hyped, the network has released a fresh batch of stills (via Fansided). As has become typical of "The Walking Dead" franchise, the images give fans a little tease of the new season's vibe without spoiling too much of what's to come. But they do offer a look at returning characters like June (Jenna Elfman), Al (Maggie Grace), Daniel (Rubén Blades), and "The Walking Dead" transfers Dwight (Austin Amelio) and Sherry (Christine Evangelista).
The images also illustrate the new world these characters will be living in. After all, the nuclear blasts at the end of last season changed quite a bit about the physical and emotional landscape of the series.
In Season 7, walkers aren't the only danger the Fear the Walking Dead crew will have to contend with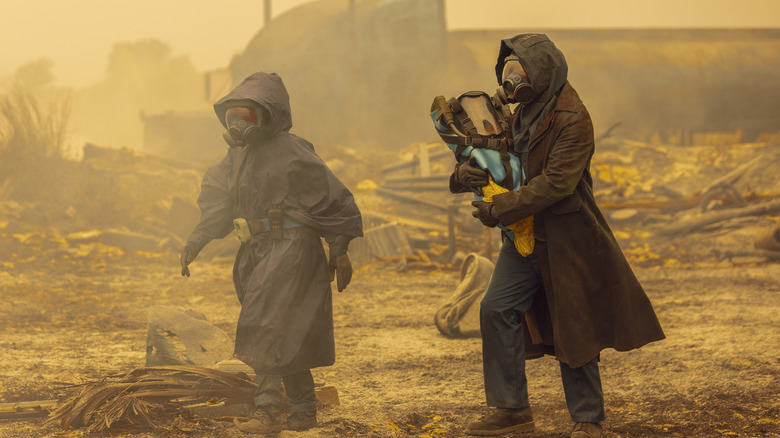 Lauren "Lo" Smith/AMC
Most of the newly released Season 7 images are pretty standard "Fear the Walking Dead" teaser fare. There's a shot of June hiding against a wall, a still of Sherry and Dwight at some kind of military installation, and one of Al and Daniel in a nondescript environment. But there are also a few that provide a more detailed glimpse into the future.
First, there's an image of a brand new character who will be introduced in Season 7: Will, who is played by Gus Halper of "Dickinson" and "Law & Order: True Crime" fame. We don't really know anything about this fresh addition yet, but one of the promo images does show him talking to longtime survivor Victor Strand (Colman Domingo).
The other images of note feature Morgan (Lennie James), Grace (Karen David), and their adoptive daughter they've elected to raise following her mother's death. One sees them in the supply room of the grounded submarine they have been living in and the other shows the family, completely suited up in hazmat gear, walking through the now irradiated wastelands of Texas. We also got a taste of this thanks to preview clips that were released back in July.
This new nuclear reality will only make life even more difficult for our survivors. Who will continue to persevere? Find out when "Fear the Walking Dead" Season 7 premiers on October 17.