Exclusive Clip: Get A Sneak Peek At This Brand New Blue Bloods Featurette
After spending over a decade airing on CBS, the beloved police procedural "Blue Bloods" is as popular as ever, with Season 12 arriving in October 2021 and eleven well-received seasons under its belt already. Led by Tom Selleck — who plays New York City Police Commissioner Frank Reagan — alongside Donnie Wahlberg, Bridget Moynahan, Will Estes and Len Cariou, "Blue Bloods" focuses almost exclusively on the Reagan family, a fairly traditional Irish Catholic clan living in New York and all of whom work in some branch of law enforcement, whether in the police department or in the legal field.
As Season 12 approaches, fans will be able to buy a DVD box set of Season 11, whether they simply want to relive the most recent season or need to catch up after some time away. To make things even better, the box set will feature deleted scenes, new featurettes, and bonus content for fans who want to know even more about their favorite show. Ahead of the box set's release in August, Looper is excited to share a first look at some of the bonus features on the "Blue Bloods" Season 11 DVD.
Shades of Blue focuses on a classic Reagan family dinner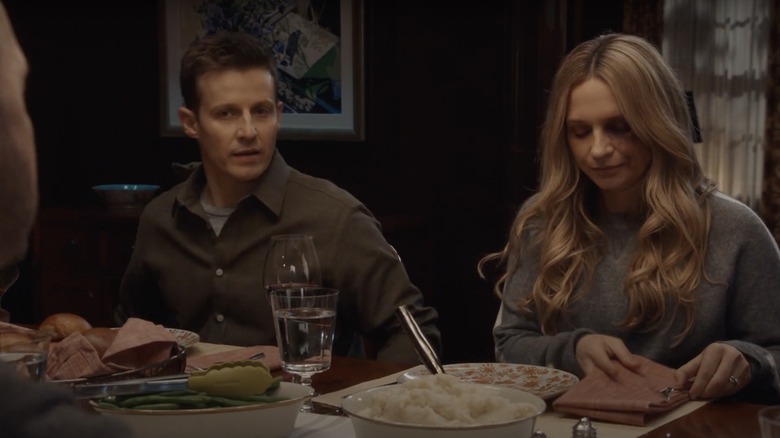 CBS/YouTube
In an exclusive featurette titled "Shades of the Blue" from the DVD box set about the dinner scene from "Guardian Angels," several stars of the show weigh in on that episode's big dinner scene where the family argues over one member's recent injury. "Despite the fact that it's a law enforcement family, it's a law enforcement family with a lot of differing opinions," Donnie Walhberg, who plays Detective Danny Reagan, said. "On any given dinner scene, you could have eight people at the table, all with eight different opinions of a real-life situation that's occuring." (Donnie Wahlberg)
This is certainly the case when it comes to a dinner scene from the eleventh episode of Season 11, "Guardian Angels," when Eddie (Vanessa Ray), wife to Jamie Reagan (Will Estes), is brutally attacked by a suspect currently out on bail... who also recently assaulted a different police officer. With many family members, including Danny, furious that the perpetrator was out of prison, his sister Erin (Bridget Moynahan), the assistant district attorney of the city, upholds bail laws that allow violent criminals to walk free.
"Maybe we can tell a perspective that hasn't necessarily been told, as storytellers," Estes explained of the scene. "Maybe that brings us all closer together. I think that's the kind of goals a television show can have, that I think that we may be able to do well."
The Season 11 DVD box set of "Blue Bloods" will be released on August 31, 2021.