The Superhero Print That Sold For Hundreds On Pawn Stars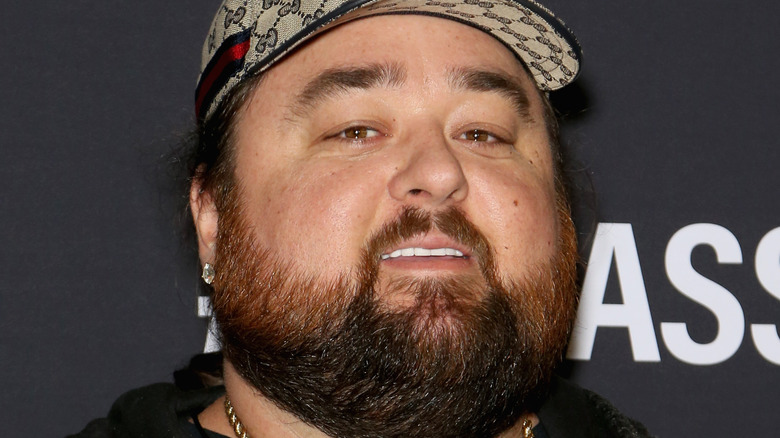 Gabe Ginsberg/Getty Images
The cast members of "Pawn Stars" are no strangers to dealing with superhero memorabilia. When seller James came into the Gold & Silver Pawn Shop with a superhero print for sale, as seen in the Season 14 episode "Gilded Pawn Age," it kind of made sense that he and Chumlee got into a discussion over which superhero is more heroic. Isn't that what fans of these characters do?
The print featured Superman and Batman, inspiring immediate debate. James declared his preferred superhero was Batman. Chumlee pointed out that all of his power came directly from his fortune. "All you have to do is take away his money and he's no longer Batman," he said.
With that said, James offered that he might be able to get in excellent shape and maybe even become superhero-like himself — if they could just raise a large amount of capital. Chumlee was skeptical. "Not to offend you, but it would probably be easier to get you a couple of billion dollars than to get you in Batman shape," he said.
But enough silliness. James had a print to sell, and he was hoping to get a good chunk of change for it.
This print is legendary
No mere poster, the item James brought into the shop was a "Legendary Heroes" giclee print. As he described it, it's a "high-end lithograph by two of America's most popular comic book artists, Alex Ross and Jim Lee."
Ross and Lee both started their careers at Marvel. Ross' path put him on high-profile projects including the 60th-anniversary celebrations of Superman, Batman, Captain Marvel, and Wonder Woman. Lee created his own company, WildStorm Productions, in 1992. Six years later, DC Comics purchased it, and Lee joined the DC team. Chumlee definitely liked the print, and he was impressed with its history. "This is very cool man," he said. "Two very iconic artists. Jim Lee would have penciled it down and Alex Ross would have painted it."
Superheroes inspire legions of superfans, and this was definitely the sort of item that would have collectors clamoring. But what's a piece of art like that actually worth? James told Chumlee he wanted $1,500 for it. Now the deal was about to get real.
Damage drives down the price
Upon examination, Chumlee found the print wasn't in tip-top condition. It had a lot of cracking, which appeared to indicate water or sun damage. That had to be disappointing for James, but Chumlee assured him it didn't mean the print wasn't going to be worth a decent price. In an effort to drive that figure up, James pointed out the print was number 69 out of only 100 that were made. Its rare status had to mean something, right? But Chumlee was fixated on the damage. "It is pretty significant," he said.
This was his opening to start the deal low. Chumlee offered James just $500, a third of his starting price. James appeared crestfallen and said he'd take $1,000. Chumlee wanted the print, but he was unwilling to go that high. At this point, neither one of them looked happy.
Finally, Chumlee offered $700. When James countered with $800, it was probably more about saving face than making an extra hundred bucks. But Chumlee still wasn't going for it. "We're gonna want to get this varnished and were gonna want to have museum-quality glass over this to prevent further damage," he pointed out. "I think $750 is gonna be the maximum that I can pay for this."
The writing was on the wall, and James could see the price would go no higher. With a lighter tone in his voice and a small smile creeping in, he shook Chumlee's hand and agreed to the sale. Perhaps this seller knew all along he'd do well with a deal exactly like the one he got.