The AHS Character That Fans Agree Has The Strongest Fanbase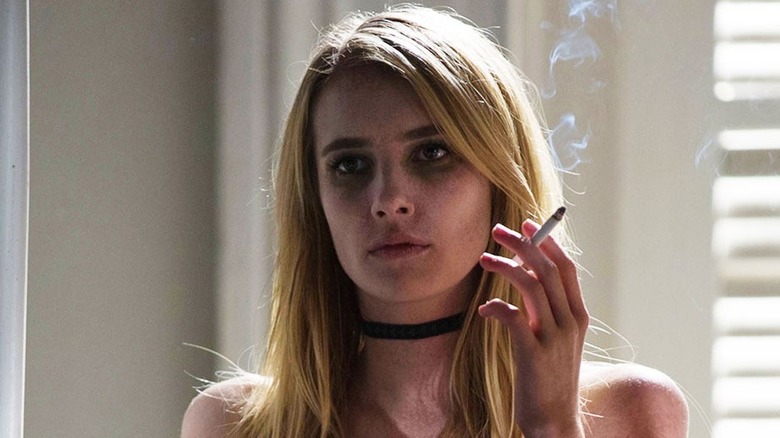 FX
"Hi, I'm Tate. I'm dead. Wanna hook-up?" and "Surprise, b***h. I bet you thought you'd seen the last of me" are two of the most memorable quotes from "American Horror Story." Tate Langdon (Evan Peters) from "Murder House" and Madison Montgomery (Emma Roberts) from "Coven" are both charming, cruel characters that fans consider among the best across the franchise — and not just for their witty retorts.
While Tate is the live-in ghost boyfriend of Violet Harmon (Taissa Farmiga) with a less-than-stellar track record that includes a school shooting and sexual assault, Madison is a self-absorbed actress and witch who believes she is the next Supreme and will stop at nothing to get what she wants. Neither is a beacon of morality, but it's undeniable that they are charismatic.
The problematic characters faced off in a recent poll on the FX show's subreddit that asked "Strongest fan base?" and received 473 votes. So, which character do "American Horror Story" fans think has the most devoted following?
Normal people scare me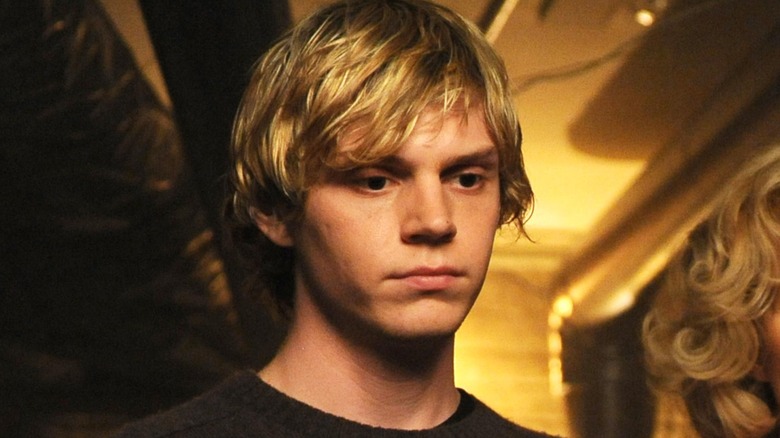 FX
With 305 votes, the shaggy-haired, rubber-wearing Tate Langdon won the poll. Fans agreed that "tate stans are just built different," because of how willing they are to overlook all the bad things he did. His relationship with Violet has often been labeled "#Goals," despite his abusive tendencies — up to and including his fathering of the antichrist via a deceptive sexual assault perpetrated against Violet's mother (Connie Britton).
"I mean, you got Tumblr teens putting flower crowns on pics of real school shooters and serial killers and calling it a wallpaper," said u/OedipusCapulet. "So it's really not that far of a stretch for just as many to like the fictional psychos like Tate Langdon."
"American Horror Story" has been criticized for romanticizing serial killers in the past, though some fans still cling to Peters' first character. "Tate will always be my love," said u/AggressiveCrow3967, pointing out the years they'd spent being a fan of the character. "I don't think I will ever get over my love for him lol."
If you or anyone you know has been a victim of sexual assault, help is available. Visit the Rape, Abuse & Incest National Network website or contact RAINN's National Helpline at 1-800-656-HOPE (4673).