AHS Fans Agree That This Is Their Favorite Emma Roberts Character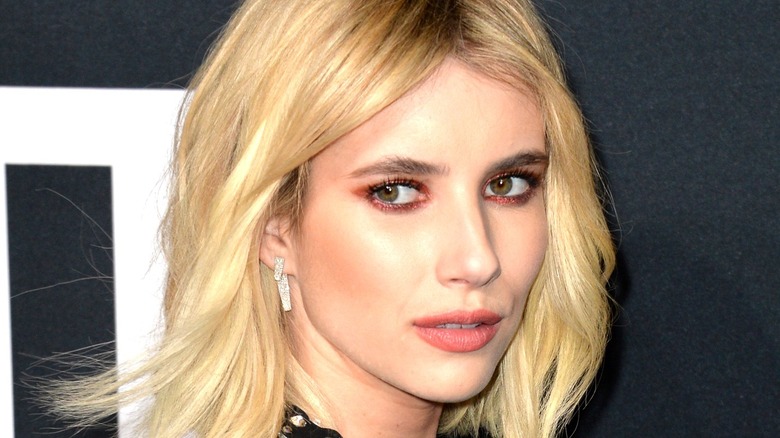 Shutterstock
Fans of "American Horror Story" love how so many talented actors and actresses keep coming back to reinvent themselves as different characters for each new season. Creatives like Sarah Paulson, Evan Peters, Kathy Bates, and even Lady Gaga have played many memorable roles in the horror anthology series over the years, though fans who have watched several (if not every) season of the scary, visually stunning show no doubt have their personal favorite character that each person who has appeared in multiple seasons of the show has played.
One actress who has had her fair share of juicy roles on the show is Emma Roberts, who has appeared in five seasons of the hit FX series so far, according to IMDb. However, fans clearly have a preference when it comes to the characters Roberts has portrayed on the show. Want to know which particular character "AHS" viewers thought Emma Roberts knocked out of the park? Read on, as we've got the details.
Emma Roberts' character on AHS: Coven is a fan favorite on Reddit
A recent Reddit thread shed some light on how much "American Horror Story" fans like each of Emma Roberts' characters. Her portrayal of Madison Montgomery in "AHS: Coven" — a teenage Hollywood starlet known for her catty, spiteful tendencies, per Fandom — was the clear winner of an informal poll posted by u/Distinct-Art1207, which asked fellow Redditors to name their favorite Emma Roberts character. Roberts' turn as the power-hungry, sharp-tongued witch on "Coven" earned more votes than the rest of her other characters combined, and her appearance as Madison in "AHS: Apocalypse" came in second, so it's obvious that fans simply love Roberts in this role.
In "AHS: Coven," Madison is part of a group of young witches attending Miss Robichaux's Academy for Exceptional Young Ladies in New Orleans. However, while her peers each exhibit a single supernatural power, viewers soon learn that she is a much more formidable force to be reckoned with. Making Madison all the most fun to watch is her wicked sense of humor and complete sense of unapologetic self-entitlement.
Emma Roberts has thoroughly enjoyed playing Madison
A 2018 article in Teen Vogue also named Madison Montgomery as the best character of the third season of "American Horror Story," noting her iconic one-liners, insults, and fashion moments as a few reasons she's so awesome. It also talks about how she embraces her magical powers early on, which may have given her an edge over the other young witches as they vied for the position of the next Supreme.
The bratty, powerful starlet of "AHS: Coven" was also a lot of fun to play for Roberts. In 2013, she opened up to BuzzFeed about what it was like to land what she called a "dream role" working with creator Ryan Murphy and how excited she was to be able to work with acting legend Jessica Lange. Roberts told the outlet, "She [Madison] gets to do a lot of comedy, but also gets to do serious stuff and I like that I get to have a totally different look than I've had before. It's a fun role because I feel like it's more mature and it allows me to get to do so many different things as an actress, which is fun."
We're right there with "AHS" fans who are hoping to see more of Madison in future seasons.