Will Carter Be Leaving The Bold And The Beautiful?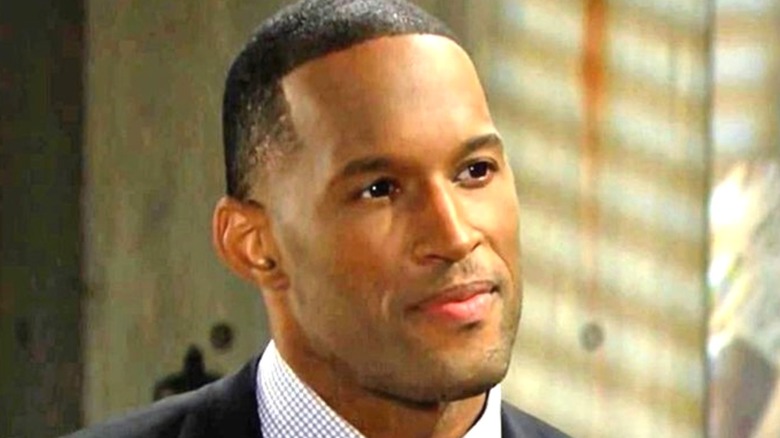 CBS
In the world of soap operas, dramatic comings and goings are a given, and "The Bold and the Beautiful," which follows the wealthy, fashion-forward Forrester family and their rivals, the Logans and the Avants, is no exception. Recent events have fans worried that resident lawyer, COO and perennial wedding officiant Carter Walton, who has been played by Lawrence Saint-Victor since the character first appeared in 2013, is one of the show's stars who is making his way to the exit this season. If that happened, Ridge Forrester (Thorsten Kaye) would lose his best friend, and the romantic manipulations involving Zoe (Kiara Barnes), Quinn (Rena Sofer), and Maya (Karla Mosley, who left the show in 2019), would be much less interesting. 
Recent events have given rise to the idea that Carter is going to be leaving Los Angeles — or at least, he'll be leaving Forrester Creations, following the discovery of his and Quinn's affair by Eric Forrester (John McCook) — and wasn't that quite the recommitment ceremony? Eric clearly doesn't want Quinn to be part of his life any longer and Carter clearly doesn't want to stay, yet Eric refuses to let him resign (via Soapdirt). As long as he stays away from Quinn, he can remain.
Of course, since receiving that directive, he's had trouble keeping it, and now it looks like Quinn might be reconciling with Eric and breaking Carter's heart despite a forthcoming declaration of love, if this week's sneak peek spoilers (via Celebritydirtylaundry.com) are any indication. Could all this be leading up to a departure for Carter?
Carter still has some drama to endure in the upcoming weeks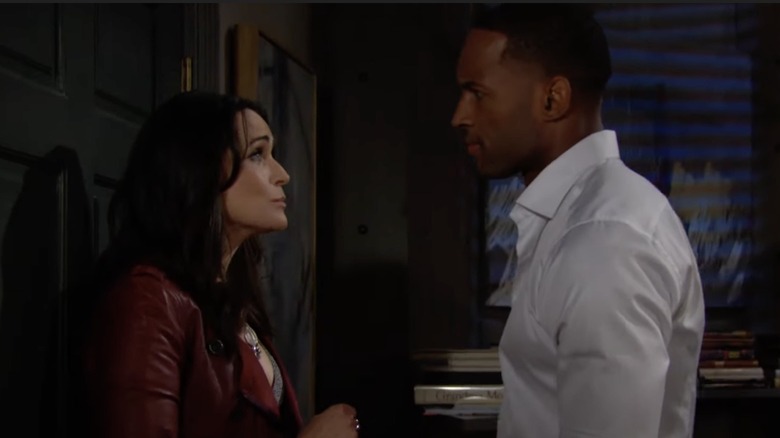 CBS
One thing's for sure: If Carter does stay, there's plenty of potential for sudsy conflict and more juicy stories ahead. As far as the public knows, there's no word that he'll be leaving anytime soon. No announcement has been made about actor Saint-Victor's departure, which is good news, because it sounds like the love triangle between Eric, Quinn, and Carter could provide fodder for the series for quite some time. This goes along with Saint-Victor being returned to contract status last year after Carter was relegated to a recurring character for a while (as noted in an interview he did for soapcentral.com), so that will hopefully last.
It certainly doesn't sound like Carter is expecting to go anywhere. In a May interview with Soap Opera Digest which discusses Carter and his forbidden relationship with Quinn, he said,  "He is a stand-up guy, but that is not effortless. His efforts require work and discipline, and if you catch him in a moment where he is out of sorts or vulnerable, you will see another part of his personality. He was so rocked by Zoe that it's hard for him to walk this straight line with someone like Quinn, who he shares this bond and connection with. I'm so excited to see where this is going to go!" Presumably, he'd be a bit less excited if he were being booted from the show. 
Then again, it's hard to know with soap operas. They're pretty well known for serving up those curveballs. Nevertheless, many fans of "The Bold and the Beautiful" may agree that keeping Carter on until he gets his own happily-ever-after should be a priority. The poor guy has been unlucky in love for so long, and the current storyline just doesn't seem like it will get him to the altar himself anytime soon.