Is Rena Sofer Actually Leaving The Bold And The Beautiful?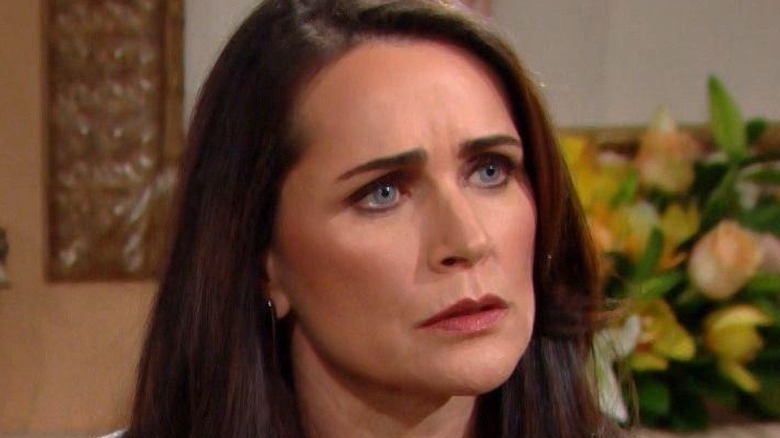 CBS
The talented Rena Sofer has been playing Quinn Fuller on the CBS sudser "The Bold and the Beautiful" since 2013. A brassy jewelry designer, Quinn is sometimes selfish and always motivated by what's good for her adult son, Wyatt Spencer (Darin Brooks).
Quinn had hit a pretty sedate period on the show over the past couple of years. After scheming against many of her son's girlfriends and falling in and out of romances of her own, she finally seemed to hit the jackpot in a love match with Forrester design house patriarch Eric (John McCook). Their marriage had been an oasis of quiet sanity and calm in the wild tumult that was life at Forrester Creations.
Naturally, soap operas abhor a vacuum, and Quinn's been trying to keep things undercover (in more ways than one) as she tries to have her cake and eat it too when it comes to her marriage to Eric. Those days look like they might be at an end, thanks to developments broadcast on the July 2 edition of the soap. But is Rena Sofer leaving the show? Here's what we know about her status on "The Bold and the Beautiful."
Quinn's not down for the count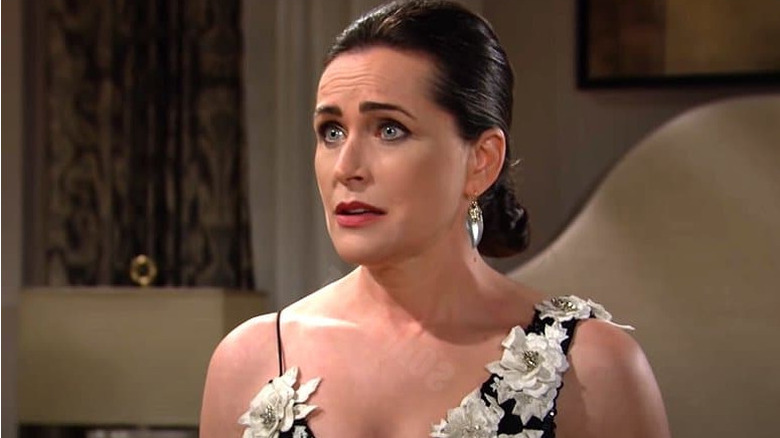 CBS
The rest of this article contains spoilers for Quinn's character arc on the soap, with specific spoilers from the July 2 edition of "The Bold and the Beautiful."
Don't let appearances fool you — Quinn is set to stick around the show, even though her daughter-in-law and constant rival Brooke (Katherine Kelly Lang) exposes Quinn's secret affair with Carter Walton (Lawrence Saint-Victor) right in the middle of Quinn and Eric's living room vow renewal ceremony – which Carter was officiating. 
Quinn and Carter had repeatedly and spontaneously fell into bed multiple times over the previous month, and while both are disgusted that they were cheating on a kind man, they can't keep their hands off one another. 
Secrets have a way of coming out, and to conceal theirs, Quinn brings her best friend Shauna Fulton (Denise Richards) into the picture. She asks Shauna to cover for her and say that she and Carter were the ones who climbed into bed, a falsehood the loyal Shauna is willing to repeat. But Paris Buckingham (Diamond White) finds out about the affair, forcing Quinn to placate her. It's through Paris' text messages that Brooke finds out about Quinn, and she proceeds to interrupt the ceremony with the news.
But does any of this mean a humiliated Quinn is ready to leave California? Don't count on it. According to Soap Dirt, Sofer remains under contract. Even if Eric and Quinn break up, it's likely that the dramatic beats between Brooke and Quinn will play out onscreen. The July 2 episode of "Bold" also strongly hinted that Donna Logan (Jennifer Gareis), one of Eric's ex-wives, wants back into his life, so there's likely to be even more drama. Don't count Quinn out yet.