Fans Are Swooning Over The Crown's First Look Images Of Charles And Princess Di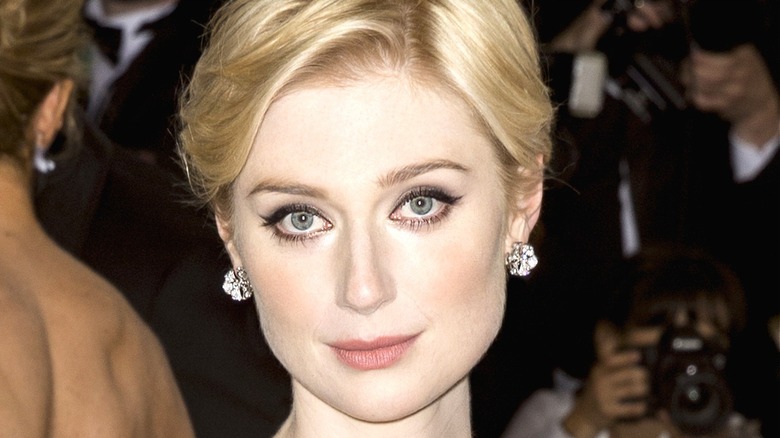 Shutterstock
It's that special time again when TV fans observe one of their favorite traditions: gasping at the first look images of the new set of actors who will be portraying members of the British Royal family and their associates on Netflix's "The Crown."
We're about to usher in the third generation cast for the historical drama, with Oscar nominees Imelda Staunton, Jonathan Pryce, and Lesley Manville set to step into the royal shoes of Queen Elizabeth II, her husband Prince Philip, and her sister Princess Margaret. However, fans are also incredibly eager to see how the show portrays Elizabeth's son Prince Charles and his wife Princess Diana, who will be played by Dominic West and Elizabeth Debicki. The famously tumultuous relationship took center stage in Season 4. And considering the show is about to enter the 1990s, which saw the couple's very public divorce, we can only assume they will continue to loom large in Season 5.
Back in July, we got our first glimpse of Staunton as Elizabeth, and now Netflix has gifted us with a look at West and Debicki as Charles and Diana. A still image of each actor in character was released on the official Twitter of "The Crown" and the tease had fans of the show wild with excitement.
The Crown fans already have high hopes for West and Debicki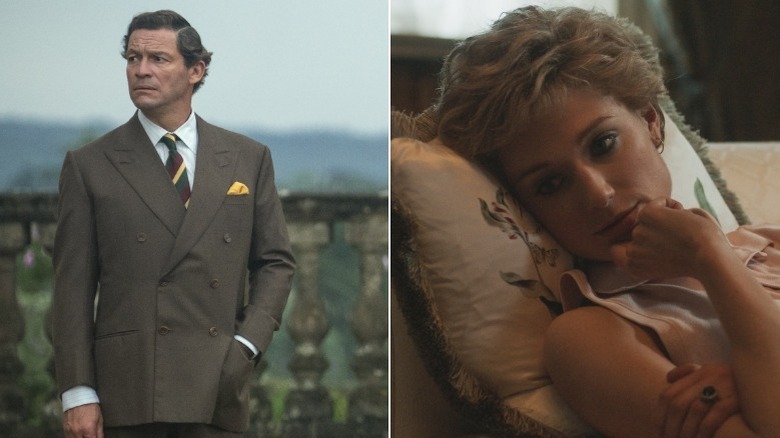 Keith Bernstein/Netflix
As soon as the images of West and Debicki hit Twitter, fans jumped on the opportunity to share their thoughts. While some commenters felt that West was more of a Hollywood version of Prince Charles than a genuine look-alike, in general, most fans were just thrilled to see the new cast in character.
Twitter user @JamesKeeling91 expressed faith in the casting department of "The Crown." They tweeted, "They're going to be amazing. Every single cast member on The Crown has knocked it out of the park." That sentiment was shared by @CaroGC, who wrote, "The casting always on freaking point OMG."
User @chrisgolds threw some praise to those involved with transforming the actors into their characters. "Extraordinary. I know this is obvs but the makers of The Crown really know what elements of a person make them instantly recognisable," they wrote. "At first glance they look exactly like the person they are playing – without normally being anything like them. Incredible."
Some of the most enthusiastic commenters turned their attention to Debicki and her resemblance to Princess Di. "She looks perfect," wrote @WeThrones, while @VogueChilee offered a prediction for Season 5: "Elizabeth Debicki is gonna eat that role up!!!"
User @noseofsauron also expressed confidence in how they suspect Season 5 will play out: "Josh [O'Connor] and Emma [Corrin] raised the bar high, I'm confident Dominic and especially Elizabeth meet and surpass that bar."
Season 5 of "The Crown" is set to premiere on Netflix in 2022.