Lil Rel Howery Reveals What He Did After Free Guy's Most Emotional Scene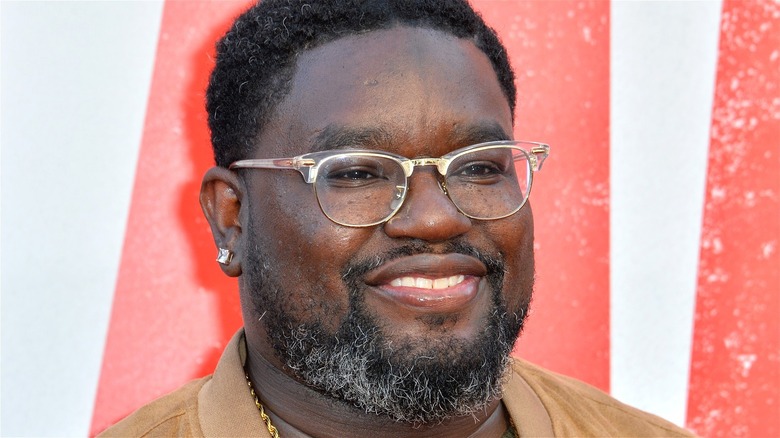 Shutterstock
Movies adapted from video games tend to get a bad rap for their tendency to miss the mark. Sure, there are some high-grossing video game movies like the "Resident Evil" franchise — but there are plenty of subpar adaptations, like the comically bad live-action "Super Mario Bros." movie from 1993. Thankfully, as special effects become more advanced and studios seem to learn from their failures, video game movies are a lot better than they used to be — for the most part.
The most recent video game movie is "Free Guy," which stars Ryan Reynolds as a non-player character named Guy who doesn't realize he's in a game until he puts on a pair of glasses that allow him to see from the player's point of view. A main-player character named Molotov Girl (Jodie Comer) enlists Guy to help her save the game from deletion — while in the real world, the game's original coder named Millie (Comer) is the one playing as Molotov Girl.
Amid the chaos in "Free Guy" is the adorable friendship between Guy and his best friend, Buddy (Lil Rel Howery). The duo works together to save the day and provide plenty of laughs along the way, but an especially emotional moment caused Howery to have to take a moment to recover from the feels during filming.
Lil Rel Howery was invested in the friendship
Howery, who also recently starred in Eric Andre's "Bad Trip," revealed that a particularly emotional scene in "Free Guy" took a toll on him. Toward the end of the film, as the evil Antwan (Taika Waititi) threatens to destroy the video game world of "Free City" that Guy and Buddy live in, the two best friends share a heartwarming and devastating moment. Thinking they're on the verge of annihilation, the pair shares an emotional goodbye that not only devastated viewers but also affected Howery during filming.
"You know, it was interesting too, because we had to redo that scene, and the second time was what was in the film," Howery explained to Cinema Blend. "But dang, I remember having to take a walk after we shot that. What made that work for real was I think we did a great job of creating this friendship between Guy and Buddy and selling it. And even for ourselves playing those characters, there was something interesting about [how] me and Ryan had to stay naïve the whole time, like little children. They didn't know any of this stuff they were learning later on. I think that's what made it work, when you really felt connected to both of them because it felt innocent."
The tender moment between friends adds yet another layer to the action-packed, hilarious movie. Now that there's likely to be a "Free Guy" sequel, we can't wait to see what other moments the best friends share.