Fans Are Losing It Over The Lightsabers In The Star Wars: Visions Trailer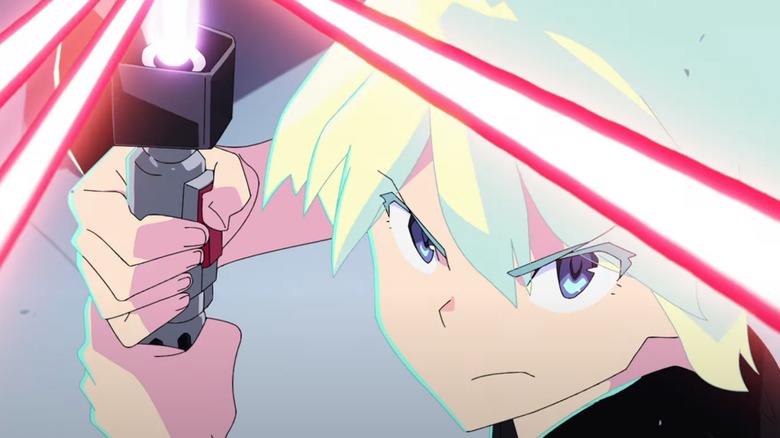 Disney+/Lucasfilm
It might be a few years before audiences see the "Star Wars" galaxy back on the big screen again, but Disney and Lucasfilm are developing a number of ambitious projects for Disney+ that will widen the universe in new, interesting ways. Most recently "The Mandalorian" won audiences over with the adorable dynamic between Din Djarin (Pedro Pascal) and Grogu, as the pair travel through the galaxy in the wake of the Empire's destruction. Meanwhile, "The Bad Batch" examines what life is like for the Kaminoan clones immediately after the Jedi massacre in "Revenge of the Sith."
But the next "Star Wars" project heading to the streaming service is an anthology series that's set to tell more unique stories within the galaxy far, far away. "Star Wars Visions" comes from several critically acclaimed Japanese anime studios, who will give each episode a truly unique animated style and flavor compared to the typical adventures audiences are used to.
The first look at the show arrived in July, featuring several animators explaining what they're aiming to bring to the franchise with the anthology series, but the teaser didn't reveal too much. Now the first full trailer for "Star Wars Visions" just arrived online, and fans are understandably excited. Here's why.
New heroes, new villains, and new lightsabers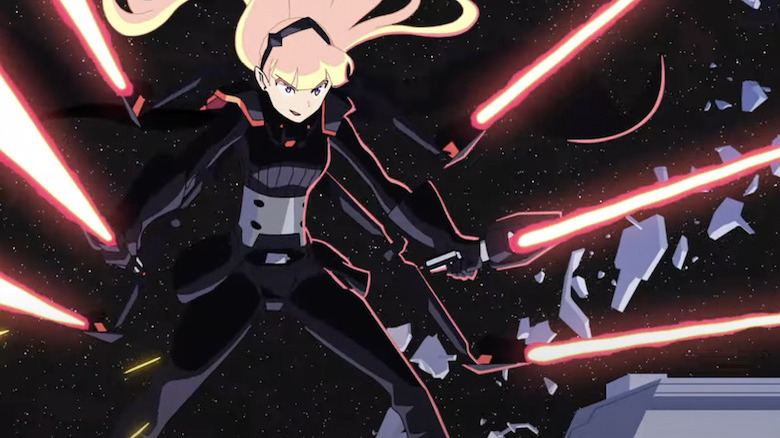 Disney+/Lucasfilm
After months of waiting, the first trailer for "Star Wars Visions" is here, and it's genuinely breathtaking. Each new snippet of footage offers a radically different vision of what the universe looks like, while also reimagining the things fans associate so closely with the franchise with diverse styles and designs. Basically, everyone loves the new lightsabers — and rightly so. One action-packed fight scene sees two characters dueling in space, and a girl dressed in black wields six red lightsabers at once. (General Grievous, eat your cybernetic heart out.) It's possible those two fighters are twins since they have similar character designs and there's an episode titled "The Twins" (per the Star Wars: Visions Special Look video description).
Another clip sees another possible Dark Sider using a spinning umbrella device with red lightsabers attached on each pole... It's safe to say that the animators have let their imaginations run wild and it's incredibly exciting to see. One YouTube user commented on the video saying, "Being a huge anime and star wars fan i couldn't be more hyped for this" and "getting mad chills from this trailer." Meanwhile, @BewearRocket reacted to the umbrella-saber on Twitter, saying "This is the dumbest lightsaber ever and I love it. Only a Star Wars anime could pull this off."
Most fans think the series has plenty of promise, as @Joseph_Kime tweeted "​​This genuinely has the potential to be the most creative Star Wars project since A New Hope." Disney and Lucasfilm also confirmed the incredible English voice dub cast, which includes the likes of Lucy Liu, Alison Brie, Henry Golding, David Harbour, Karen Fukuhara, Jamie Chung, George Takei, Neil Patrick Harris, Joseph Gordon-Levitt, and Boba Fett himself: Temuera Morrison. 
Luckily there isn't long to wait, as "Star Wars Visions" debuts on Disney+ on September 22.