Star Wars: Visions Special-Look Video Has Everyone Buzzing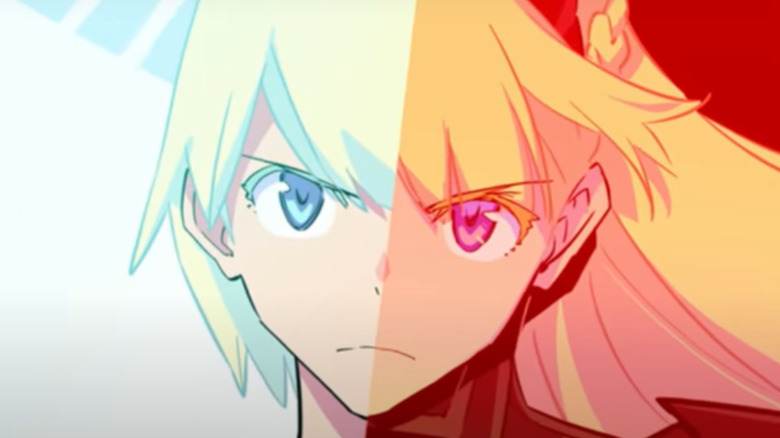 Lucasfilm/YouTube
It's a great time to be a "Star Wars" fan. The IP has taken over Disney+ with "The Mandalorian," "Star Wars: The Bad Batch," and soon "The Book of Boba Fett," among others, the High Republic multimedia project is in full swing, and several new "Star Wars" movies are in production. There's something out there for people of all interests and preferences, and Lucasfilm clearly wants the saga to entice newcomers more so than ever before. To do so, it is branching out and taking the magic of "Star Wars" into previously unexplored territory.
For evidence of this subtle franchise reinvention, look no further than one of the most unique "Star Wars" titles to come out of the Disney era: "Star Wars: Visions." This animated series was announced at the December 2020 Disney Investor Day event and is said to tell self-contained, episodic stories set in the wider "Star Wars" galaxy. Several Japanese anime studios — Studio Colorido, Geno Studio, Kinema Citrus Co., Studio Trigger, Production I.G., Kamikaze Douga, and Science Saru — are tasked with bringing the anthology to life, providing a vastly different cultural aesthetic than anything the property has been adapted to before.
Since that initial announcement, news about "Visions" has been pretty scarce, but we've finally received our first look at the upcoming program. To say the "Star Wars" fandom has thoughts would be an understatement.
The hype is real for Star Wars: Visions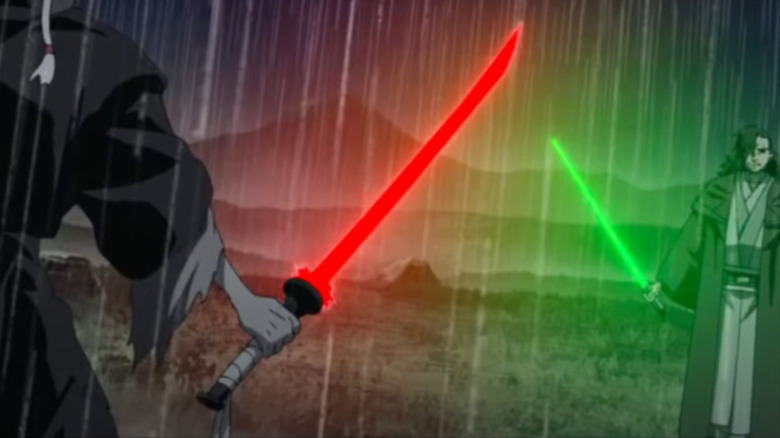 Lucasfilm/YouTube
A behind-the-scenes featurette for "Star Wars: Visions" arrived on the Star Wars YouTube channel on July 3, 2021, and had quite a bit to say. The three-minute clip centers on the animators and directors working on and discussing their specific tales, detailing what the show hopes to achieve. We also get a list of episodes, those being "The Elder," "The Village Bride," "Tatooine Rhapsody," "Lop & Ochō," "T0-B1," "The Ninth Jedi," "The Twins," "The Duel," and "Akakiri," accompanied by the Disney+ release date of September 2021 — giving the YouTube comment section plenty to discuss.
"My face just has a wide smile that isn't fading anytime soon," wrote Voidsaber, who was far from alone in their excitement over "Visions." YouTube user Zazi used a quote from "Star Wars" creator George Lucas, "It's like poetry: it rhymes," adding, "To me, there's something just absolutely serene about Star Wars taking a dive back into what first inspired it's creation. Not necessarily anime mind, but the Japanese culture. My respects!" UncertainDrag0n Studios chimed in, commenting, "Star Wars anime is something I didn't know I needed until now."
Moving the conversation from YouTube to Twitter, the "Star Wars" fanbase there seems equally as thrilled to check out "Visions." "im just so excited for star wars visions it looks incredible," tweeted @herahsokas, and @ABYudiputra posted, "OK Star Wars Visions looking pretty cool tho. Star Wars anime anthology featuring Studio Trigger & Production I.G???? I'M IN!!!" "as not a hardcore sw fan can i just say visions looks absolutely incredible and the creativity behind it is so amazing, probably one of the only star wars media i'm actually extremely excited for, "said @BITEPISCES, solidifying how massively appealing "Visions" really is.
Overall, if you're a "Star Wars" die-hard, an anime binger, appreciative of eye-pleasing animation, or some combination of the three, "Star Wars: Visions" is more than worth your while.