Walker's Lindsey Morgan Dishes On Working With Jared Padalecki - Exclusive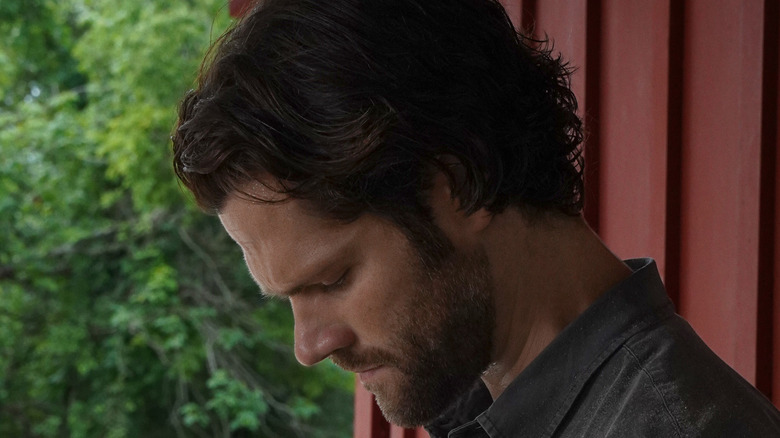 The CW
Jared Padalecki is a force to be reckoned with; whether he's pulling pranks or giving us a gut-wrenching performance, the guy can multitask with the best of them. After giving fans 15 seasons of "Supernatural," starring as Sam Winchester, Padalecki headed to his home state of Texas to take on the title on The CW's hit show, "Walker." In addition to starring in the series, Padalecki also serves as executive producer — and that's a lot of cowboy hats to wear. But with his co-star Lindsey Morgan, who plays Micki Ramirez, there's nothing the dynamic duo can't achieve in the Wild, Wild West.
Morgan spoke to Looper for an exclusive interview, in which she opened up about what it's like to have Padalecki as a co-star and boss for Season 1 of "Walker." She even dished on what pranks he got up to on set this time. Spoiler alert: it's flatulence humor; it's always flatulence humor. 
Jared Padalecki: A real cowboy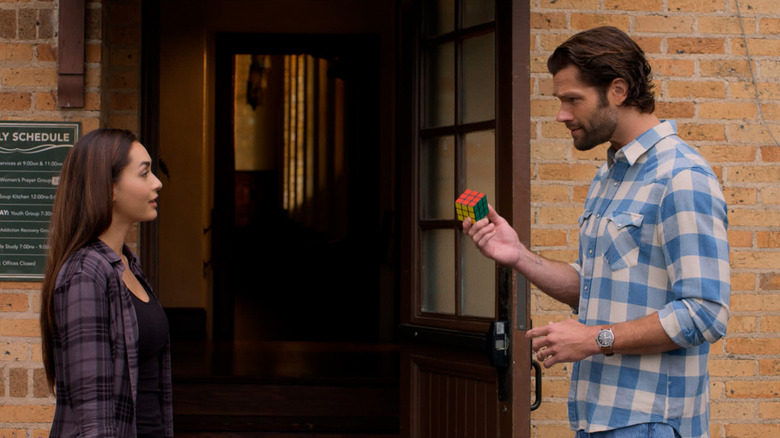 The CW
"Jared kind of like, he's a machine, point-blank," Lindsay Morgan said. "This man does everything and does it with so much passion and heart, and infectious energy. You know, I really just admire him, and I'm grateful to have him as a boss and also as a partner and co-worker and someone I get to work with and do scenes together."
But sometimes, Padalecki's ease can be a little daunting; Morgan recalled a particularly terrifying scene. "I think it was Episode 2. This is so funny. So it's an episode where people don't remember it, we are riding on horseback together, and he kind of grabs me as the force of galloping and throws me on his back, and then we're riding together. By the way, he's really strong. So when we were doing it, he could actually lift me up with one hand while on a horse. And I was like, 'Wow, this is just scary, stop.' I was like, 'Let the stunt people do this.'"
"What people don't realize is, when you're shooting horseback scenes ... maybe for a wide shot, you're on the horse. But if they want to get a close-up, they can't get that close to the animal. So they have a rig, and it's literally like, you know, those cheap horses you put a quarter in? It just barely moves," she explained. "That's what it is. And you have to move it yourself. So it's just so funny that I was like, 'Hey, really tall man I don't know that well but also my boss. I'm just going to pretend to ride a horse behind you. So don't mind me.' For me, it was just like, 'Wow. This is incredibly awkward. I really hope it looks good because I feel so silly doing it.'"
A prank war in Texas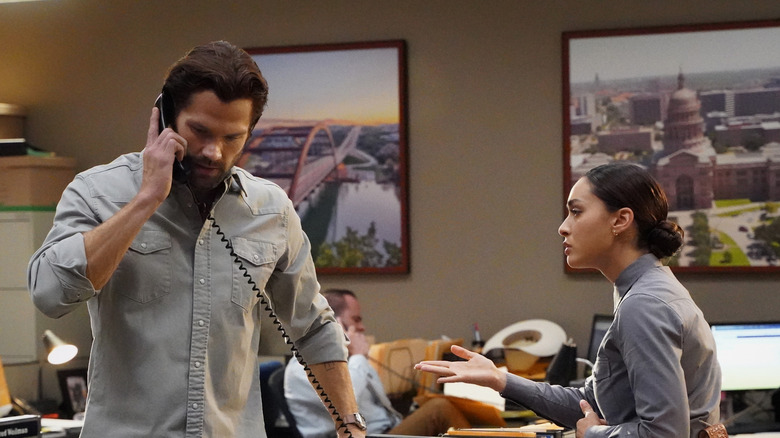 The CW
"Jared is so funny, and he is constantly razzing me and constantly pulling pranks on me," Lindsay Morgan said when asked whether Jared Padalecki tried to get her to break. "So I've just come to accept it now. But it has been really fun. I feel like Micki and Walker have great banter. And so it's just a fun atmosphere to play with, and Jared's always game, if not one-upping me constantly."
Morgan recalled a specific prank. "We were in the pilot, and this was when I was driving home, and he was drunk, and I hadn't really revealed who I was yet. And I was just kind of watching him. So it was kind of just a tense moment of silence, and he put a fart machine in the car and let it rip during one of these silent beats. And I just died laughing. I was like, 'What was that?' So it's pretty notorious." 
All episodes of "Walker" Season 1 are now streaming on The CW's website.