Where Is Kelly Bundy From Married... With Children Now?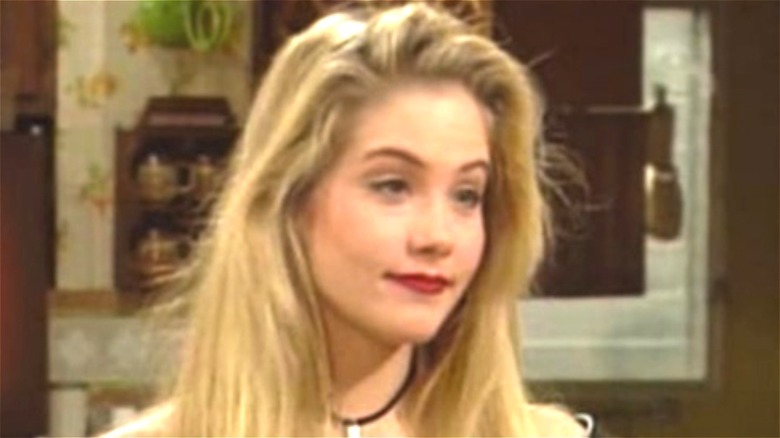 Fox
"Always bring a toothbrush, because you can cheat on your boyfriend, but not on your gums," advised the iconic '90s teen dream Kelly Bundy. The "Married... with Children" character was known for her teased blonde hair, skimpy outfits, and unconventional ways of thinking.
The Fox sitcom about a suburban Chicago family aired from 1987 to 1997 and was often criticized by conservatives for not being family-friendly. The ditzy, boy-crazy Kelly was frequently at the center of these criticisms. She was a fan favorite, often receiving so much audience applause when she made an entrance that it interfered with a scene's timing (via NPR).
Actress Christina Applegate, who portrayed the promiscuous teenager, told NPR that she played Kelly as "a genius" and "a virgin" in the character's own mind, saying, "Those were my little secrets that I had about her." Her inspiration for Kelly's signature look came from one of the women in a metal documentary. According to Applegate, Kelly was a "product of the '80s, of this generation of girls that felt they needed to use their bodies to get further in the world."
From distracting young men on rival bowling teams to dazzling car lovers with "The Bundy Bounce," Kelly oozed sex appeal. However, she was also surprisingly clever in her own absurd way. Her unapologetic attitude and charming personality are still celebrated today.
So, where is Christina Applegate now?
Upping the stakes on family dramas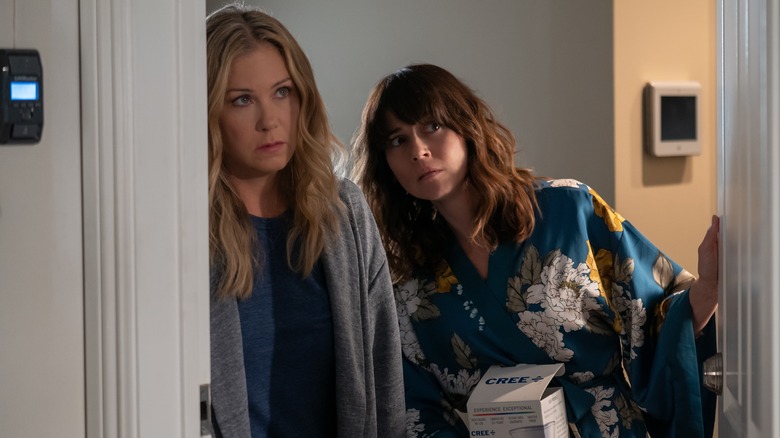 Netflix
Most recently, Christina Applegate has starred on the Netflix series "Dead to Me" alongside "Freaks and Geeks" alumnus Linda Cardellini. The show follows Jen Harding (Applegate), a grieving widow who reluctantly befriends another alleged widow from her grief support group, Judy Hale (Cardellini). However, her bubbly new friend comes with a lot of baggage — including the fact that she killed Jen's husband.
Applegate has had roles in both film and on Broadway but is best known for her TV roles in shows like "Jesse," "Samantha Who?" and "Up All Night." Fittingly, the "Dead to Me" characters bond over their love of the NBC sitcom "The Facts of Life." Sipping red wine on Jen's outdoor patio, they watch late-night reruns and intensely debate their similarities to the classic sitcom characters.
While Jen Harding and Kelly Bundy are both tough-talkers dealing with chaotic family lives, many of Applegate's roles have one thing in common. "If I look back over everything I think the through line is in strong characters with ambition," she told the Los Angeles Times.