23% Think This Butcher Moment In The Boys Went Too Far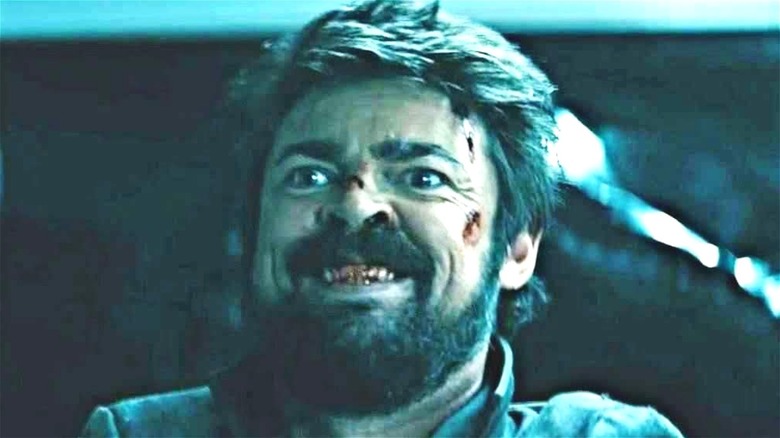 Amazon Studios
When Amazon first announced that it was producing a TV adaptation of "The Boys" comics by Garth Ennis and Darick Robertson, many fans scoffed at the idea. Surely the grisly madness of the comics would be too much for audiences to handle? Well, apparently not. While it isn't a perfect translation from the page to the screen, there's plenty of carnage along the way that honors the spirit of the original series. Season 1 certainly made an impression with Robin's (Jess Salgueiro) gory death thanks to A-Train (Jesse T. Usher) and the way Homelander (Antony Starr) eviscerates a warehouse of terrorists.
Season 2 upped the bloody antics of the Seven and the Boys with an unforgettable scene involving a whale. Amazon built a disgusting, practical set for the gang's invasive trip inside the giant mammal. Thankfully, the gore and guts don't negate the plot, and the season develops its array of heroes and villains in meaningful ways. But those character arcs often come from bloody beginnings. Take Billy Butcher (Karl Urban), for example. His motivation comes from wanting revenge on Homelander for assaulting his wife Becca Butcher (Shantel VanSanten) before her mysterious disappearance.
The ex-CIA operative shows no remorse for using any means necessary to find out what happened to his wife, often murdering anyone who gets in his way. Just look at the brutal way he kills Mesmer (Haley Joel Osment) using a bathroom sink. Ouch. But in a poll conducted by Looper, 23% of voters thought Butcher went too far in a very surprising moment.
There's no blood involved at all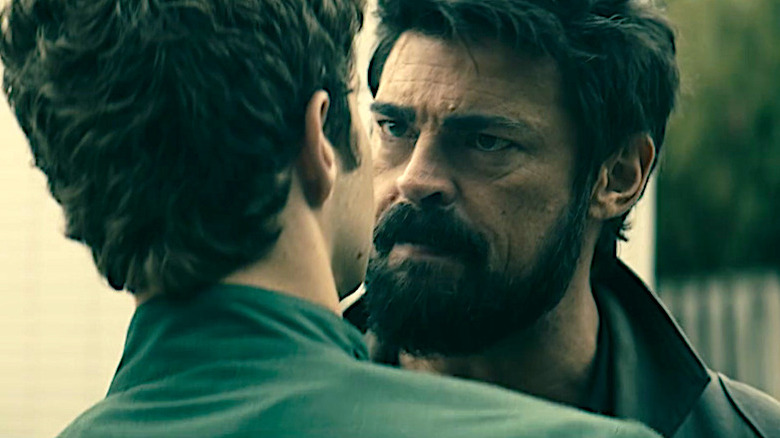 Amazon Studios
Surprisingly, the Billy Butcher scene that voters thought went too far doesn't involve any violence, gore, or overuse of the C-word. But let's look at the other scenes voters also picked. 
In our poll of 636 people, 12.89% thought the way Butcher holds Madelyn Stillwell (Elisabeth Shue) hostage and forces her to wear a suicide vest at the end of Season 1 was too controversial, while 13.84% picked Mesmer's horrific bathroom death. Next up, 16.9% of voters picked the scene in Season 1, Episode 5 in which Butcher smashes Becca's gravestone — which her family had erected after her disappearance. Obviously, Billy thinks that having a grave for someone who isn't dead is disrespectful, and his anger gets the best of him.
The infamous baby-with-laser-vision scene snagged 16.35% of the vote, as Butcher bisects a number of Vought goons using a newborn supe. He's an inventive fellow, isn't he? In second place is the moment in which Butcher shoots Starlight (Erin Moriarty) in the chest with a high-caliber round in broad daylight. It's not bloody, but it's shocking because he's using a very large sniper rifle in a public place.
But 23.43% of voters thought Butcher abandoning the gang at the end of Season 1 went too far. He leaves because Hughie (Jack Quaid) refuses to carry on with the fight until they save Frenchie and Mother's Milk from Vought. It's surprising that this took the top spot, considering it's not a gory moment at all, but it's actually very consistent with Butcher's character. He's quite self-serving, and his only goal is to get revenge on Homelander for (presumably) killing Becca. It'll be interesting to see what violent delights are in store for Billy when Season 3 eventually arrives.