The Suicide Squad Deleted Scene That Clears Up A Key Plot Detail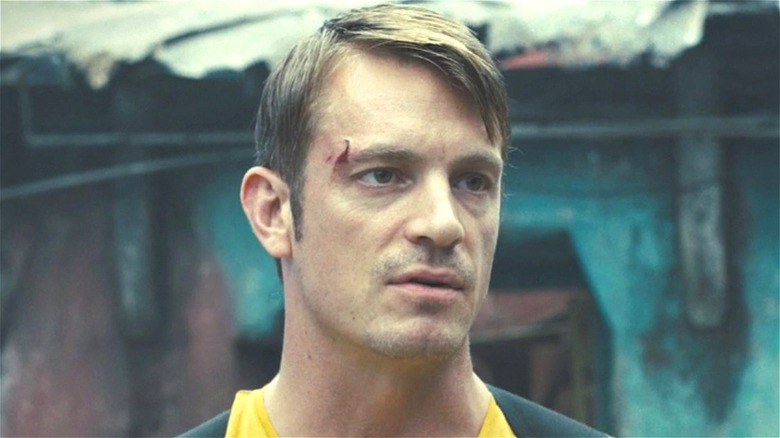 Warner Bros./DC Entertainment
Contains spoilers for "The Suicide Squad"
Now that most DC fans have had the chance to see "The Suicide Squad" in theaters or via HBO Max, there's been plenty of discussion online about James Gunn's unhinged vision for Task Force X. The film uses mostly new villains in its roster of anti-heroes. Bloodsport (Idris Elba), Peacemaker (John Cena), King Shark (Sylvester Stallone), Polka-Dot Man (David Dastmalchian), and Ratcatcher II (Daniela Melchior) all get their chance in the limelight. But there are a few returning members from David Ayer's 2016 film, as Task Force X brings back Harley Quinn (Margot Robbie), Captain Boomerang (Jai Courtney) and Rick Flag (Joel Kinnaman).
Of course we haven't mentioned the brilliant way James Gunn kicks off the film by slaughtering an entire team of C-list villains. The extremely violent beach battle in Corto Maltese establishes Gunn's no-holds-barred approach to the DC Extended Universe. The director previously explained on Twitter that he was given "carte blanche" to do what he wanted with the film, and that clearly included killing off numerous characters within the opening few minutes.
But in a recent interview, James Gunn revealed a deleted flashback scene which would've explained a key plot detail from the opening fight.
Why is Rick Flag on the beach team?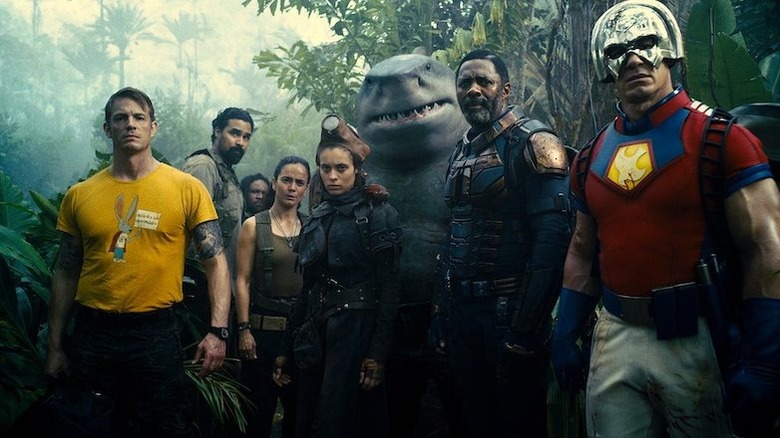 Warner Bros./DC Entertainment
Since Rick Flag clearly has a great way of handling egotistical supervillains on military missions, many DC fans were surprised that he was charged with leading the beach team on Corto Maltese. That squad is made up of characters like Blackguard (Pete Davidson), Savant (Michael Rooker), Mongal (Mayling Ng), Javelin (Flula Borg) and Weasel (Sean Gunn), and they lived up to the Suicide Squad's moniker. They all brutally die at the hands of the Corto Maltesean army as a distraction so the main team can make it into the country undetected ... Ouch. So why was Rick Flag leading the bait team?
Flag and Amanda Waller (Viola Davis) seemingly work well together (or at least they get results), so it's surprising that she puts him in the firing line. But James Gunn recently told the Script Apart podcast that Waller has a petty grudge against Flag in a deleted scene from the film. "We see a flashback where Rick Flag makes fun of Amanda Waller's shirt," he said. "It's this really ugly shirt with all these different colors on it, and he says, 'It looks like a group of clowns sh*t all over you.'"
Ouch. Maybe Flag shouldn't be dishing out fashion advice when he pairs a mustard-colored shirt with a straw hat later in the film ... Anyway, it sounds like Waller was pretty humiliated by Flag's joke. Gunn continued, "And Steve Agee's character, John Economos, is just laughing hysterically at Amanda Waller, and you can just see death in Viola Davis' face." Hopefully this deleted scene will be on the Blu-Ray or DVD, because according to Gunn "Davis just looks like death. And that's why [Flag is] on that beach." 
Bad move Flag, bad move.