Who Is Leaving Days Of Our Lives In 2021?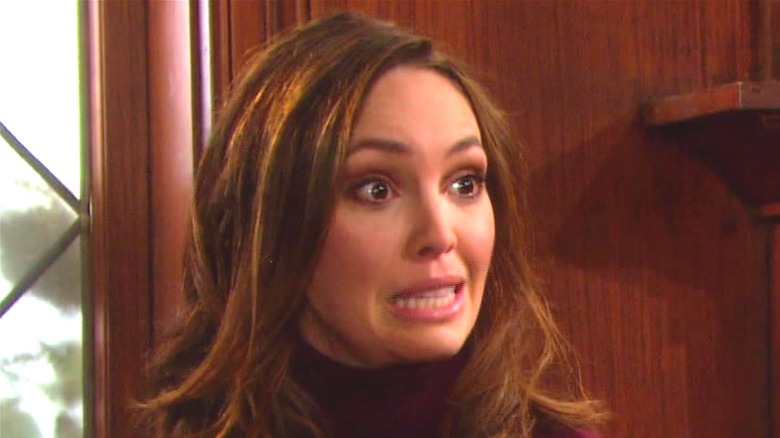 NBC
Comings and goings are nothing new for fans of the long-running NBC soap opera "Days of Ours Lives," but some recent storylines have hinted at possible cast changes headed viewers' way sooner rather than later. Sami (Alison Sweeney) was kidnapped after cheating on E.J. (Dan Feuerriegel) with Lucas (Bryan Dattilo), putting her future in doubt. Ben (Robert Scott Wilson) also recently kidnapped Ciara (Victoria Konefal) to prevent her from marrying someone else, leaving some wondering if the two would disappear together.
While 2020 saw the show's loss of long-time favorites such as Kristian Alfonso as Hope, 2021 has already seen the exits of Greg Vaughn as Eric and Suzanne Rogers as Maggie. "Days of Our Lives" was recently renewed for two more years, but not all actors and characters will be around for that length (per Variety). Now that the show is back from its hiatus during the summer Olympics, fans should prepare to say goodbye to several actors and characters soon to depart Salem to pursue bigger projects similar to some the show's most famous alumni, a group that includes "Pretty Little Liars" star Ashley Benson and "Supernatural" and "The Boys" actor Jensen Ackles. 
At least three actors are exiting soon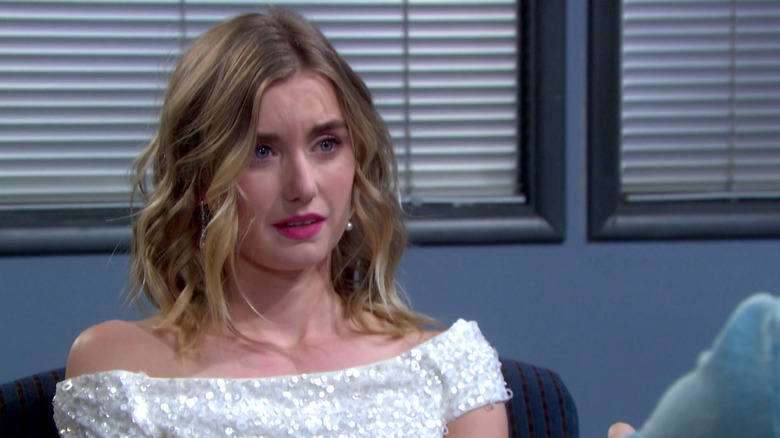 NBC
According to Soap Opera Network, at least three actors will soon exit "Days of Our Lives." Isabel Durant, who has played Claire Brady for the past year, will leave when Cameron Johnson (Theo) does. Claire and Theo will both head to South Africa together, the publication reports. Alison Sweeney, who has played Sami Brady off and on since 1987, will leave Salem after Sami is kidnapped. Sweeney told Soap Opera Network she has already filmed additional scenes that should air later to wrap up her storyline, but viewers know not to count Sami Brady out for good.
Viewers can also soon expect to see some favorite actors return to the roles they made popular, which means their temporary replacements will say goodbye. Melissa Reeves is likely to return as Jennifer Horton Deveraux this December, according to TVLine, which means actress Cady McClain will exit the role. McClain, a soap opera veteran, is best known for playing Dixie on "All My Children" for 22 years. She stepped in to play the character when Reeves chose not to return to filming during the COVID-19 pandemic. 
What about Ben and Ciara?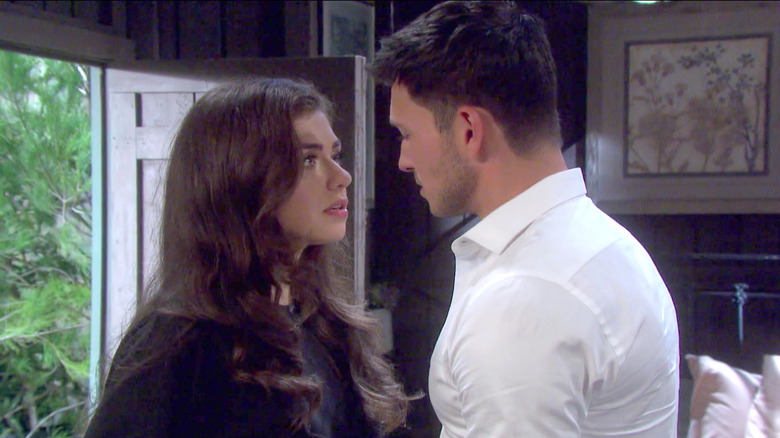 NBC
"Days of Our Lives" would be nothing without its super couples, and Ben and Ciara have been an on-again, off-again power couple for the past few years. Ben, a reformed serial killer, and Ciara, the daughter of legacy super couple Bo and Hope, had a rough road to their happily ever after, which was short-lived. After marrying in July 2020, the couple separated when Ciara experienced amnesia and forgot her feelings for Ben after being injured in an explosion. She later became involved with her lifelong friend, Theo. Most recently, she and Theo returned from South Africa to get married, but Ben kidnapped her before the ceremony.
Now that Ben and Ciara seem on the verge of getting back together — since she has regained her memory — some fans might be worried the actors are leaving the show. While actress Victoria Konefal has exited "Days of Our Lives" before, only to return, it looks as though both she and actor Robert Scott Wilson will be sticking around — for now, at least. According to Today, Konefal left the show as a full-time cast member last year, but she will continue to return periodically as her schedule allows.